By Duncan Brown
There may have been poor snow cover, and there may have been gale force winds & lashing rain all of Friday night, but a sturdy group of 7 IBSC members met on a dark stormy Friday night in a forestry commission carpark by Achnashellach for an adventure.  We were to meet the legend known as Eric; who took us in his 4×4 8km up an offroad track to the impressive remote Glenuig lodge up Gleann Fhiodhaig, with James following closely behind in his vehicle.
It was here that Eric promptly opened up Glenuig lodge for us & started the fire, briefly explaining in part how the hydroelectricity & gas worked, and where the generator was, before disappearing into the night, promising he'd help if we call him.  Under an hour later, the power went out and the slogan ''Call Eric'' became the motto for the weekend along with much banter and horror stories. This didn't deter us for all enjoyed James' superb Bolognese dinner. We all enjoyed a night sleep listening to the wind howling outside with gas heaters & candlelight making for a romantic Friday evening.  Eric did however return Saturday bright and early at 0930, with a cheery grin on his face amid talk of a cleaning lady and Lanzarote.
The powder may have melted with just a few snow patches higher up, but Saturday made for a bright & breezy hill walk altogether bagging a Munro; we ascended Sron na Frianach to summit Sgurr a' Chaorachainn, then along ridge to Bidean an Eoin Deirg.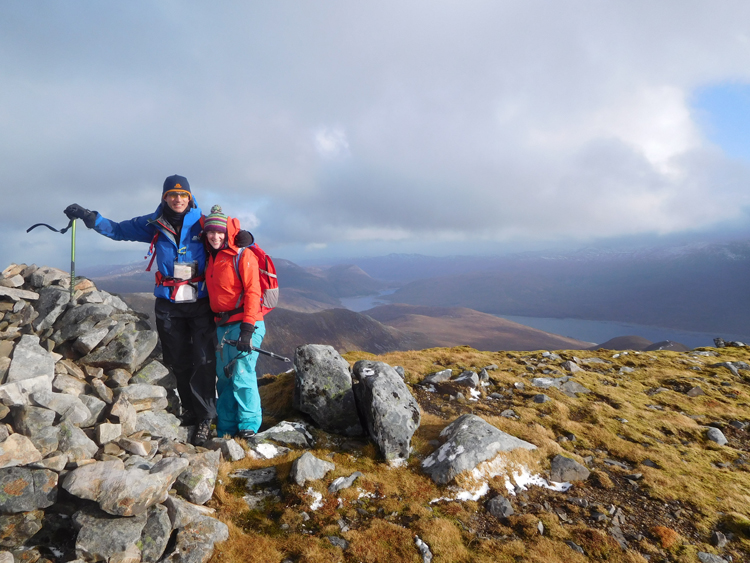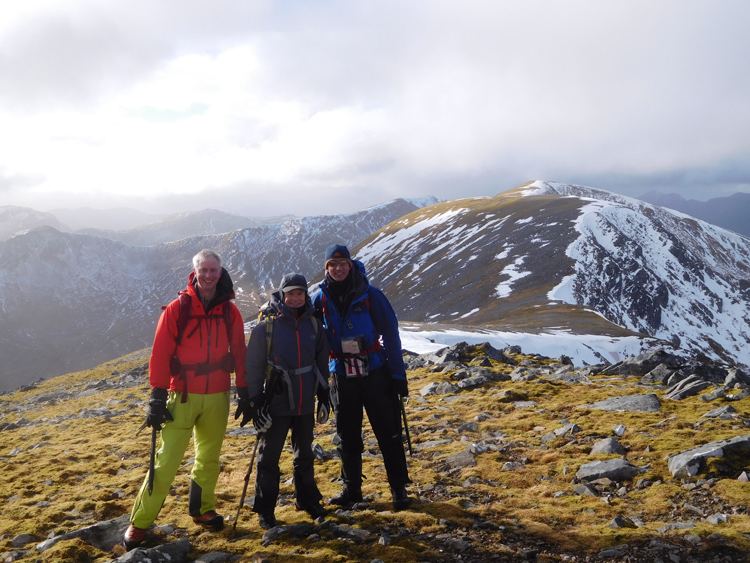 Group then split, with James, Lizzie, Duncan & David descending a grade 1 scramble on NE ridge down to Drochaid Mhuilich, and the others descending as per outward ascent.  We enjoyed some panoramic views with strong gusts on ridge & much windchill but very little daylight hours' precipitation.
After Duncan & Lizzie reclimbed the valley to locate a missing camera, a fine evening was had with copious amounts of splendid wining & dining.  The evening started with fine champagne courtesy of James, with everyone enjoying steak pie & blueberry cake desert which Lizzie had prepared.  More beer, wine, whiskey & rum, along with irish coffee was enjoyed relaxing by the fire in a splendid lounge, where one could have been 100 years ago with nothing unchanged. 
Sunday morning started with a cooked breakfast, then the group split.  Lizzie & Duncan enjoyed a fell run down Pollan Buidhe then up the southern slope of Sgurr nan Ceannaichean (915m) to enjoy a ridge run encompassing Moruisg (928m) the Munro of the day, before descending sharply back to Glenuig.  A little brightness was witnessed with cloud base at 900-1000m, before closing in rapidly after 1400hrs.  Nevertheless, the Torridon and Glen Carron Munros were briefly witnessed. 
Jan & Monika enjoyed a walk up from Glenuig on old stalkers' path to Coire a' Chlaiginn, whilst David walked out back to Achnashellach, making for an earlier return.  Jamie had left Saturday evening to return for a commitment.
The weekend would not be complete without an open water 'loch bag' so without a loch nearby, the nearest plunge pool had to do; Monika, Duncan & Lizzie enjoyed a 'fresh' dip in the pool followed by warm bath and James' lasagne which tasted even better as a result.
Sunday 1500hrs & the heavens opened to cold lashing rain with strong winds again; it was time to head out with all piled into James' 4×4 for a bumpy ride out.  We didn't end up needing to 'Call Eric' but would have been stranded even we'd tried with no phone signal up the entire glen & miles from any civilisation.  The group farewells were said, and Lizzie & Duncan met Eric's wife, still in her dressing gown at 1700hrs, to hand the keys back. 
There may have been no fresh powder this year, but a superb weekend was had staying in a stunning location with a great group of new friends all enjoying every moment of solitude, isolation, nature & reflection on how lucky we were to have been there.  Above all, this wouldn't have been possible without a legend named 'Eric'.