After brief greetings in the darkness of the car park at the road end, all luggage was easily hoovered up by the Volvo Estate and VW Caddy kit waggons. Katie and Nic set off on bikes while the faint-hearted and bikeless set off gingerly in the two vehicles along the rough track.
Dishearteningly for the motorised group, the cyclists' head torches appeared in our rear-view mirrors at the same time as we arrived at the ford, just as a couple of magnificent red deer stags appeared in the headlights. Nic volunteered to be the sacrificial cyclist and, with our sincere best wishes, was duly dispatched across the waters to test the depth.  A splash and a scrape or two later and we were all across and unpacked for a quick snack and an early-ish night.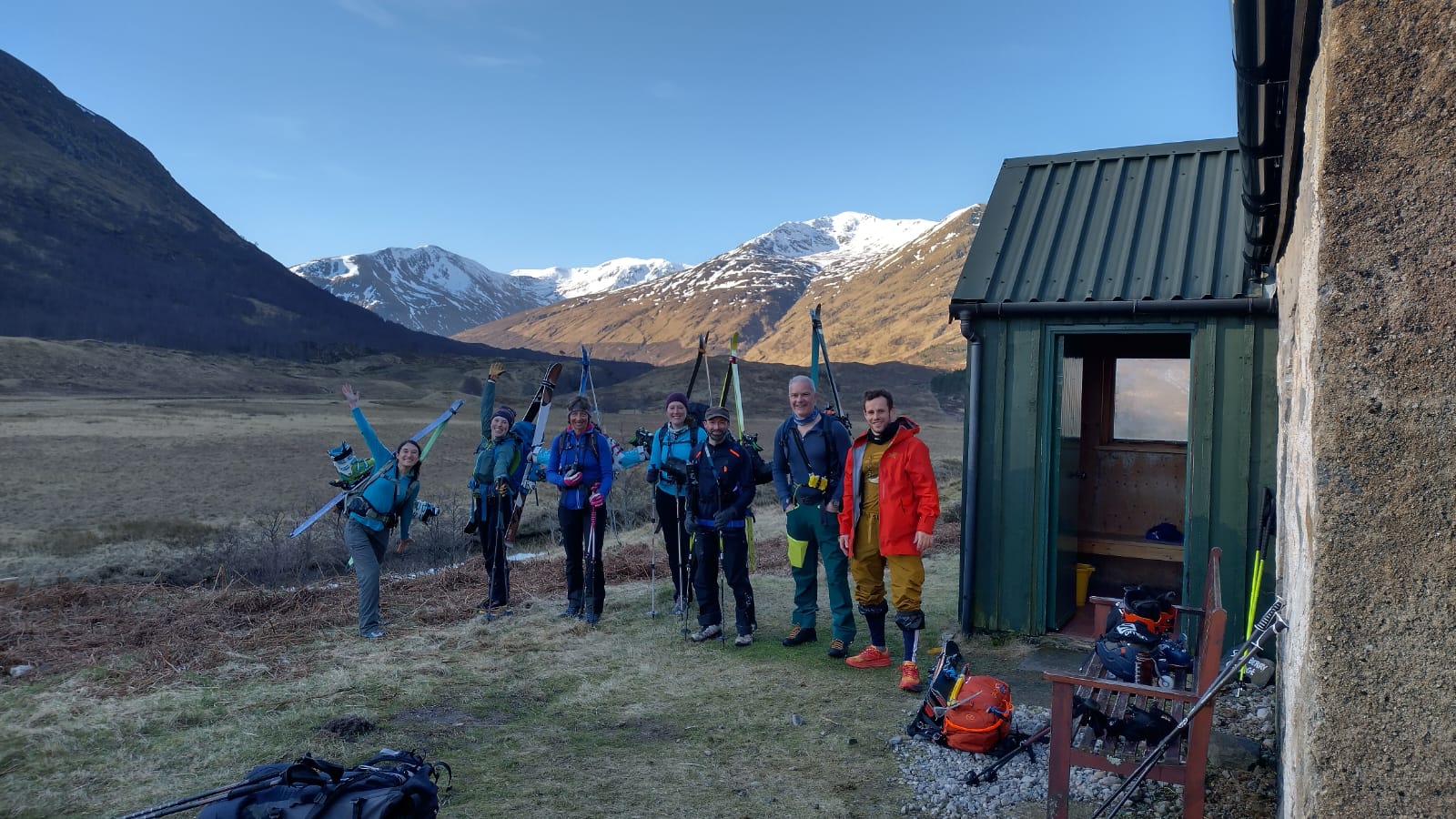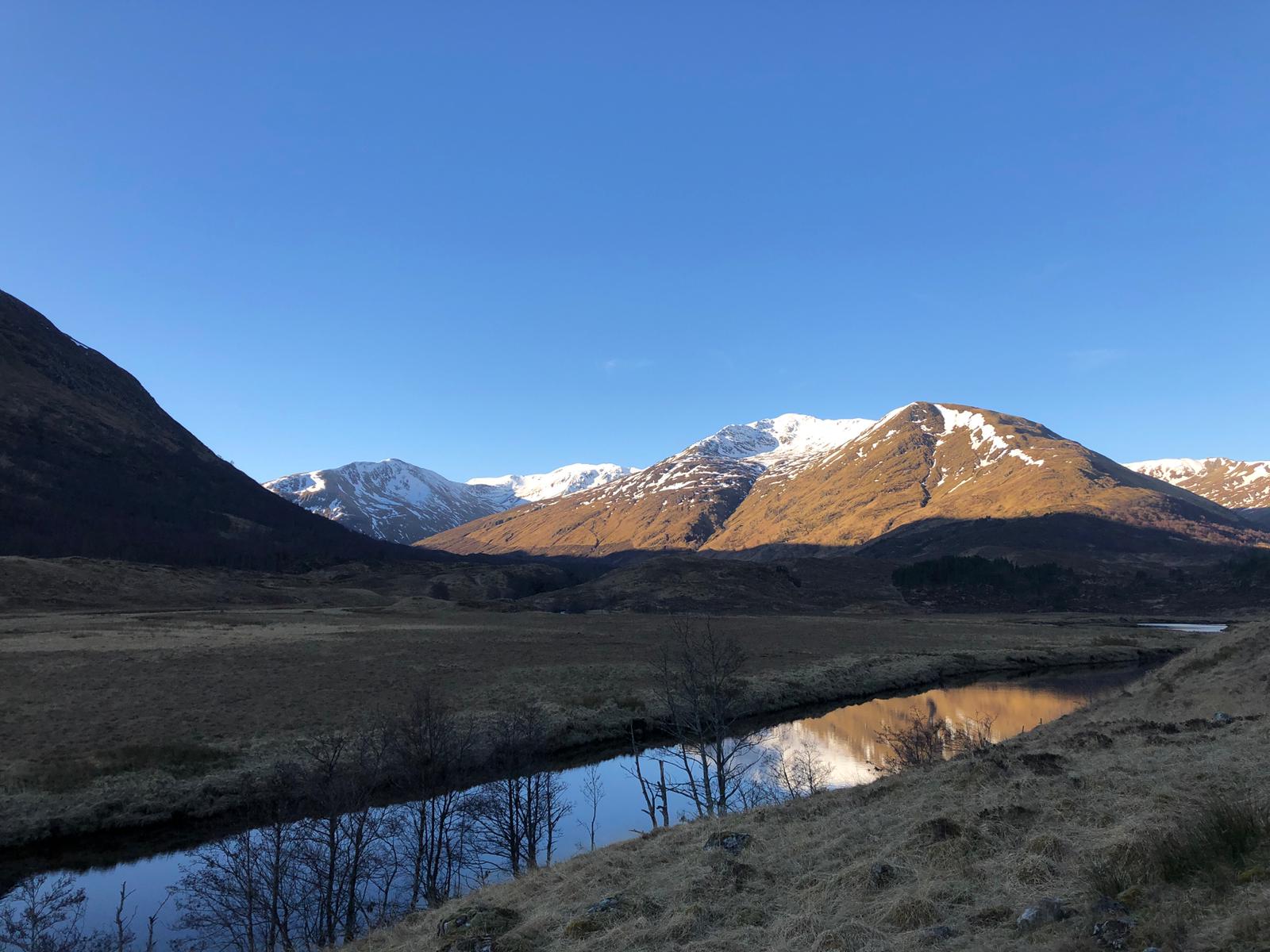 Next morning, IBSC was temporarily renamed Glen Affric Bog-Trotting and Fence-Hopping Society as we trudged towards the distant snow. Heaving and wobbling our way across one fence after another, the deer must have been scratching their antlers, wondering how such lumbering creatures could possibly get across to the promised land while they failed. Nonetheless, across we went with Dave "Duracell Mountain Hare" Anderson, energetically sniffing out the best route and even gallantly helping out with Susan's kit.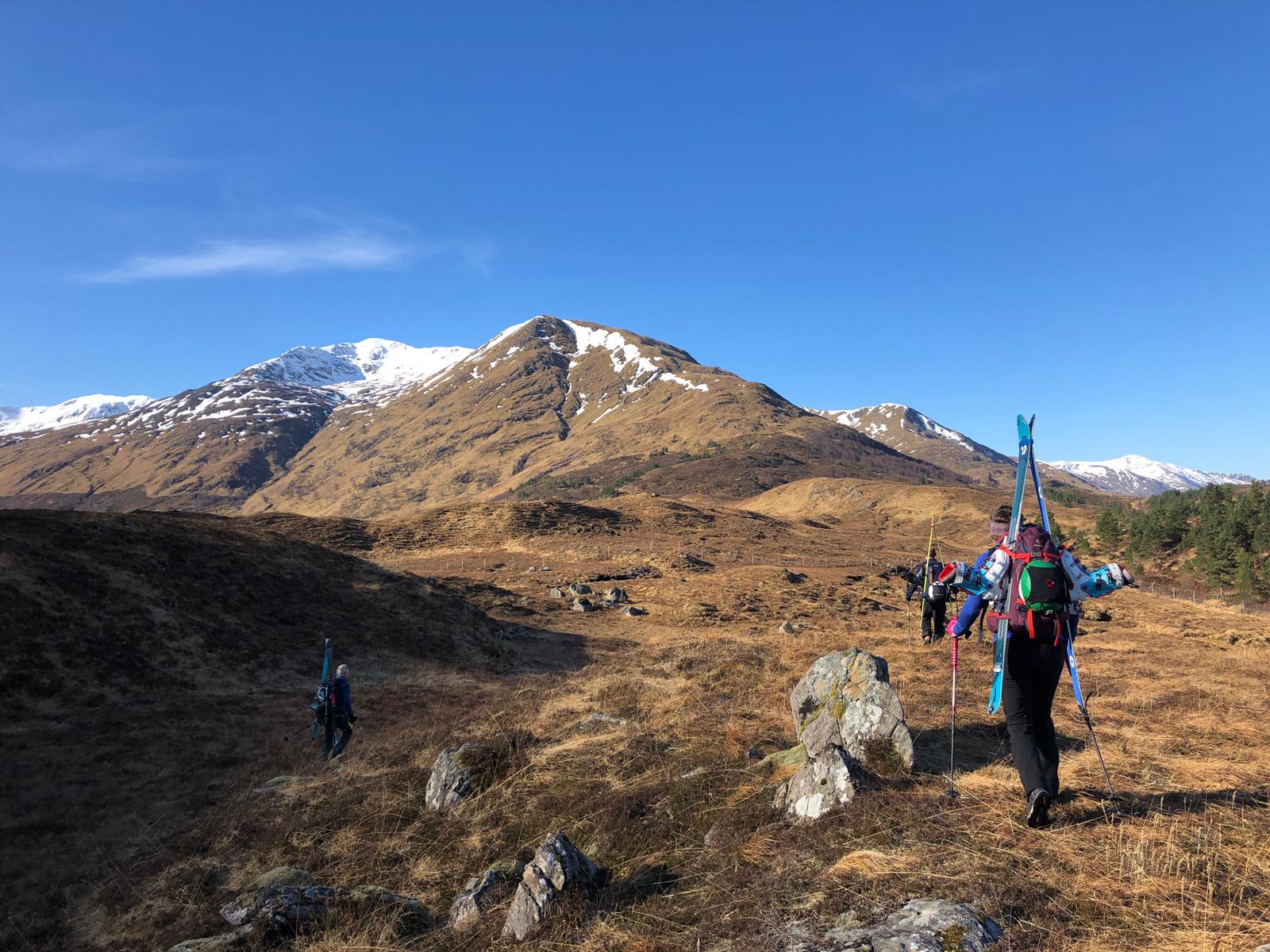 As we ascended the ridge, the strong wind hindered progress and some of the party dropped off to enjoy a fantastic, mellow descent in surprisingly benign and warm conditions. Dave, Susan and Iain continued up the ridge to help themselves, with a boot-pack, to a couple of excellent lines further up Coire Allt Donaich.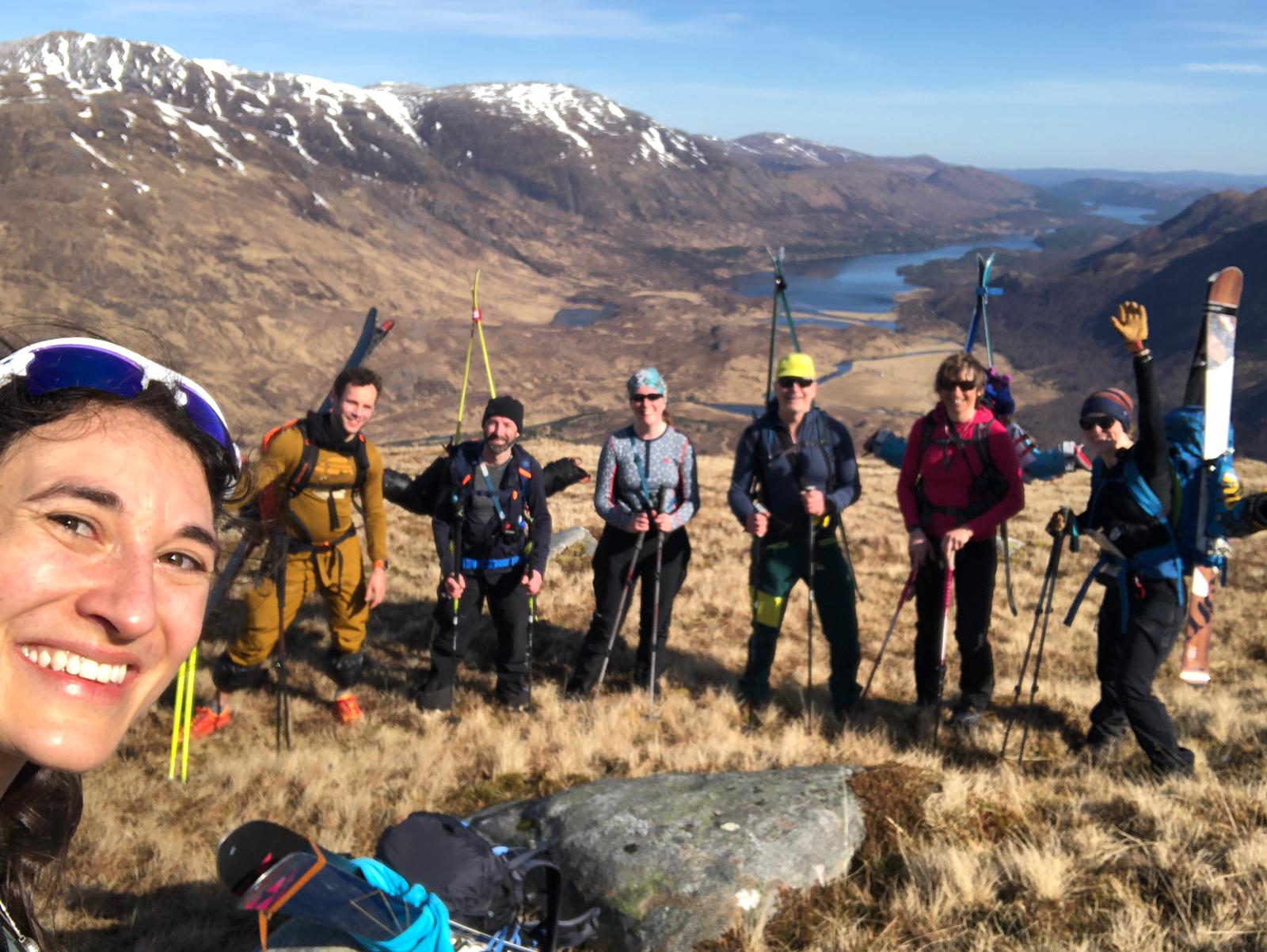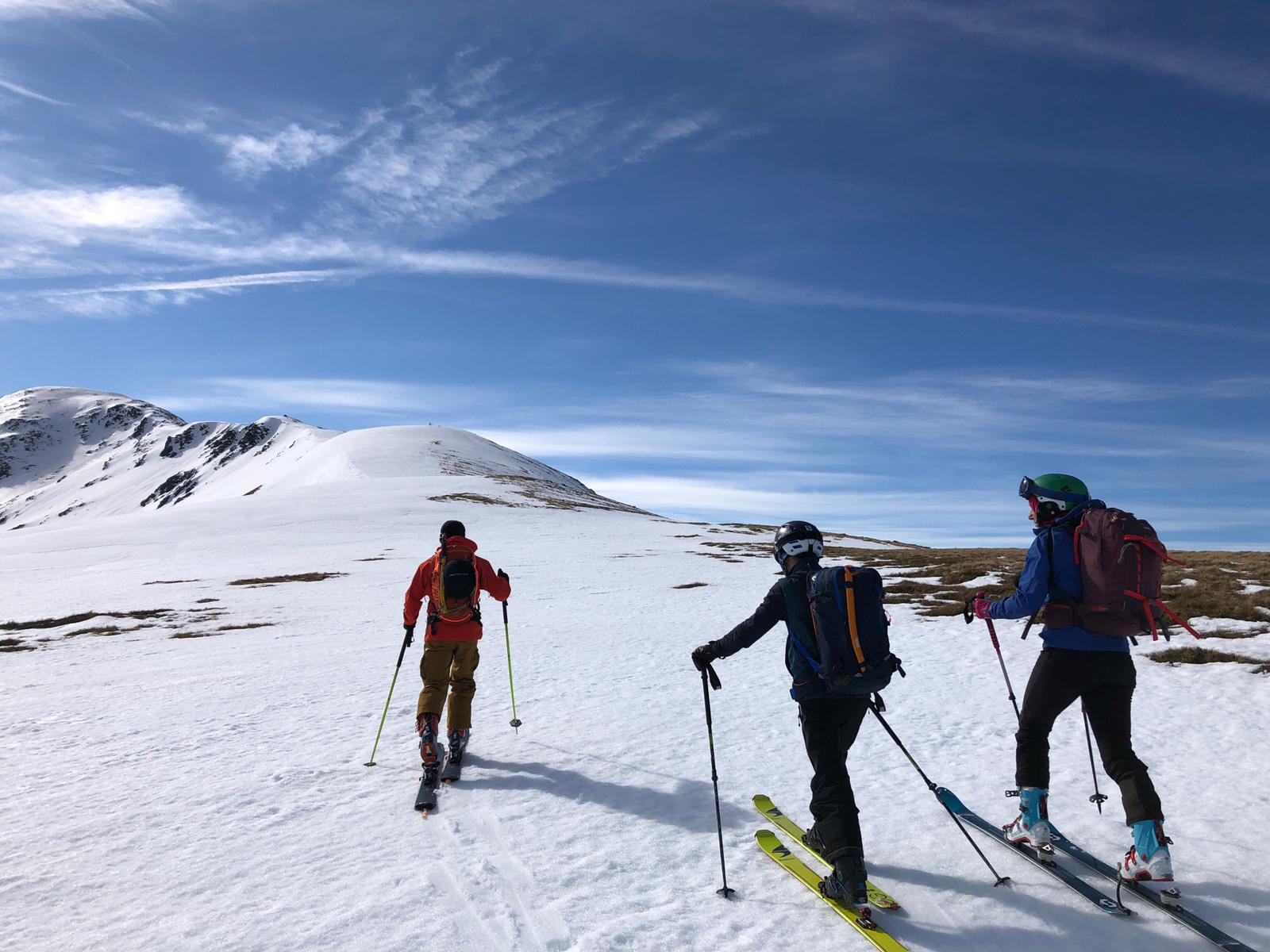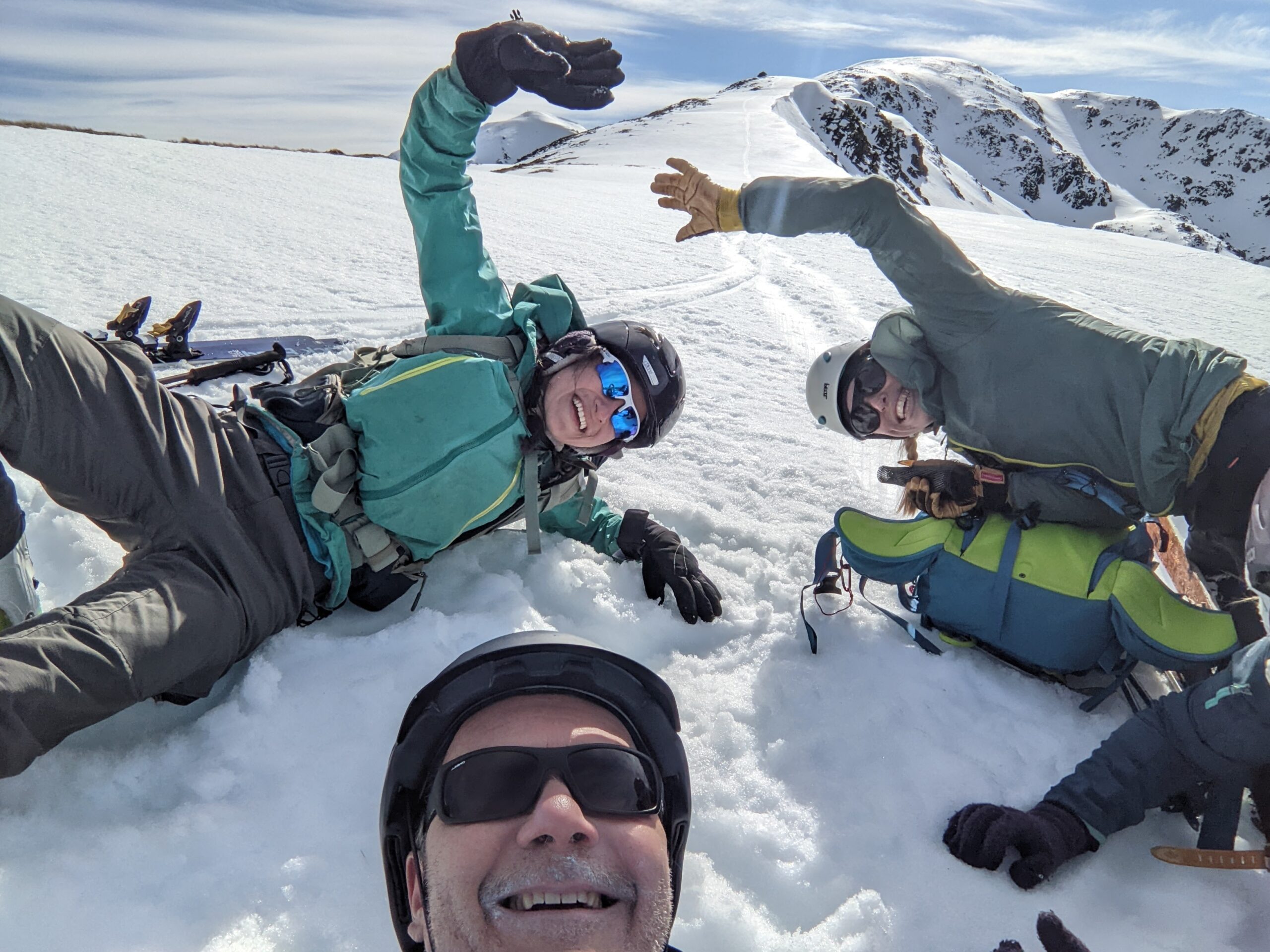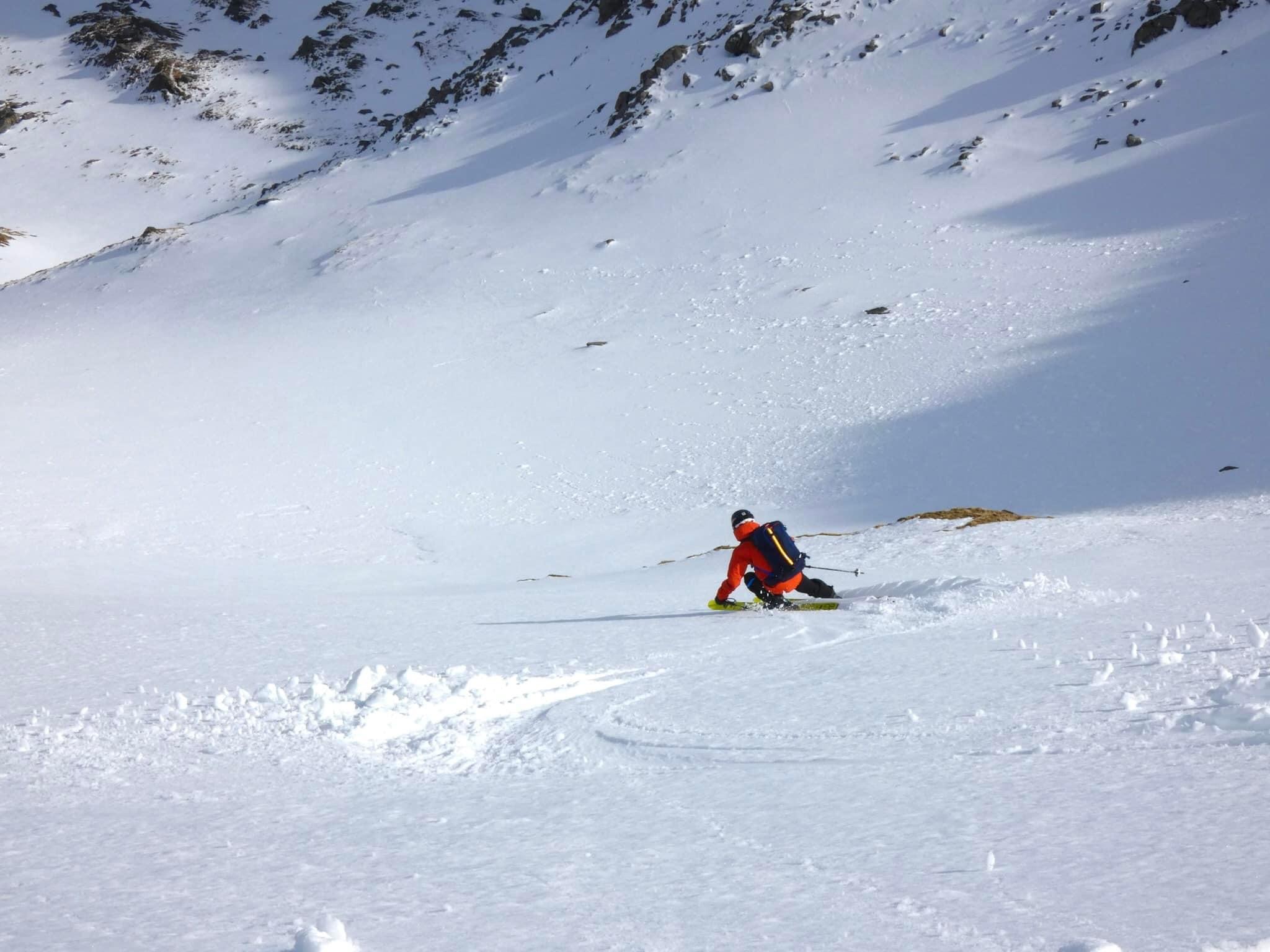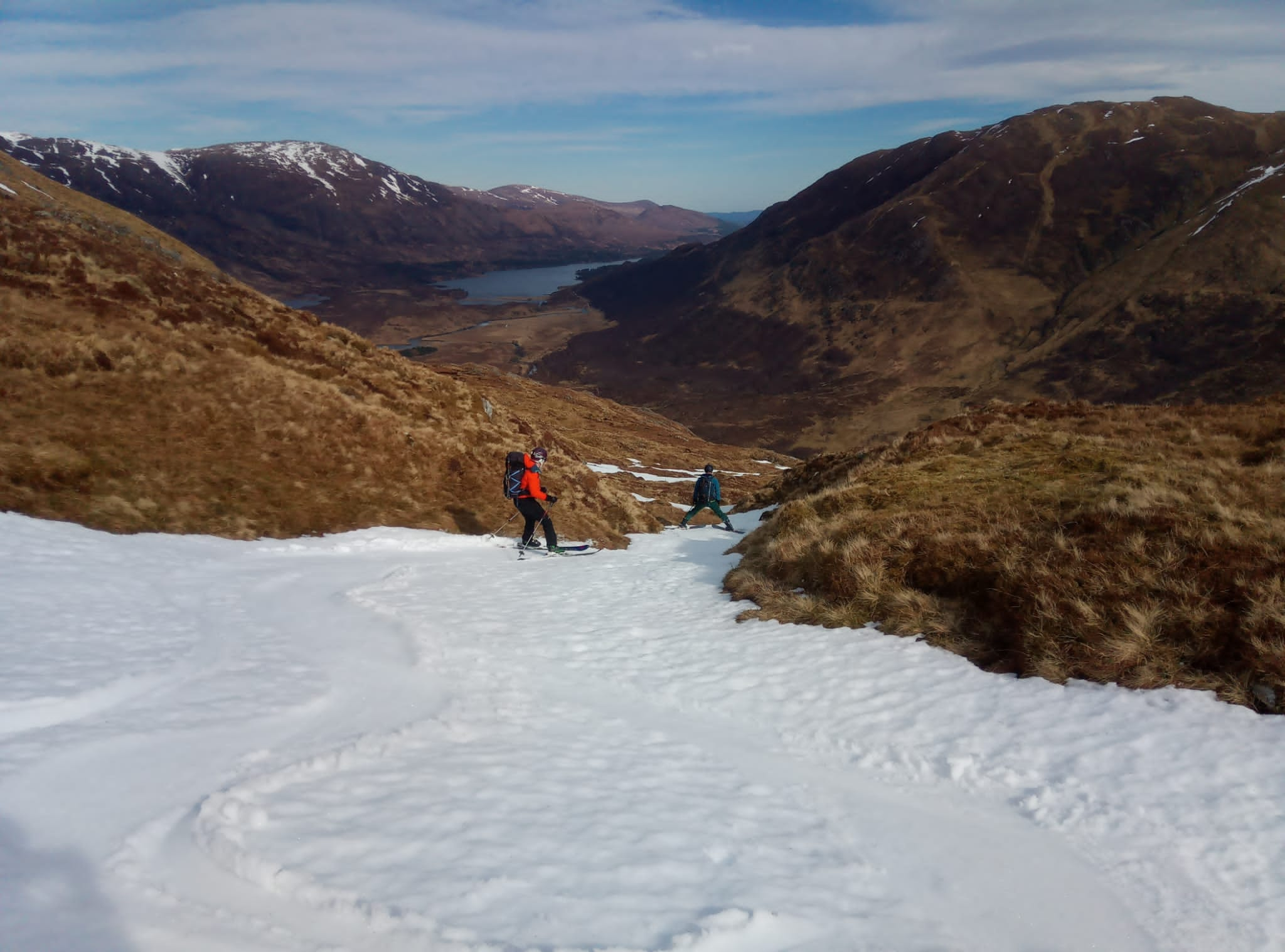 There was a summery feel back at the accommodation with Strawberry Cottage, Susan's amazingly tasty lemon drizzle cake and Iain's delicious orange outfit, (with matching jacket, trousers, watch and flip flops). It was clear that this trip was going to be more fruit bowl than powder bowl, but no one was really complaining about that, as we feasted on the lemon cake and Iain's hoofing white chocolate and banana loaf.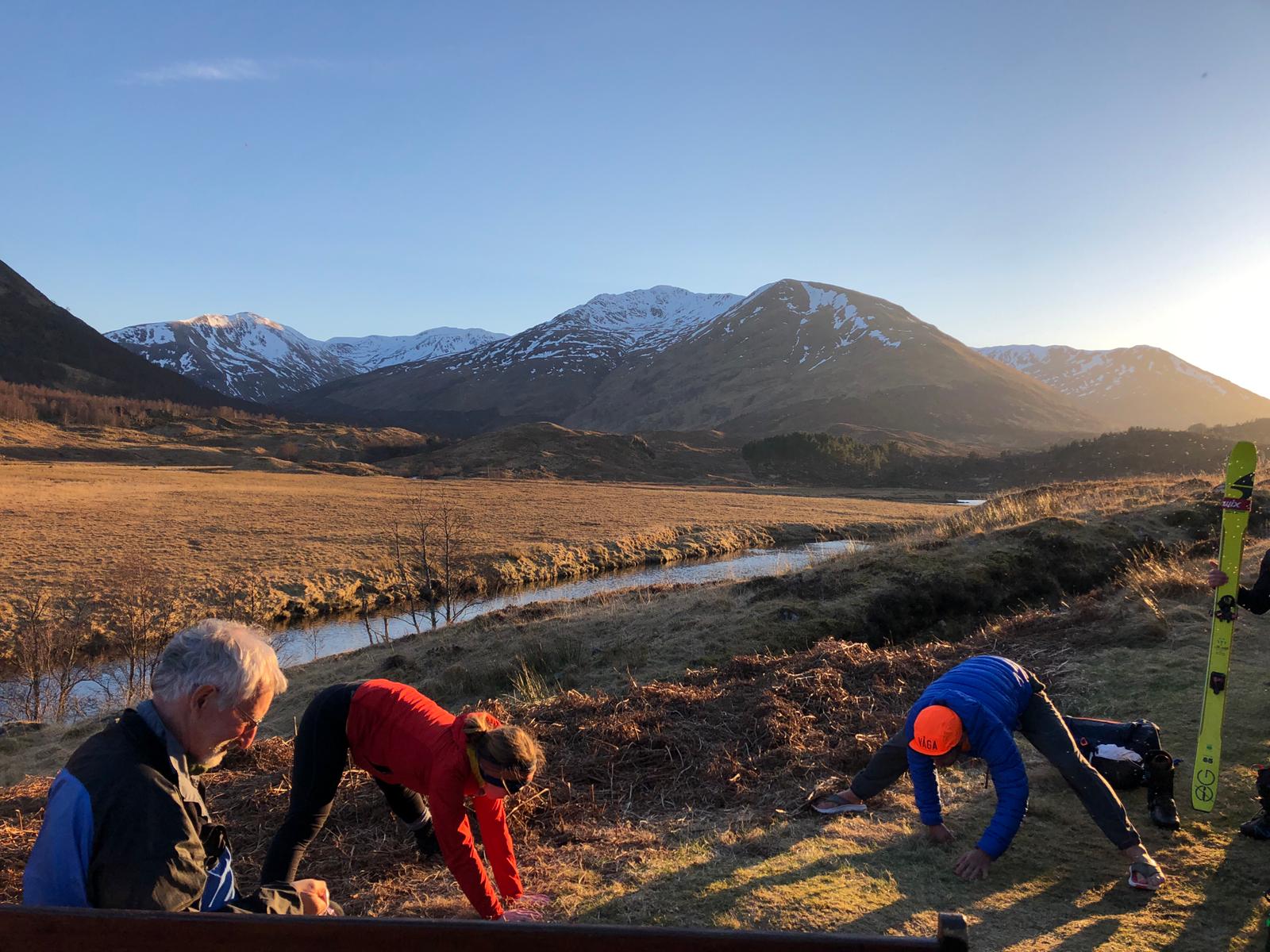 The conversation quickly turned from food to midges and – given Katie's recent sojourn in New Zealand – to the dreaded sand fly. Apparently these are virtually indestructible and they just laugh in your face when you try to squash them. Dave's ancestral lineage was becoming apparent.
Saturday evening continued with a fantastic, exotic meal of ramen cooked by Nic, built on a foundation of ginger, garlic and shallots, prepared by her internationally-acclaimed team of sous-chefs. Eggs were optional.  The world's best chocolate mousse finished things off. (Thanks Susan!)
A cunning plan was hatched to destroy the indestructible. Dave was plied with red wine, chased down with several gallons of cask-strength Talisker and Glenfarclas. Susan then produced her accordion and delighted us with a series of beautifully-played, traditional Scottish tunes. Some way into the concert, she introduced her avant-garde rhythm section in the form of Andy, who enthusiastically thrashed out a beat on the kitchen table in loose 13/7 time. Susan admirably soldiered on in more traditional 4/4 time.
The trip Health and Safety Officer provided a lengthy dynamic risk assessment and, after a nervous wait for its approval, the go-ahead was given for dancing to proceed. The team of expert dancers finally took to the floor and, thanks to the extensive paperwork, no one stumbled into the wood-burning stove and no toes were stood upon. Zero Harm.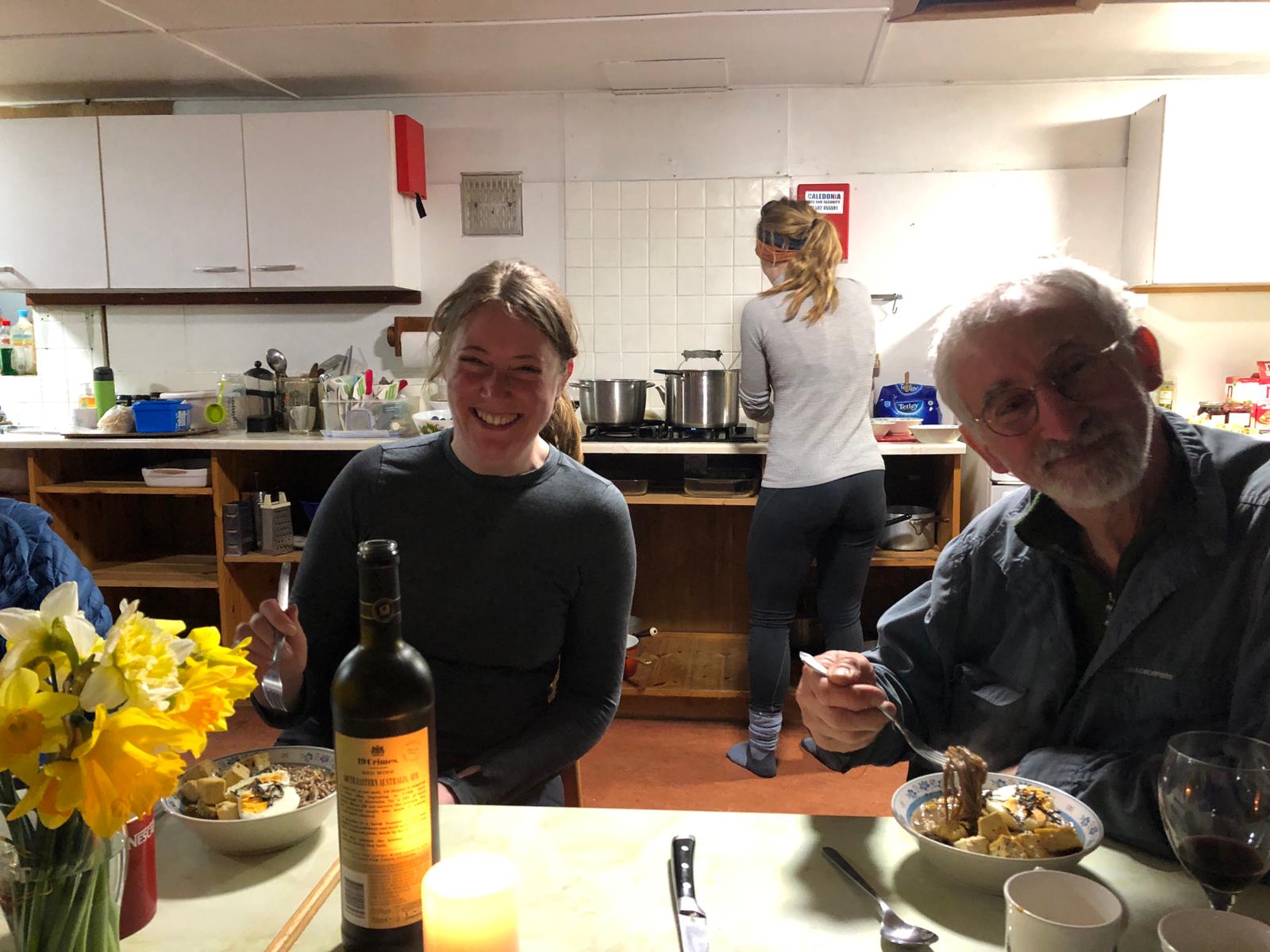 Sunday saw the group split into two parties under another blue sky, with Kevlar Dave, (predictably showing no signs of wear and tear), leading a party towards an unpronounceable place some 15 light years away, possibly Sgurr nan Ceathramhnan, while the faint-hearted headed off to the slightly more accessible and pronounceable Coire Leachavie.
It was nonetheless a long slog up to the snow line in Coire Leachavie, lugging boots and skis where a set of golf clubs or maybe a couple of curling stones might have been more useful. Every horizon offered the promise of a tasty snowfield and the effort already invested warranted plodding on, but there was always the nagging doubt that a walk with a light pack or a round of golf might have been more sensible. The young suffered slightly from a dehydration headache, while the old suffered from general geriatric wear and tear.
We reached the snowline and to our great relief, skis, skins and boots were finally put to their proper use for a short ascent on skins. Snacks of orange and hazlenut chocolate bars fuelled a thoroughly enjoyable, playful descent down the coire, followed by a mellow walk back.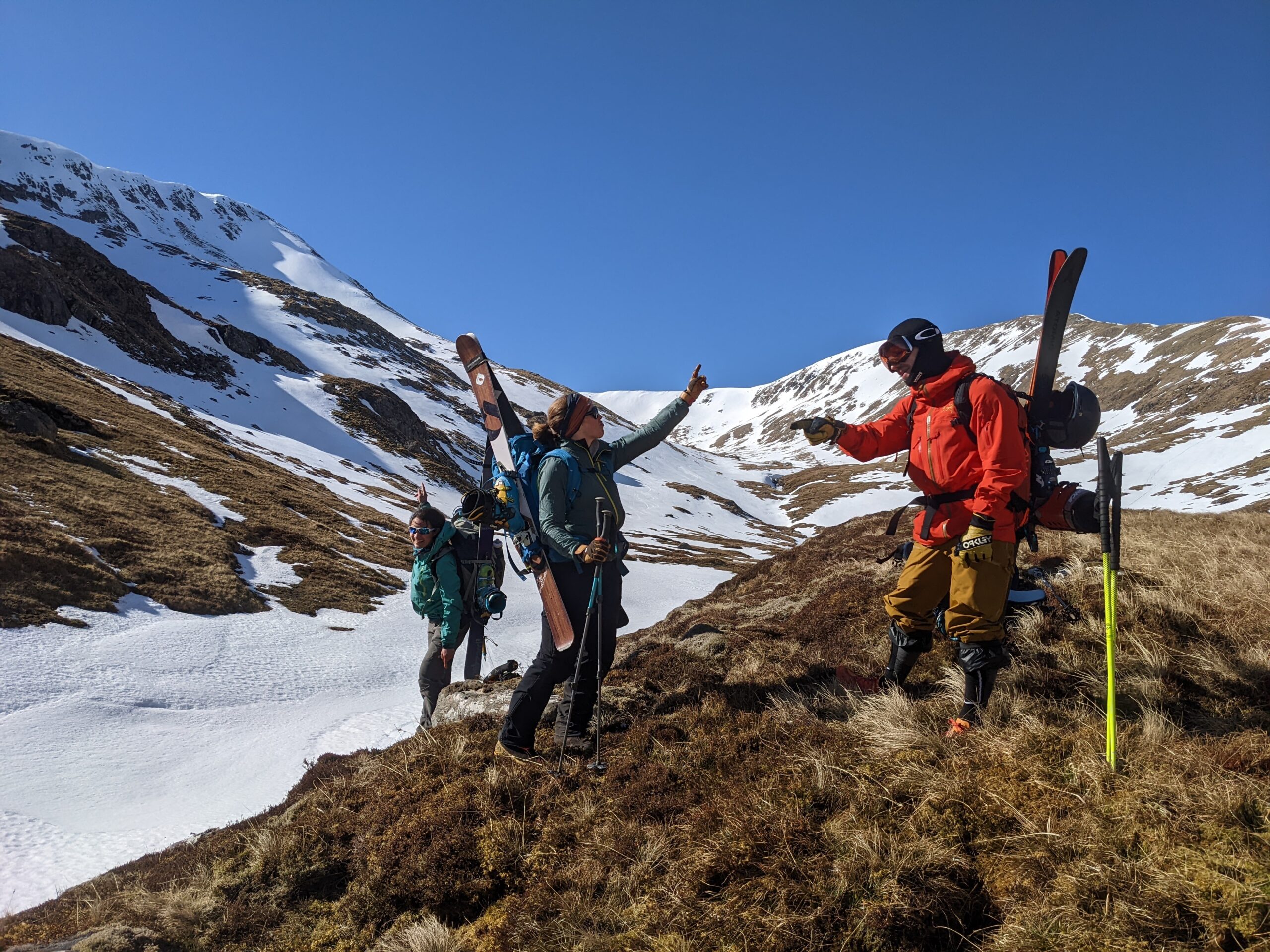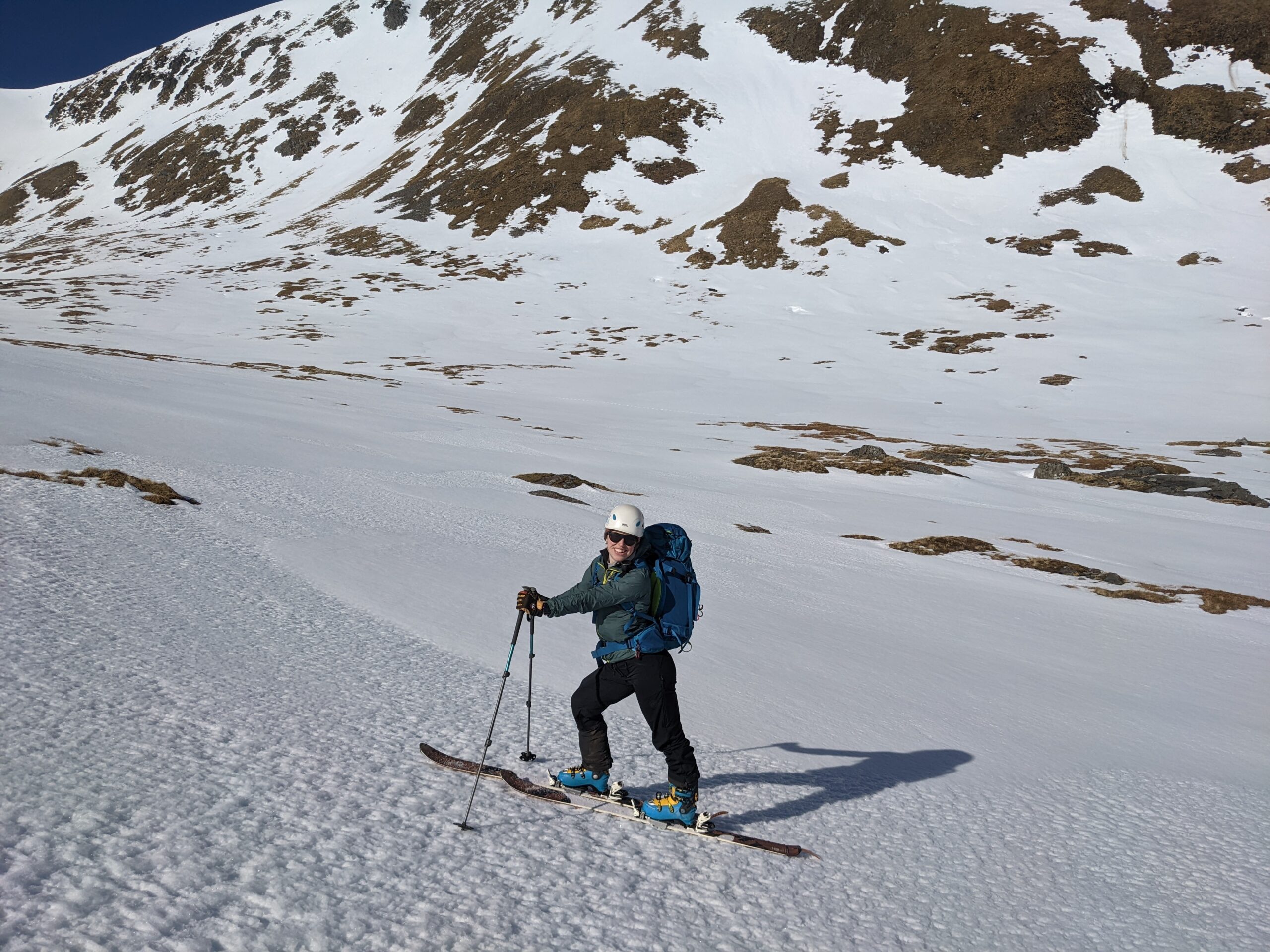 Excellent and engaging company; a slog and a full 2mm of Scottish, sparkling-wine powder (with icy bits). Who would have it any other way?
As for the other party, I'm not sure what Susan and Sarah did to Kevlar Dave, but it does seem that, if the whisky don't get you, a neglected, niggly knee sure will. Here's to a speedy recovery!
Author: Archie Gillies
Photos: Team skiers
Photos also @kgraingerwanders
Team Skiers
David Anderson
Sarah Moorhouse
Archie Gillies
Iain Dick
Andy Ince
Nicola Jackson
Katie Smith
Susan Houstoun