February 2021 Newsletter
Hello
Another month which will sadly be remembered for the pandemic and related impact on all of our lives; however, it will also be remembered, especially by those of you lucky enough to get out skiing, for a superb period of low temperatures and tremendous snow cover.
Scottish winter weather is not known for its reliability so a ten week cold spell from early December through to the 15th Feb was incredible although, frustratingly for some, ski plans were made or dashed according to postcode and proximity to local hills.
No official club trips were allowed under current regulations but many members made the most of the conditions with ski touring a permitted exercise and widely enjoyed in the NW Highlands, the Central Highlands, Aberdeenshire & Perthshire. Additionally, and after a snowy January, central belt members continued to enjoy once in a decade conditions in the Pentlands, the Ochils, Fife and, as the cold tightened its grip, even on Dundee Law within the city of Dundee. Local touring came into its own with pretty much everything above 300m seeing over a metre of snow whilst at higher elevations persistent easterly winds allowed huge deposits to build on top of an already healthy base. In the far north, where conditions can be equally fickle, the exceptional weather allowed Fiona & Kev Neal to ski their local prominent peak Morven in Caithness, for the first time. Staying in the far North new member Hugh Mackay of Tongue was turned back on the summit ridge of Ben Klibreck due to the extremely strong
SE winds, a feature of the early part of February.
Many more member days were enjoyed with dozens of different hills skied multiple times during the period. At a later date, if the club can gather together all the reports and photos of member activities, a more comprehensive record of activites will be published.
The thaw finally arrived mid month and in a little over a week the snow line rapidly receded up the contours to where it now sits at 750m. At this stage in the winter there is usually another 8 weeks of the touring season left with the very best days often enjoyed in early April. So, with the thaw having finally petered out and an indication of cooler weather to come there should still be opportunities to enjoy more days on ski especially for anyone local to the Cairngorms.
Club trips and Club activity
This week the Scottish Govt announced its routemap back to a more normal way of life with a gradual relaxation of current restrictions planned in coming weeks. You should by now have received an email from Mountaineering Scotland giving initial guidance on how this impacts on individuals ski touring, hill walking and climbing, a summary of which can be read here.
However, the Govt has yet to announce the necessary changes which will allow club activities to recommence. Hence although winter in the mountains still has a long way to run, unless there are further relaxations in the next month, it is now looking increasingly unlikely the club will be able to restart its ski touring programme again until next winter.
Full details about the latest Govt announcement can be found here.
Skiing in Norway
Club members have been visiting Norway for over 25 years. Over 1000 miles in length, mountainous throughout and much of the Country lying close to or north of the arctic circle, it's a mecca for Snowsport touring and yet it is still frequently overlooked in favour of the much busier, overdeveloped and well known touring areas of the Alps.
However, with English language guidebooks now widely available, with the advent of Airbnb and regular scheduled flights from Scotland Norway is a must for anyone wanting to ski abroad.
This coming Wednesday (3rd March) the next in the series of club winter talks is all about Norway.
Finn Kristoffer Hovem, a Tromso based Norwegian skier who runs his own guiding agency whilst also working for the Norwegian avalanche institute, will talk about the main ski areas in Norway and through words & pictures will give a flavour of what makes the Country so special. He'll be joined by Al Todd who will provide a Scottish perspective through his numerous visits to the Country over the past 25 years. John Offord, another seasoned Norwegian visitor will introduce the evening and all three will be available at the end to answer any questions.
As international travel re-opens club trips to Norway will again be arranged whilst, with a little bit of planning, self organised trips can easily be put together. Either way this talk will provide lots to think about whilst providing plenty of inspiration.
The talk begins at 8pm, is free to club members and £3 to visitors
Book tickets here
An inspirational man
Two years ago, Scotland lost Adam Watson the pre-eminent expert on the Cairngorms. Adam was also well known as a highly respected ecologist, biologist and mountaineer who from school age enjoyed an amazing life. He had hundreds of scientific papers published and among many other book titles he was the author of the original SMC Guide to the Cairngorms.
Meeting Adam was an electrifying & inspirational experience with his incredible knowledge and ability to recall detail from 60 years ago as if it were yesterday. He mixed with the most famous of Scottish mountaineers and completed some remarkable journeys on ski. He was the first to ski the big six tops of the Cairngorms in a day and was one of the earliest to explore Glen Affric, the Monar forest and Strathfarrar on ski. His writing was inspirational and despite the passage of time his various ski trips still stand out as rarely repeated incredible feats of navigation, endurance and commitment.
Of his many trips, one in particular from Glen Tromie to Glen Derry grabs the imagination and was fortunately recorded in the 1957/58
Etchachan Club Journal:
"Though it was already mid-April, winter still gripped even low ground in the valleys, and the mountains rose in folds of spotless, shiny snow far up into deep blue skies. It was very hard to believe that we were in our own familiar Strath Spey and not in some high valley near the Arctic Circle. …"
carry on reading here
The Scottish Mountaineer
Club members should all have now received the latest edition of The Scottish Mountaineer, the quarterly magazine of Mountaineering Scotland. If, however you didn't receive the digital edition via email in the past couple of days, then please contact Rose, the club membership secretary, to ensure your details are correct.
Among a number of interesting articles, the latest issue also includes an article about skiing the Grey corries featuring club members Mike Cawthorne, Gordon Pearson & Al Todd. Read the Magazine
The season of bike, hike & ski is rapidly approaching with longer days, more amenable weather & typically helpful Spring snow. Hopefully you'll be able to get out somewhere to enjoy some skiing.
If not enjoy the current unusually settled spell of calm mild winter weather before a late blast of winter delivers us some more of the white stuff.
The IBSC committee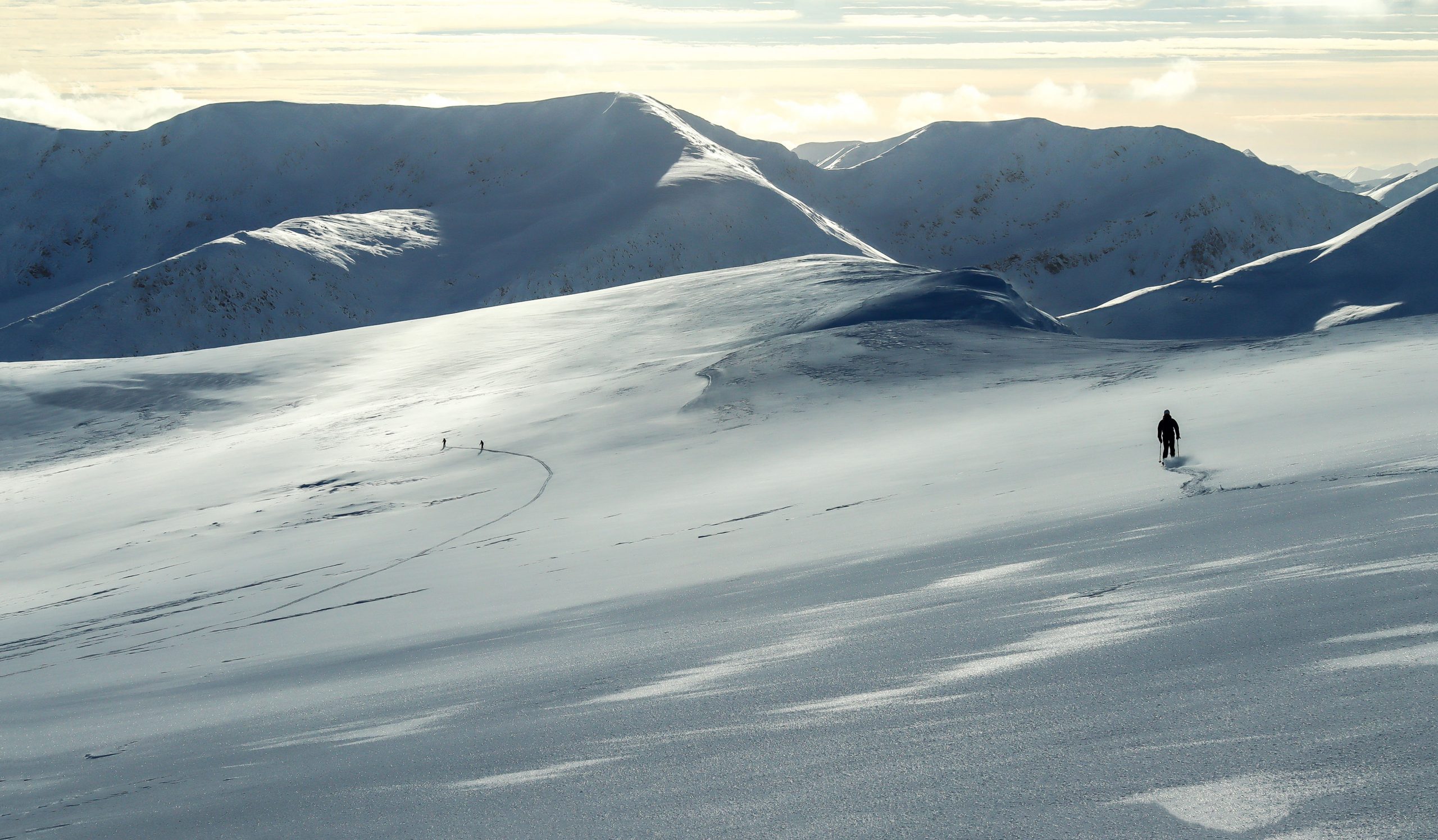 Moruisk, Achanshellach
Photo: Xav Wadbled