Back in 2018 I went to Glen Affric with members of the Inverness Backcountry Snowsports Club. The weather had started stormy but finished glorious. Now some four years later we were returning and hoping for similar weather. There had been no igloos since 2018. Every weekend planned in 2019 was cancelled due to lack of snow or appalling weather and then came the pandemic.
This was my first overnight trip of the year due to the hand operation I had in December and the recovery time needed. As last time I decided to arrive the evening before everyone else and camp – I'll do anything to avoid having to get up early! I was intending to camp anyway rather than sleep in an igloo. I'm still supposed to wear a splint on my hand at night and its Velcro attachments are noisy. In a tent on my own I'd have no concern about disturbing anyone.
Due to some last-minute magazine work I didn't leave until late  for the two-hour drive and only started walking just before midnight. Since my last visit a new path had been built up through the woods and into Gleann nam Fiadh. Following this by headlamp as it wound up and down through shadowy trees made the initial walk rather more interesting than the expected trudge up the hydro road in the glen. There was no snow down here. The path eventually joined the road and soon afterwards I started looking round for somewhere to camp. Sodden boggy ground replete with big tussocks didn't appeal and it was a while before I found somewhere that looked passably comfortable. I was so tired by now I didn't think I'd have a problem sleeping.
And sleep I did. For about five hours. Not enough but there were igloos to build, and the mountains were shining in the early light. However, by the time I was dressed and breakfasted clouds were building and thickening.
A party approached up the track, carrying skis. The rest of the igloo group. An offer was made to carry my IceBox, that wonderful igloo-building tool from Grand Shelters and my friend Igloo Ed in far-off Colorado. I accepted. My pack, a test one that was heavy when empty, a tent that wasn't that light, my snowshoes (I didn't fancy carrying even heavier ski gear up to the high snowline), and other stuff meant a 22kg load when I set off. I couldn't remember when I'd last carried such a weight and it was nearly three months since my last overnight trip anyway.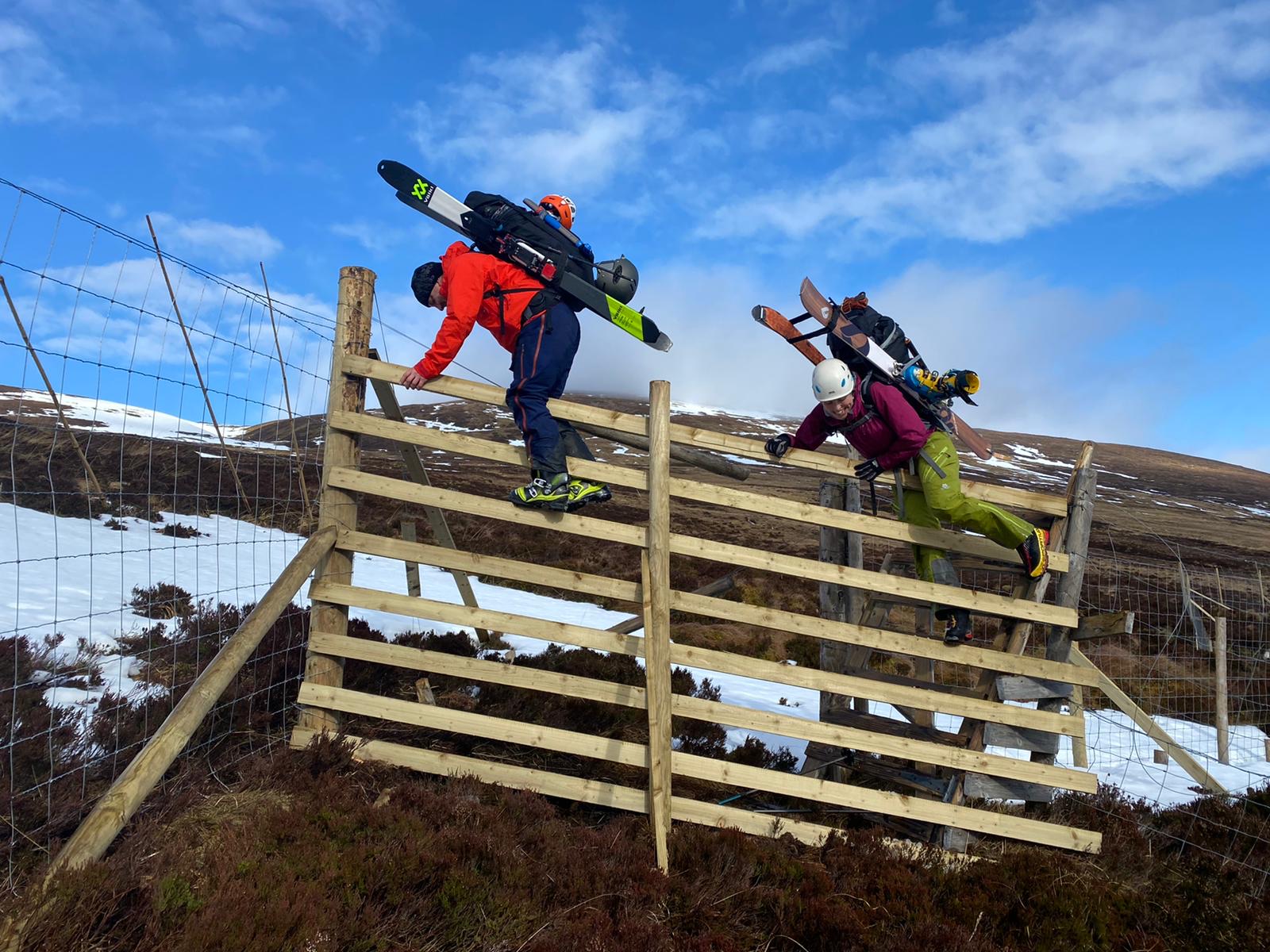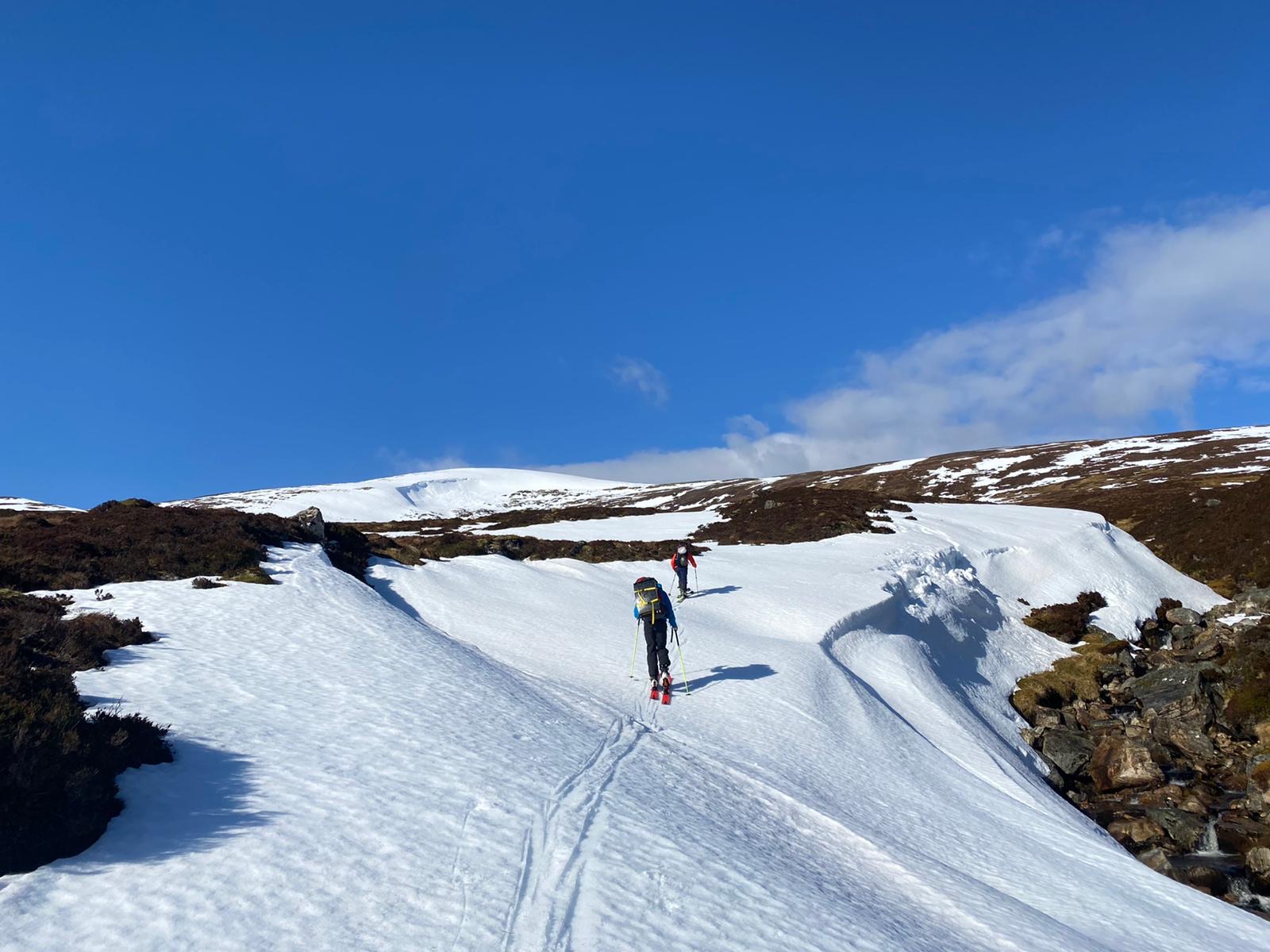 It's never easy to predict how long igloo building will take. Much depends on the snow. This time it took rather longer than we'd hoped. I think one reason was that there was a thick layer (maybe 50cms) of rock hard, icy old snow just below a much thinner layer of soft snow. Breaking through this hard layer and smashing it up so it could be used to make blocks was hard work and took time. But although it was quite late in the evening the two igloos were completed.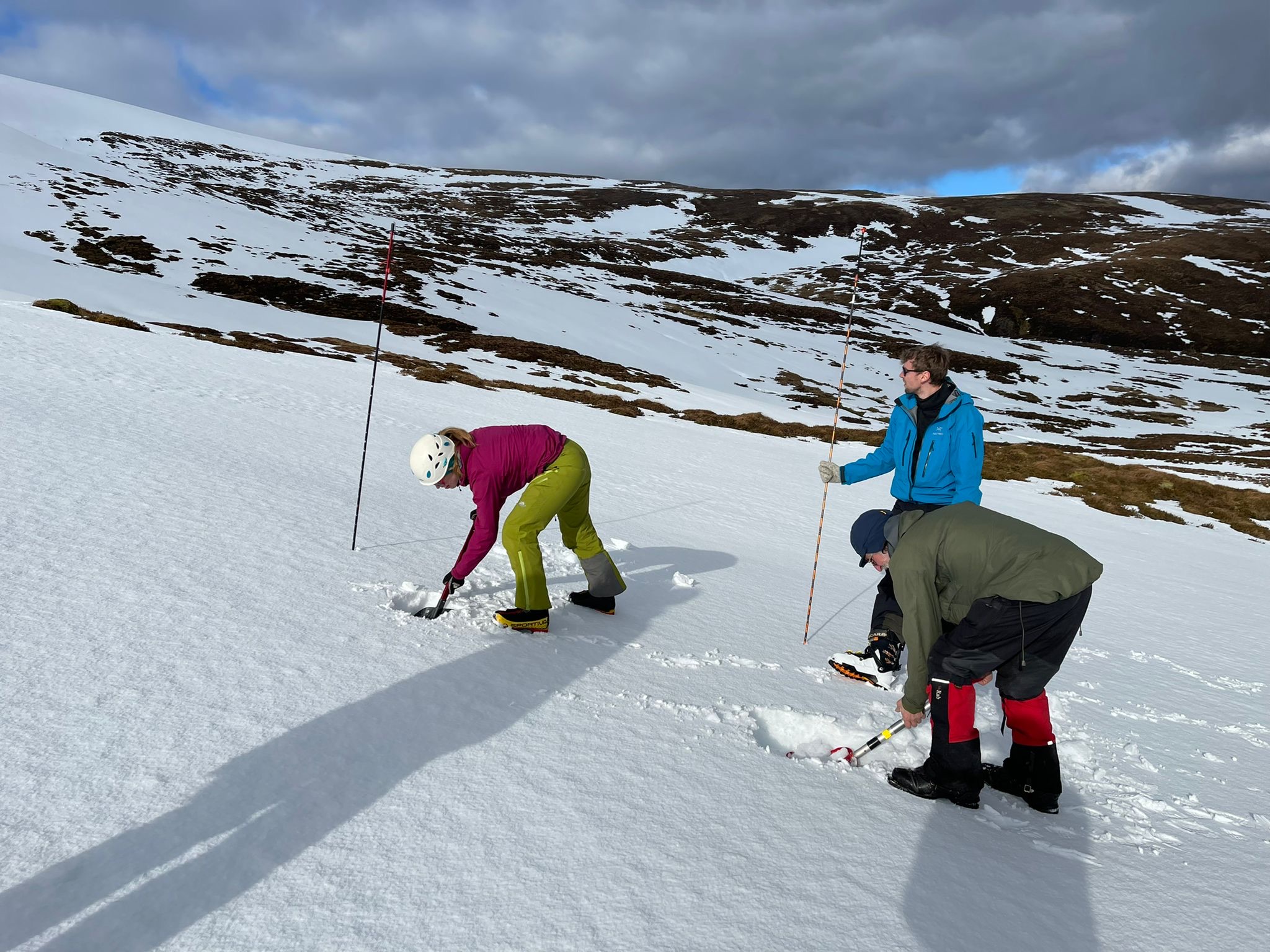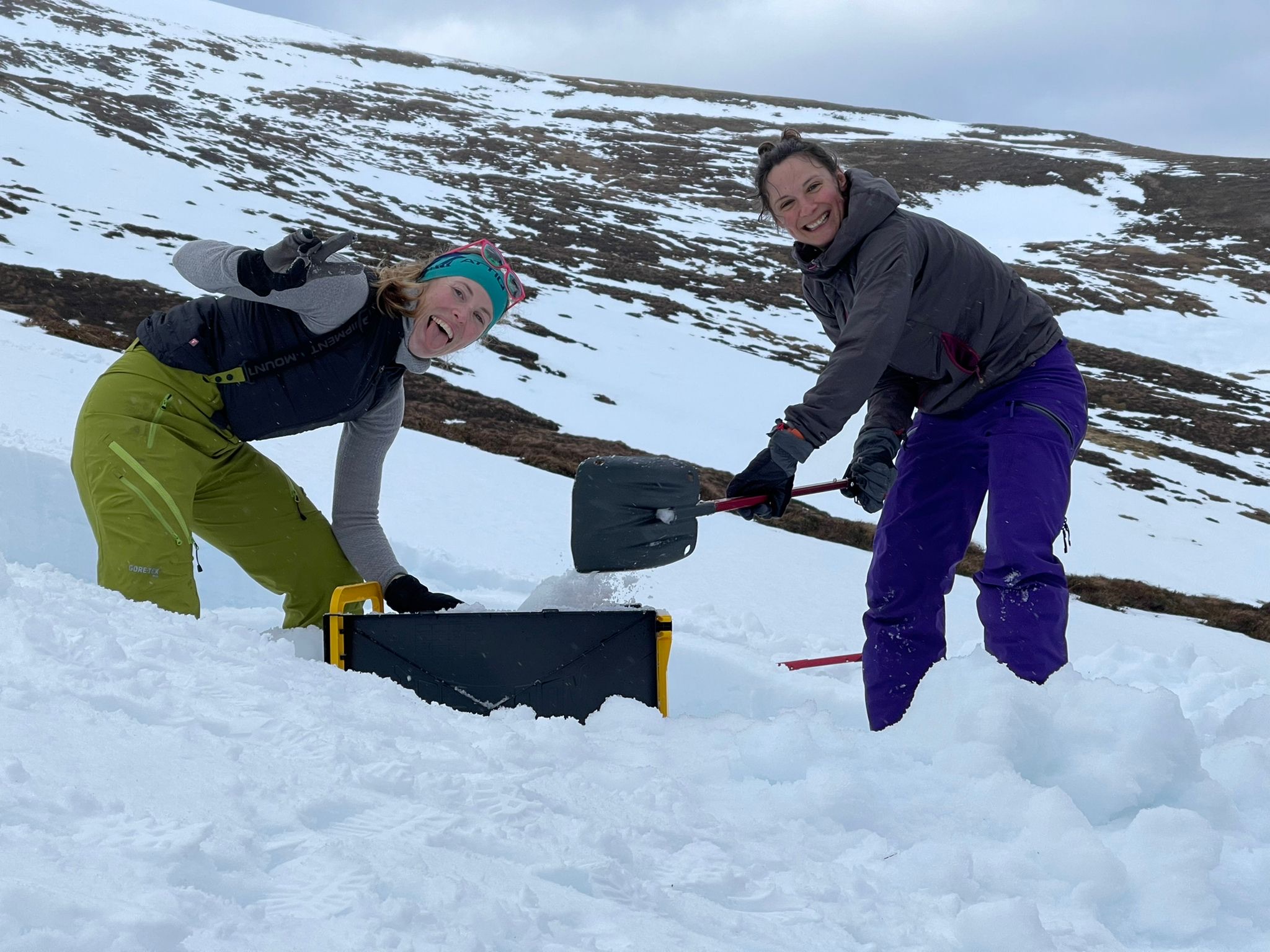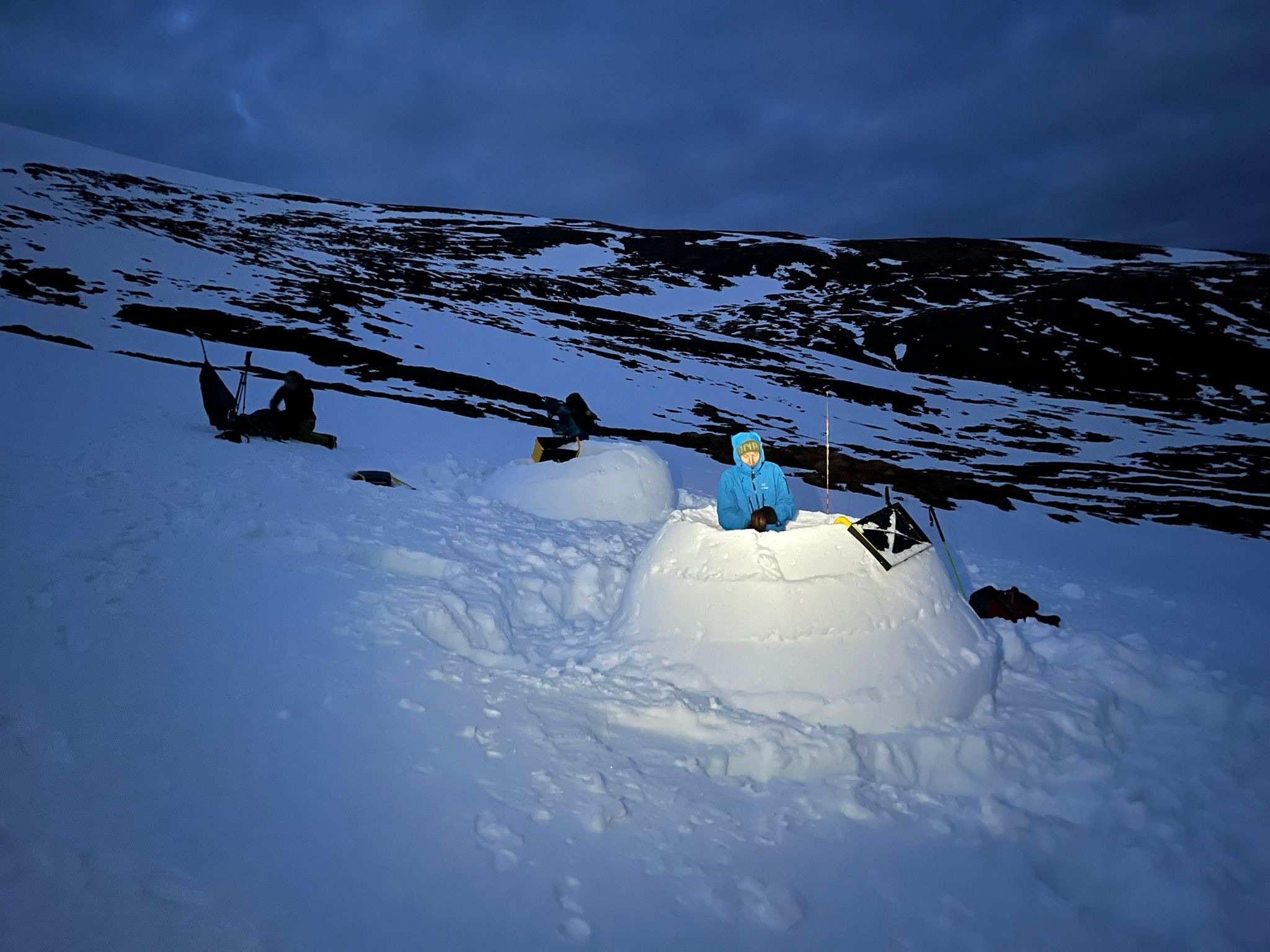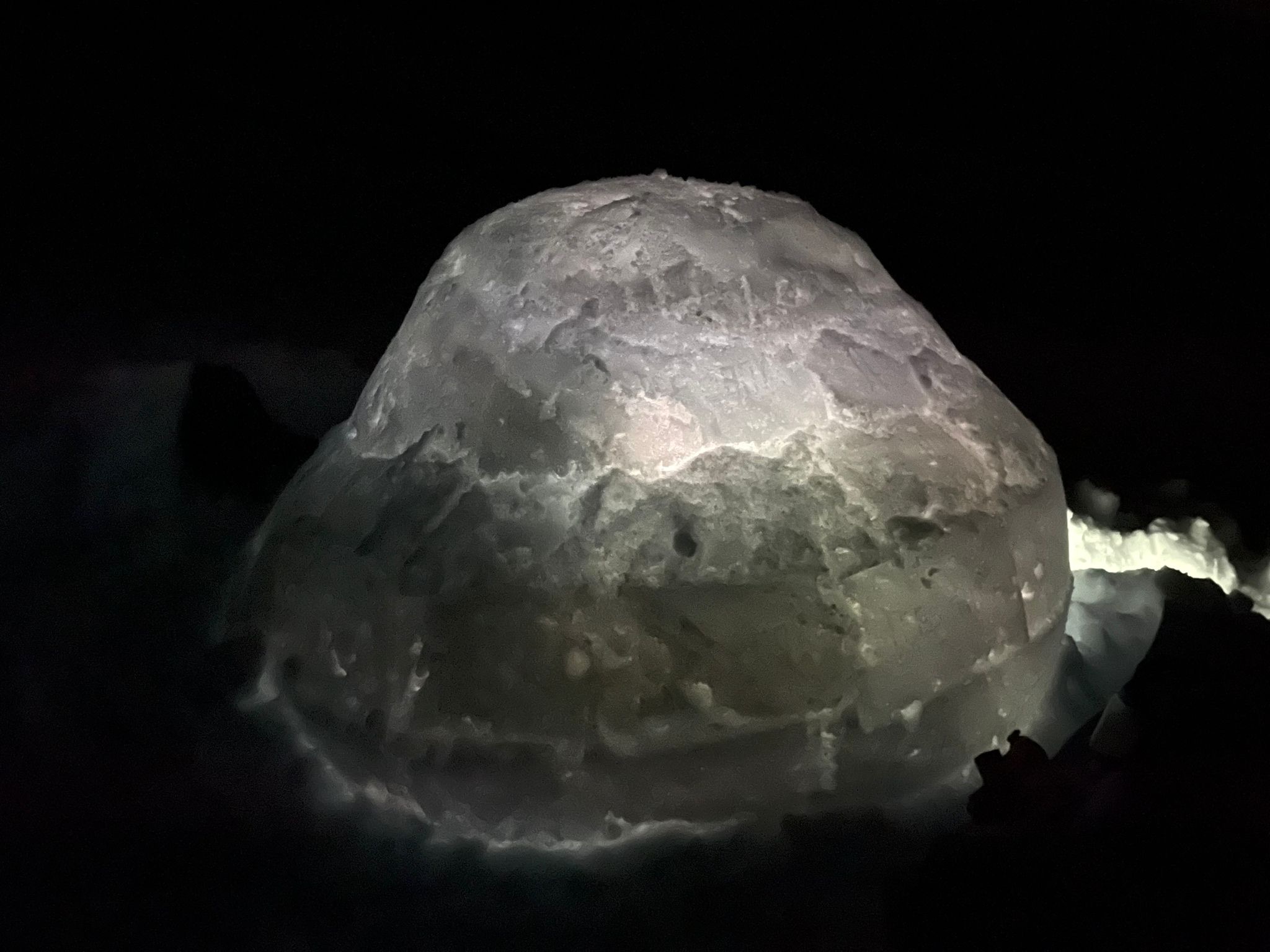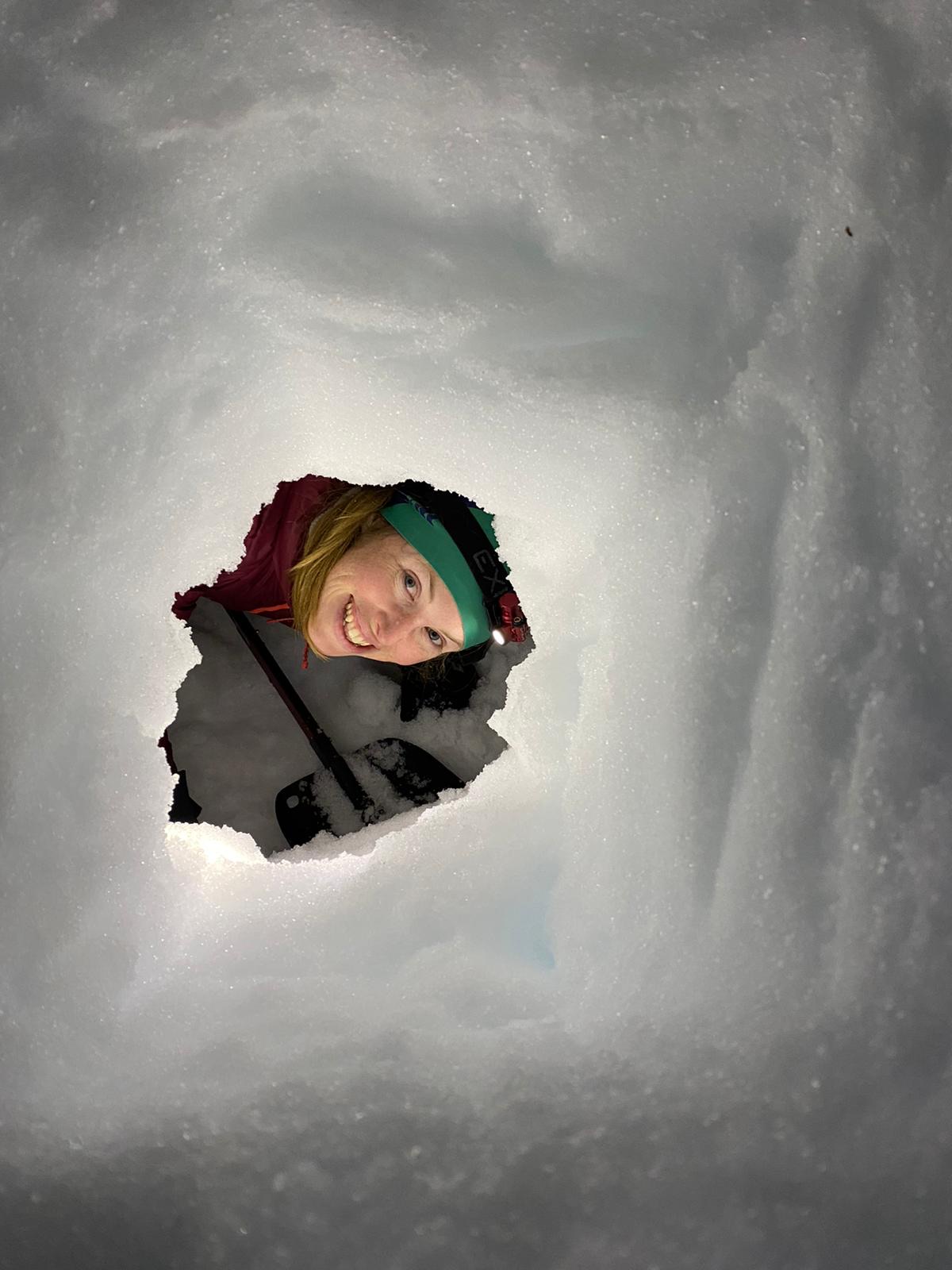 I'd taken a break from shovelling snow to pitch my tent a short distance away on some boggy ground. Flatter and with a fine view it was a better site than the previous night's and after the exertions of load carrying and igloo building I slept well, waking to a dark red dawn that soon gave way to a deep blue sky. The dawn temperature was -4°C. Within half and hour of the sun appearing it had risen by 10 degrees.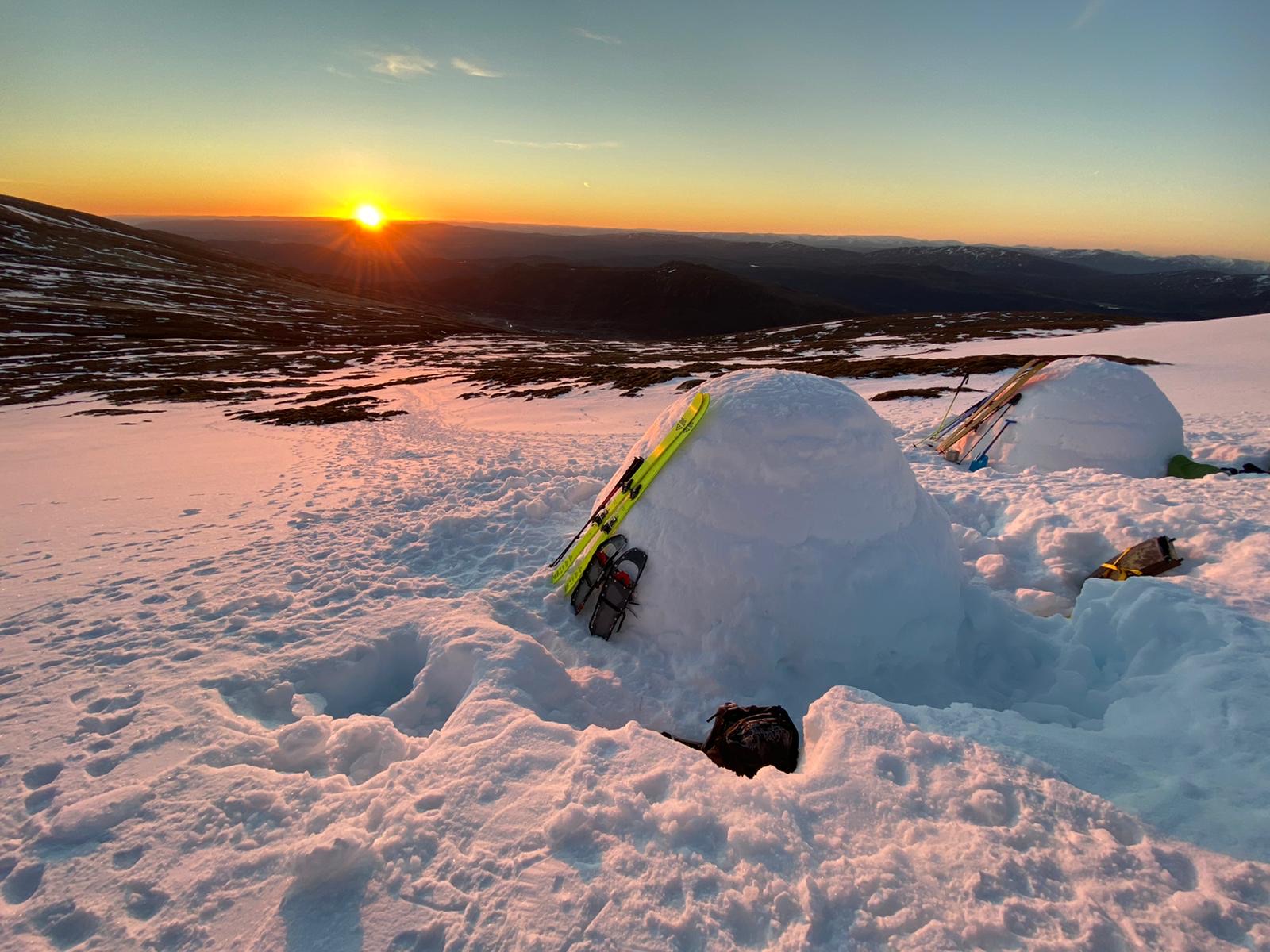 At the igloos the others were up too and breakfasting outside in the sunshine. One, Nicki, had already departed, rising long before dawn, just as she had in 2018. A mountain rescue team member, she was due in Torridon later in the day for training. That's commitment!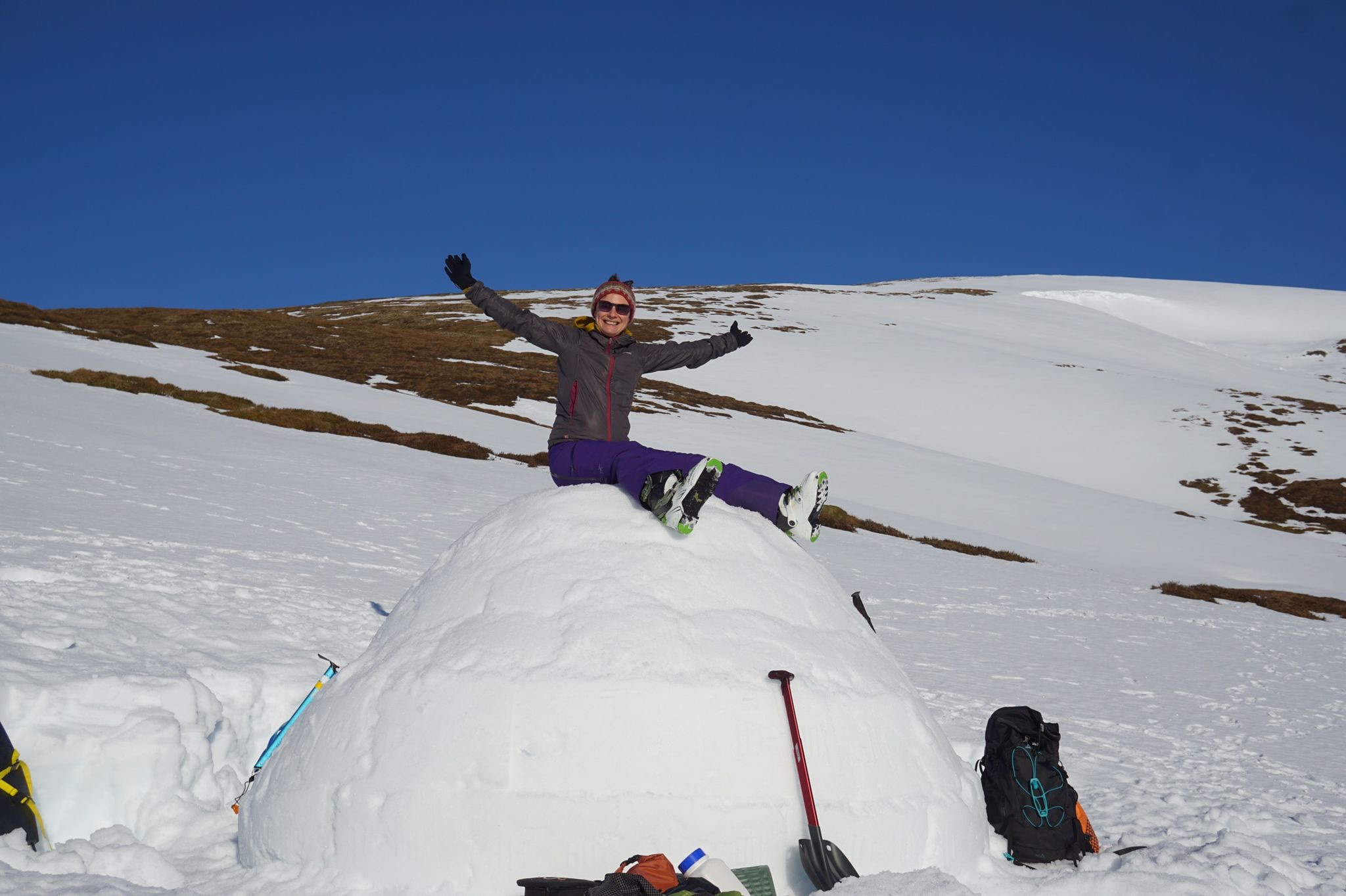 Of the five of us left, Cat, Alan, and Chris were on skis, whilst Andy, like me, had brought snowshoes. We all headed up Toll Creagach, the Munro on whose slopes we'd spent the night, in the now warm sunshine. The snow was crusty and icy in places. If I hadn't had snowshoes with crude crampons underfoot and serrated metal edges I'd have been wearing actual crampons.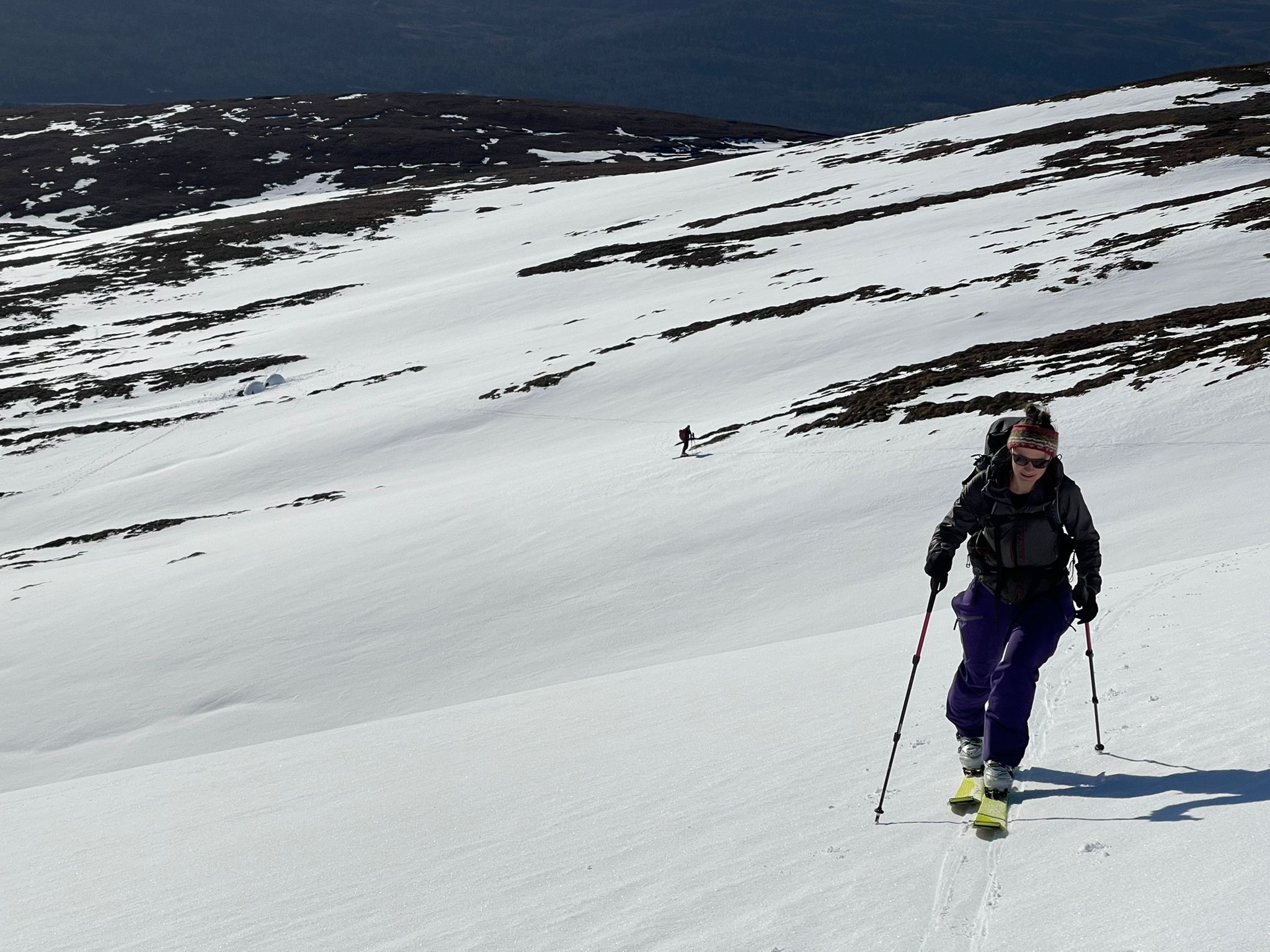 On the summit we had a view that was just as spectacular as the one four years earlier, the mountains looking alpine under the blue sky. The only difference was the wind, which was cold. In 2018 we'd had no need for hats, gloves, or even jackets. This time I was glad to don my insulated jacket so I could keep warm whilst admiring the view.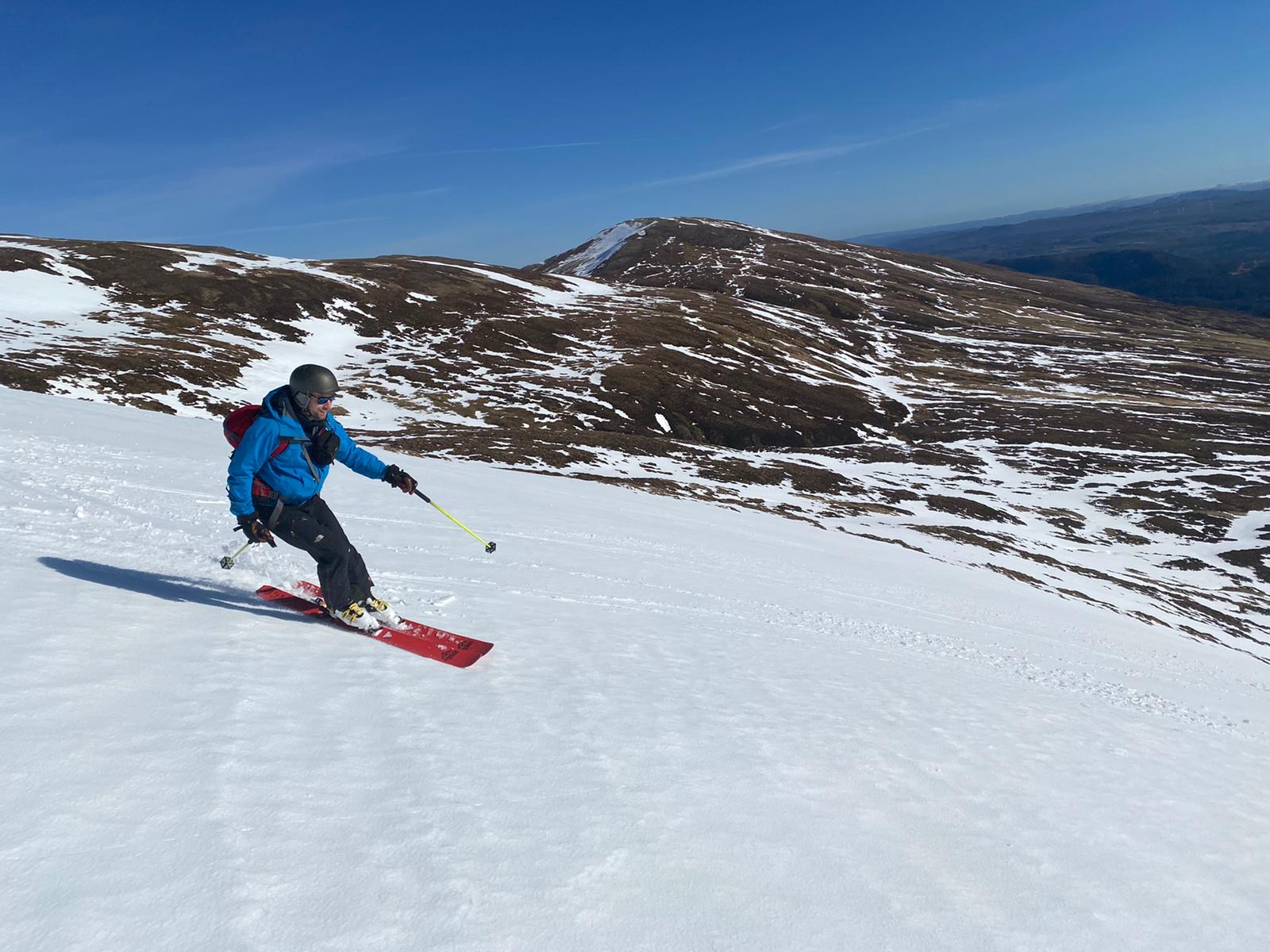 The skiers swooped down the slopes and vanished. We plodded slowly behind them. That was the only time I wished I'd brought my skis. I'd have hated carrying them though, for just a few minutes of descent.
Collecting all our gear Andy and I continued down to the forest fence on snowshoes, then on foot down the boggy slopes to the magnificent old pines of Glen Affric. In the sunshine in this green world spring didn't seem so far away. Higher up it was still winter. But maybe not for long.
After four years it felt tremendous to return to igloo building. Thanks to everyone who took part and especially Andy Ince, who organised the event, as always.
Article republished in full thanks to Chris Townsend, writer & campaigner. (www.christownsendoutdoors.com)
Photos – thanks to Chris Townsend & the inuit team
Inuit team
Alan Bird
Andy Ince
Nicola Jackson
Chris Holmes
Chris Townsend
Cat Webster