By Nicky Jackson (pictures by Hamish Frost). We set off in calm weather up to the CIC Hut. A heavy camera bag and a mountain of gear made for slow going and we arrived in darkness to the hut. Snow conditions this year have been poor, but we were optimistic after hearing from climbers that the gulleys still had snow and there had been fresh snowfall during the week.
We were really thrilled to have photographer, Ben Read (www.benreadphotography.com) and journalist Simon Akam (www.simonakam.com), with us to record our weekend. An article is set to be published later this year in Outside Magazine.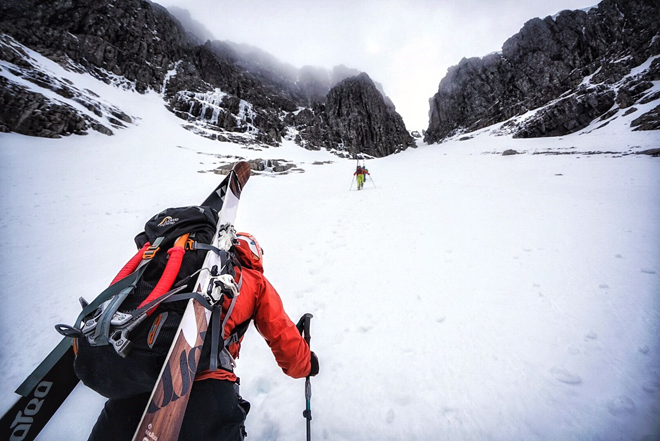 On Day 1 we skied from the top of No 4 Gulley. We all dropped from the headwall. Icey scrapes echoed down the gulley, but part way down the slope softened up and made for a great run. We then went on a mission up No 3, with narrow, concave slopes forming a dicey entry. A few keen beans/mountain goats went for another run part way up No 2.
In the evening we all shared a meal in the hut. A Dictaphone was taken out and we were interviewed by Simon Akam, our Journalist for the weekend.
Day 2, we hiked round to Observatory gulley. We took our axes and crampons out before it got steep and icey. Lots of photos were taken of us in action by Ben Read, both candid and posed for. Some went most of the way up Observatory gulley and we all skied right to the end of the snow line, with Finbar winning on the longest run down to the rocks.
Although the snow line was further back from the years before and the cornices less pronounced, it was still incredible to ski at the end of April on the Ben with such an awesome group of people.
NB. Graham the Mountain Goat lost at Gin Rummie and has agreed to swim in the Lochern next year, or Finbar will ski across it if his Dad decides it is not a day for ice swimming.