By Mike Cawthorne. Imagine going to a place where you can't check snow conditions prior to leaving, no webcams, no SAIS report, no Facebook postings. Has anyone even heard of Coire Leachavie?
Strawberry cottage in the wilds of Glen Affric is a new venue for IBSC and it was apparent that none of the twelve members gathered had ever skied the surrounding hills, the likes of Sgurr nan Ceathreamhnan, Mam Sodhail, Càrn Eighe, Mullach Fraoch-choire, A' Chralaig, names that resonate with all who love the Northwest Highlands.
On Saturday morning and beneath the promised blue skies, five of the party who were without skis trundled off to climb Sgurr nan Ceathreamhnan and tackle its stunning ridge. The remainder, six skiers and a split boarder, headed east on the path above Loch Affric and swung north into Coire Leachavie.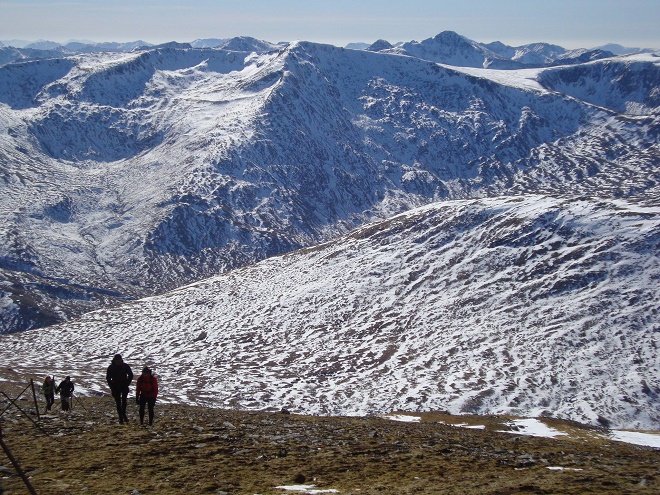 The toiling began, the juices flowed. And then evaporated. After five kilometres and five hundred metres of ascent the happy gaggle of skiers that had left the cottage were strung out like a ragged peloton and as one by one we reached the snow all seemed to fall upon it and kiss it like a long lost friend, albeit a friend with a crusty face.
But it was snow and newly buoyed we skinned the upper corrie and burst onto the ridge. The views were simply jaw-dropping, hills in a great orbit from Torridon to Ben Nevis and beyond. There was time to climb to Mam Sodhail and after more wordless gawping at the scenery we deskinned and went sailing down the south ridge on spring snow, over the lip into shade to tackle the ski-gobbling crust, each in his or her own style, fast or pedestrian, in smooth pleasing arcs or staccato fashion that left a trail of craters. Either way the fun was over all too soon. No snow ribbons burnside to chase in the afternoon sun, just an abrupt vanishing. The story of the winter.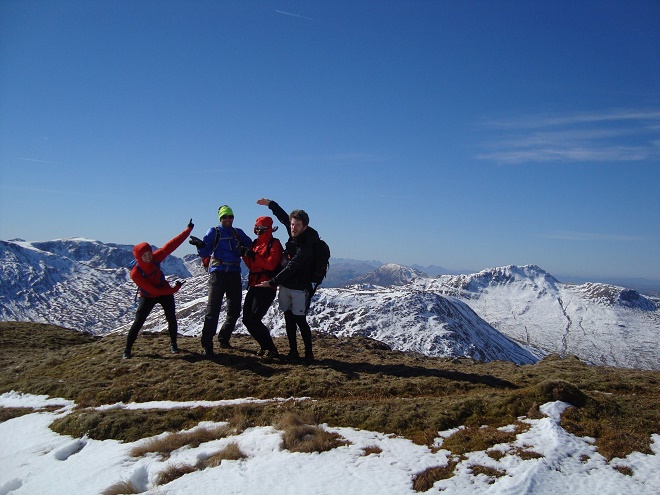 The hill-walking party enjoyed similar vistas, theirs with a more western flavour. Heady with the alcohol of sun and views, Duncan and Lizzie remained on the high crests and we began to wonder about them until their arrival matched the serving of dinner, a hearty Rogan Josh courtesy of Jan and Monika. All a little weary and faces red from sun we toasted the day and spoke of the high corries seen, their lines and headwalls and of future winters that would blanket them.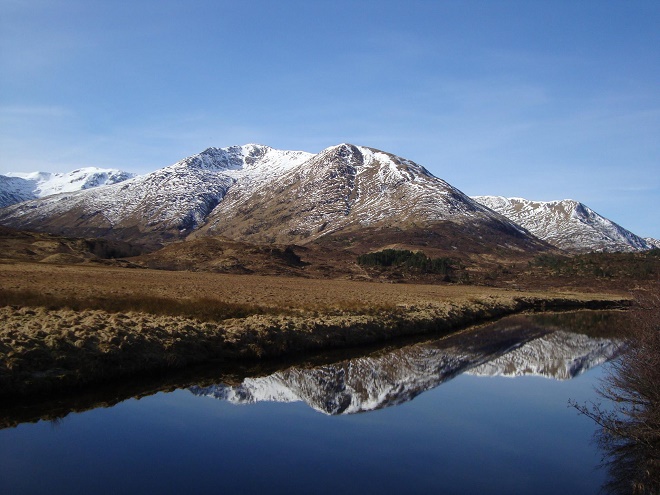 In the morning some drifted homewards along the track while two parties made for the great northeast shoulder of Mullach Fraoch-choire. Of yesterday's tourers only Jan bothered to carry skis. Lugging skis all day for the promise of few minutes downhill was not just a Scottish thing it seems.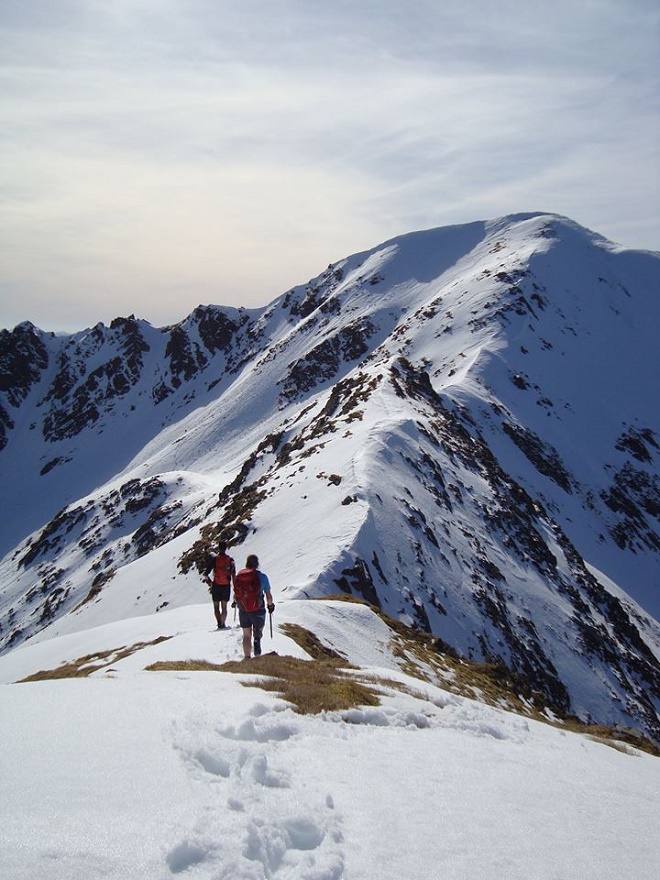 A long steady ascent and so warm and windless some of us had to detour to find water and two in the other party climbed the ridge shirtless and lay in a great drift of snow. We watched as Duncan, Lizzie and Xavier attempted the final snowy crest to the summit but they turned around. Too steep and the drops too huge. From our vantage we could survey the pinnacled crest to A' Chralaig and high corries and possible lines, a backcountry arena of the future.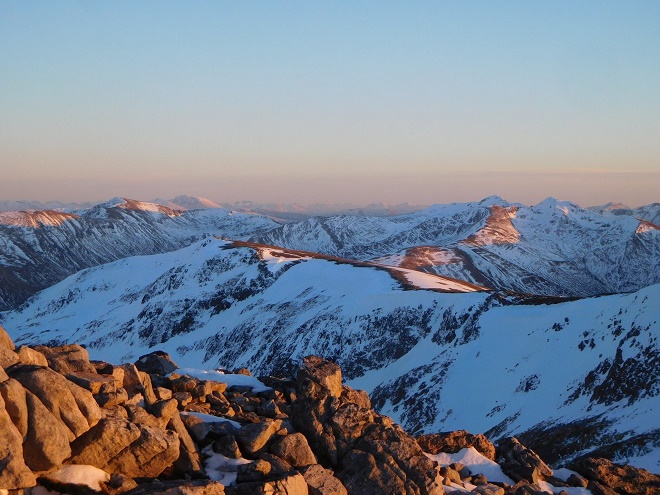 From a distance we spied Jan drop into gully. It narrowed and for a few seconds he was gone, lost among bands of dark rock, and guessing where he would appear a tiny figure emerged swerving the many obstacles and crossing the lower corrie, stitching like a master weaver the last strands of snow. He climbed back to our stance to enjoy one last slide and his tracks drew a double line under a fine weekend. But I think we would all barter a little of the sun for a little more snow.