By Max (the dog): I was excited yesterday morning when Helen didn't take me out to the park before breakfast and we left in the van very soon afterwards – that usually means an interesting day's in store, and it certainly was!
After an hours drive we parked by a railway line [Editor's note: at Dalwhinne] and she got out her skis and put them onto her backpack. Ah, I thought, some fun on the snow – although I couldn't see any nearby! I really began to think she'd lost it when she then got her bike down from the rack – she's always used one or the other before, so how was she going to manage both?
Anyway, she seemed determined to do whatever mad exploit she had planned, and so I trotted along beside her as she cycled with the skis on her back. We progressed along a tarmac road at a steady pace (she's very slow up the hills so I lead the way to encourage her along) and I'm pleased to say that she didn't go too fast on the downhills (as last time I hurt my paws racing to keep up with her). After a while we turned off the hard road onto a track across the hillside. This was much more interesting in terms of smells and softer underfoot, although not too muddy for her to cycle on. After quite a while [90 mins,1 5km] we saw some people the other side of a river who Helen seemed to know. I was all for wading cross the river, but Helen didn't want to (humans are very fussy about getting their feet wet), so we backtracked to a bridge to join the group of 4 guys by their tents.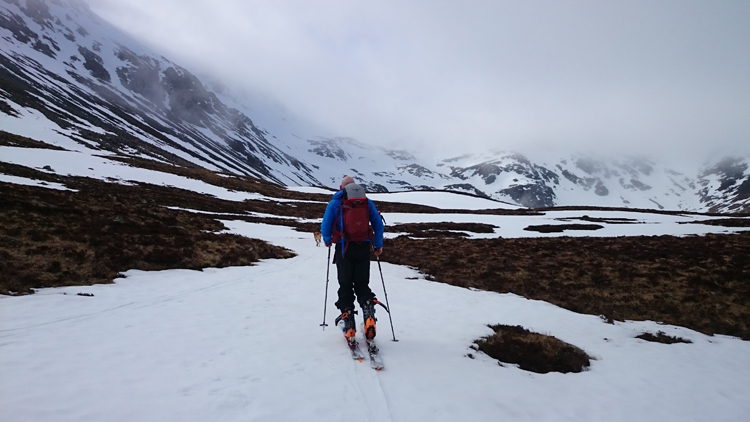 I was pleased that Helen was able to have a rest for a while while the guys packed up their tents, and once I'd met them all and had a good sniff around I too was happy to lie down for a while. I noticed they all had both bikes and skis, so maybe they were all equally mad – especially as there was still no sign of snow nearby.
Eventually we set off, without the bikes, but with the humans carrying their skis on their backs. As we walked up the path I tried my best to keep the group together, running from the front to the back to make sure they were all there, but it was hard work as frequently someone would stop to alter clothing and get separated from the rest. They all regrouped when we met a girl with a bike (but no skis) and the guys talked with her about coffee – although I couldn't smell any.
At last we got to some snow, and everyone took their skis off their backs. After more faffing & eating ensued (it's great being with a crowd as I was given food by several people other than Helen, including a lovely sausage). Finally, they put their skis on and we were off.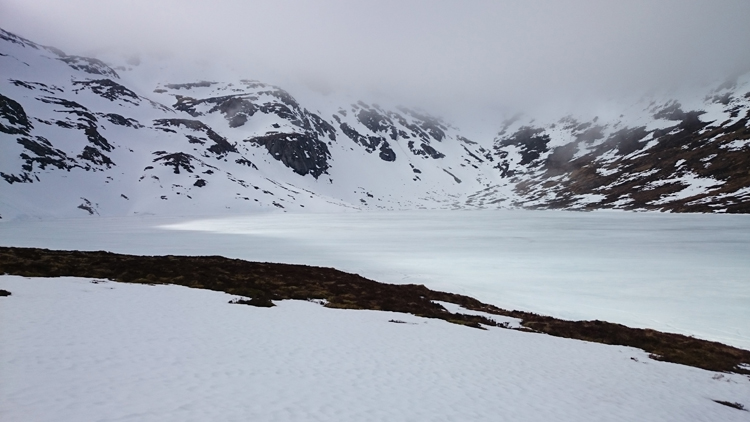 At first the snow was quite hard and not too steep, so I found it easy to walk on and the humans progressed quite well too, although slowly. I didn't see any wildlife, but there must have been Ptarmigan about as every now and then there was a noise and one guy would shout Ptarmigan! ;-)
We came to a big round flat area with a slightly blueish hue, which had cracks around the edge, was cold underfoot and very slippy when I tried to run on it. The guys were only going around the side of it, and Helen seemed a bit anxious, calling me back when I got too far into the middle. At one point there were lots of small lumpy bits sticking out from the flat, and I heard them talking about avalanche debris, whatever that is.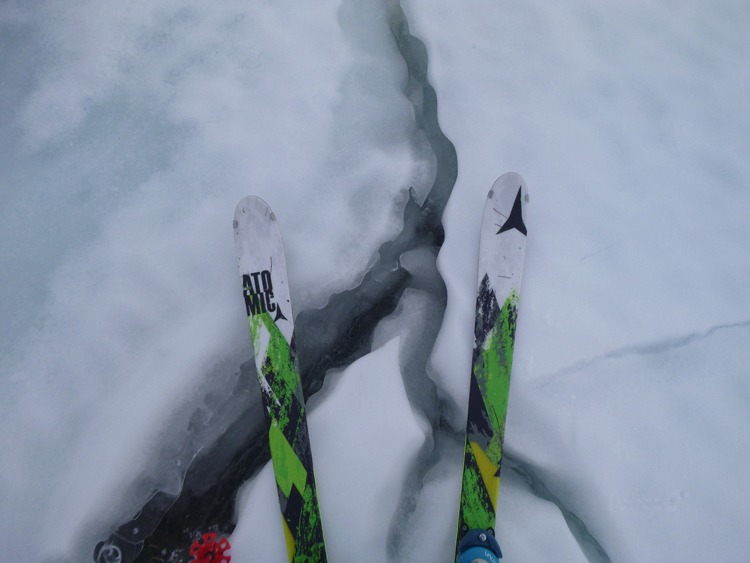 They then started to climb up the snowy hill. Humans are very inefficient – I don't know why they don't just go straight up the hill like I do, but instead they zig zagged up, turning in a most ungainly manner! I had my work cut out herding them then as the group spread out a lot. The parts of the slope that were not in the sun were a bit icy. One of the guys got out some spiky things which he put on the bottom of his skis; I just put my claws out to grip. Part of the slope was now in the sun, so everyone made their way up that section as the snow was softer, although I found it harder going as my feet sank in.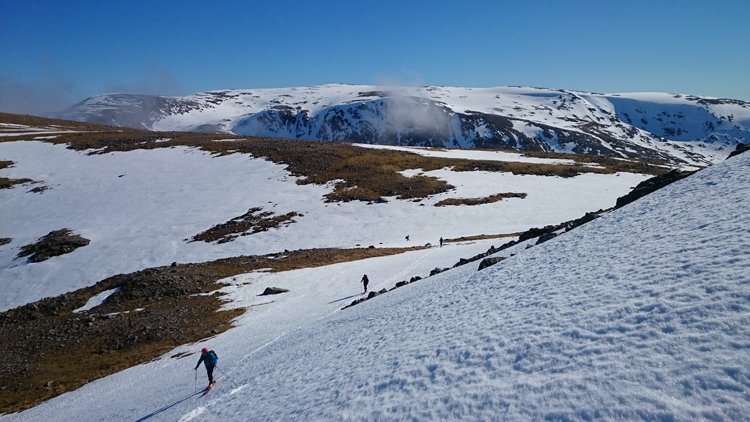 They finally came to the top of a ridge and stopped for more food – I helped clear up anything they dropped. After a brief rest, they set off again, (some on skis, some on foot) for the summit which was up an easy snow slope. What a view from the top! We were now above the cloud and could see several mountain tops sticking out. I heard the names Creag Meagaidh, Ben Alder and The Ben mentioned.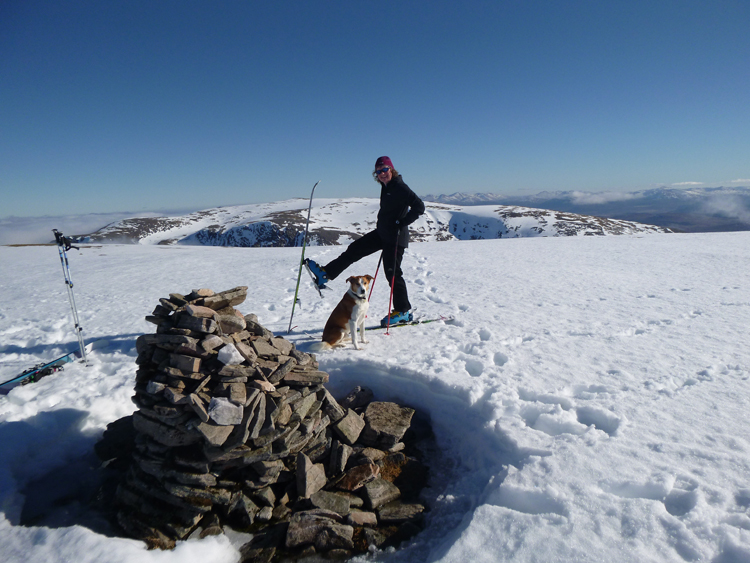 The sun was starting to drop a bit and some whispy clouds surround us by the time they set off down. I find it very difficult to know where to go, as the humans don't go straight down most of the time and they are moving very fast so I am worried about being run over. The snow was quite soft and grainy at the top, so it was quite difficult for me to run in and the humans were soon ahead of me, so at least then I could run down in a straight line. Then we were out of the cloud and onto very hard snow, which the skis made a lot of noise on.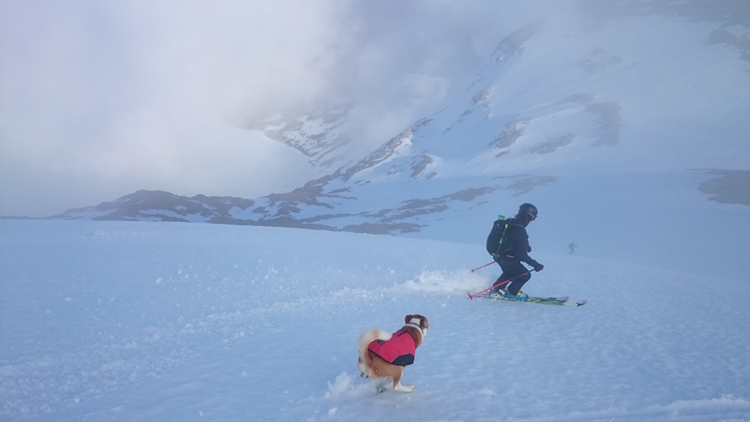 Instead of following the way we'd come up, some of them decided to go down a narrow gulley, which was very icy. Helen went too, so I followed, but kept to the rocks above it, as that was easier and safer for me due to their erratic skiing! One guy carried on down the gulley, but Helen and two others got part way then changed their minds. One guy dropped his iceaxe but luckily Helen was lower down so she was able to get it as she climbed back up, then out of the gulley. We then went down a wider and shallower slope to join the others at the flat area again – there were big smiles all round :-)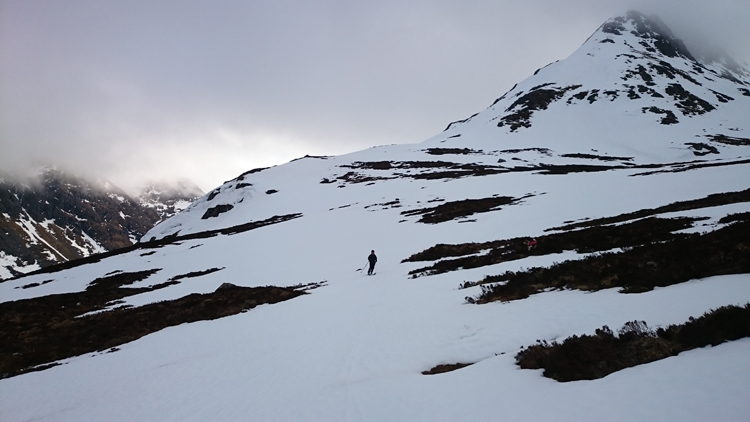 A windy route through the patches of snow, with short sections walking over heather in skis followed, then they skied down the snow piled up next to the burn until the snow ended. Skis were put back onto rucksacks and they started walking along the path – less spread out now, so I didn't have to herd them a much!
When we got back to their tents, we were pleased to see all the bikes were still there. Helen didn't seem to be too keen to sit on hers now though and during the cycle back she kept complaining about the hard saddle and her aching back. She was very slow up the rises, and I kept a steady pace on down the hills as I knew there was a comfy bed awaiting me. At one point I saw some deer sitting on the road, so I ran over to say hello to them, but they all ran off and Helen called me back, so yet again I didn't manage to make their acquaintance :-(
It was dark by the time we got back to the van after a long but very enjoyable day [12hrs, 5 mins]. Once we'd eaten, I was pleased to relax onto my bed while Helen drove us home.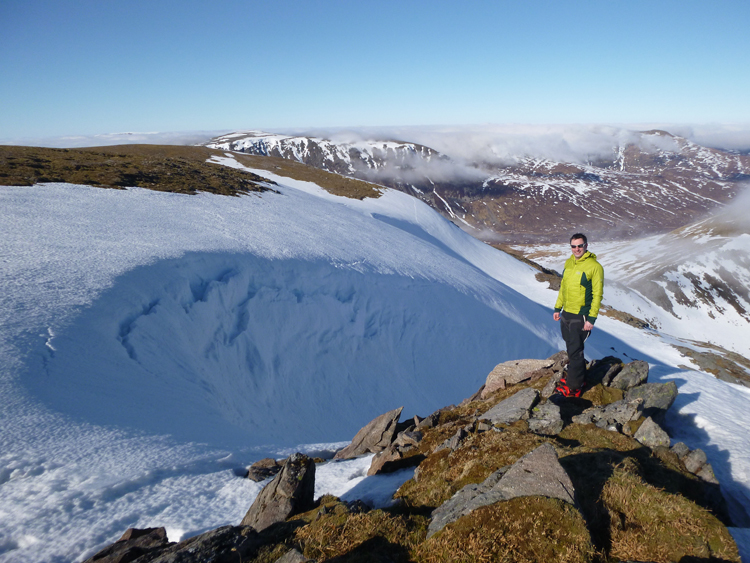 Today I'm feeling a little tired, but am still up for a good walk, whereas Helen took ages to get out of bed this morning and is walking around very stiffly – these humans have no stamina!!