It didn't rain all the time. Just when we were finishing the igloos. Before then there were some light showers that passed over quickly, leaving rainbows in their wake, a pleasant touch of colour on an otherwise grey day. Otherwise the only brightness came from our clothing.
This was the annual Inverness Backcountry Snowsports Club igloo building weekend (well, intended to be annual, some years the weather or lack of snow has forced cancellations and there were of course the lockdowns). Ten of us had made our way through the heather and along strips of snow into Coire Laogh Mor where we found some deep enough snow patches. The weather was warm for mid-March and the forecast was for showers with fog and strong winds higher up. There'd been a big thaw the previous few days too. Not ideal conditions then but these trips are planned well in advance so we went anyway. We couldn't always expect the wonderful conditions of the previous two trips in 2018 and 2022.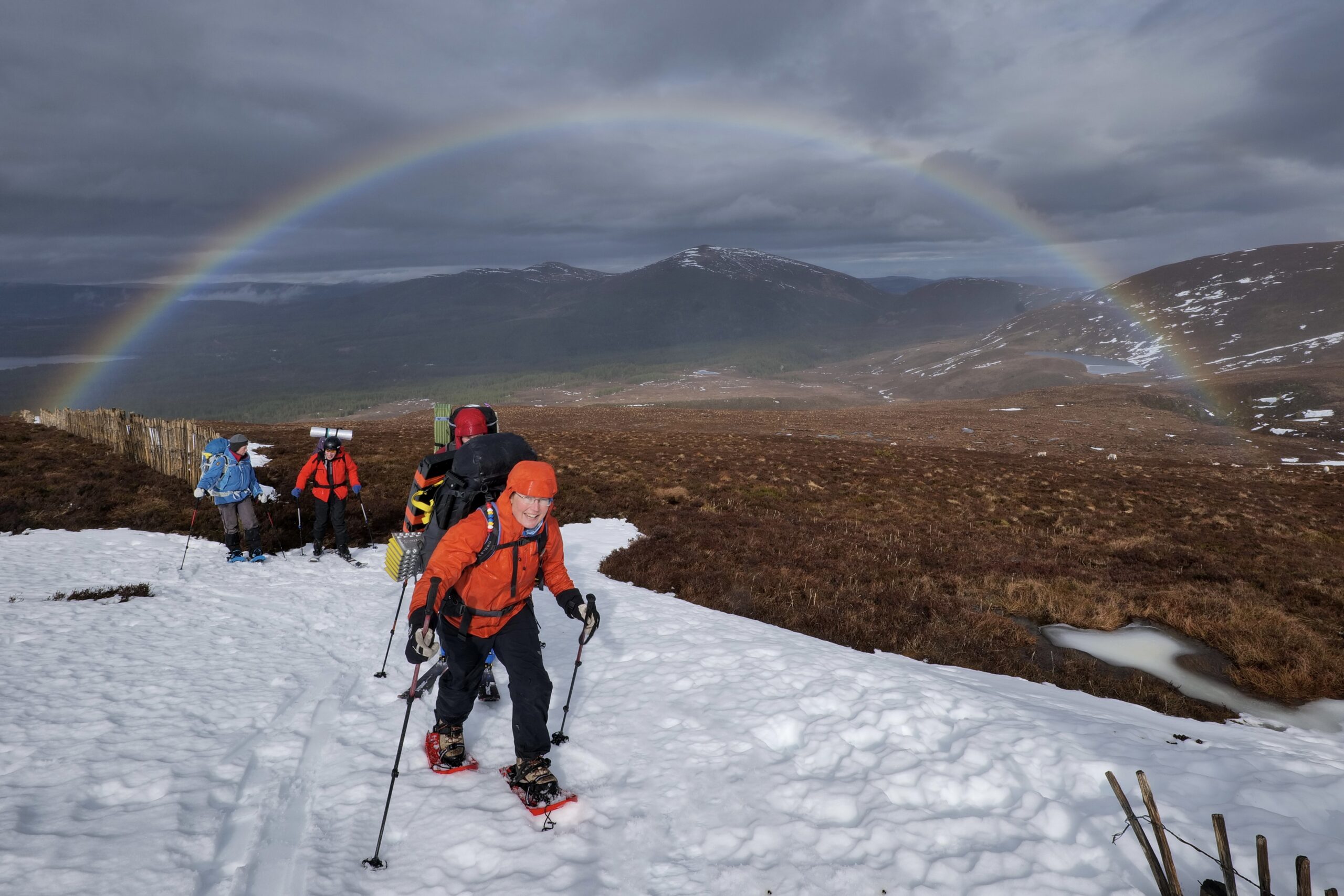 I've been on these weekends since the first one in 2010, having inspired them with a talk I gave to the club, then called the Inverness Nordic Ski Touring Club, about an igloo ski trip in the Wind River Range of the Rocky Mountains that I made with the inventor of the IceBox we use to build the igloos, my friend Igloo Ed. I'd first skied with Ed and learnt to build igloos back in 2007 on the most extraordinary winter trip I've ever undertaken in Yellowstone National Park. The combination of thermal features – spouting geysers, clouds of warm steam, bubbling hot mud pots, warm rivers – and deep cold down to -36°C plus very deep soft snow was strange and memorable.
Since 2010 I've been on every igloo building trip with the club and have posted about them all on this blog. They are one of the winter events of the year, even when conditions aren't that good.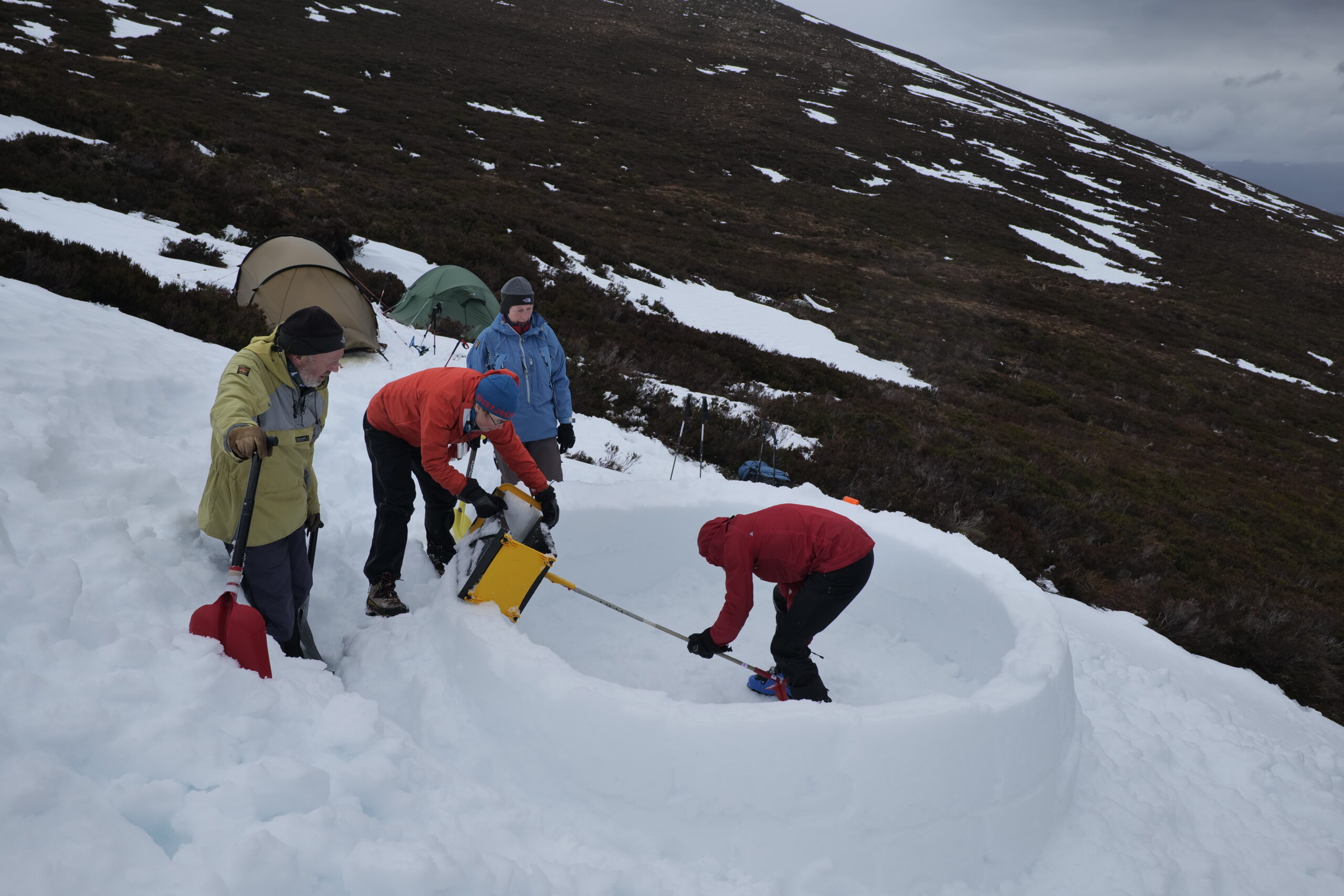 The one advantage of the warmer weather this year was that the heavy wet snow was easily and quickly made into blocks so we were able to take our time and have plenty of breaks and still finish before dark.
I'd brought a tent, intending to camp as I'd done on a number of previous trips, leaving the igloos to those who'd never stayed in one before. However as we had three IceBoxes and making the igloos was so easy we built a little one just big enough for me. Two of the party were staying in their tent anyway so we ended up with three igloos of different sizes sleeping four, three and one.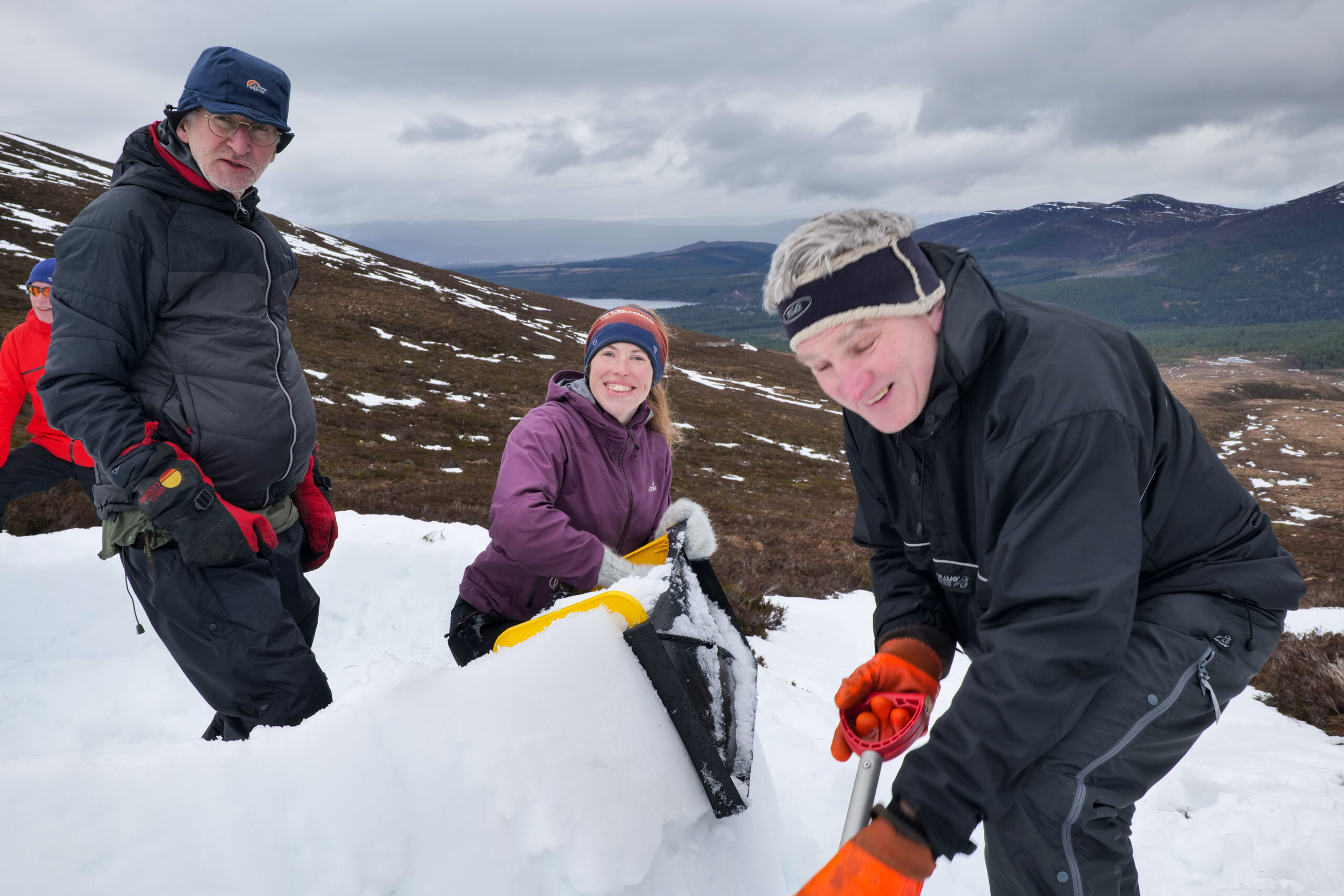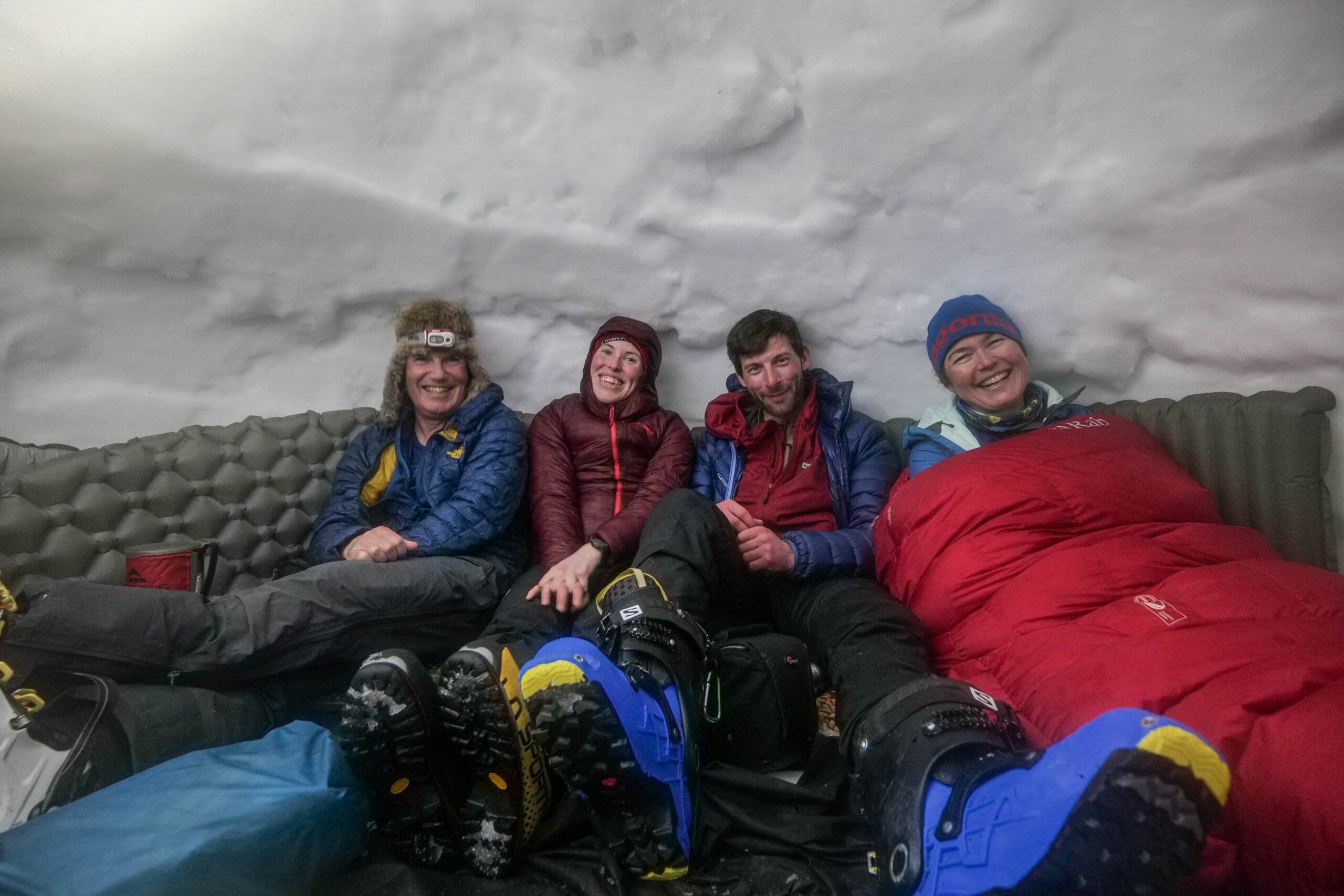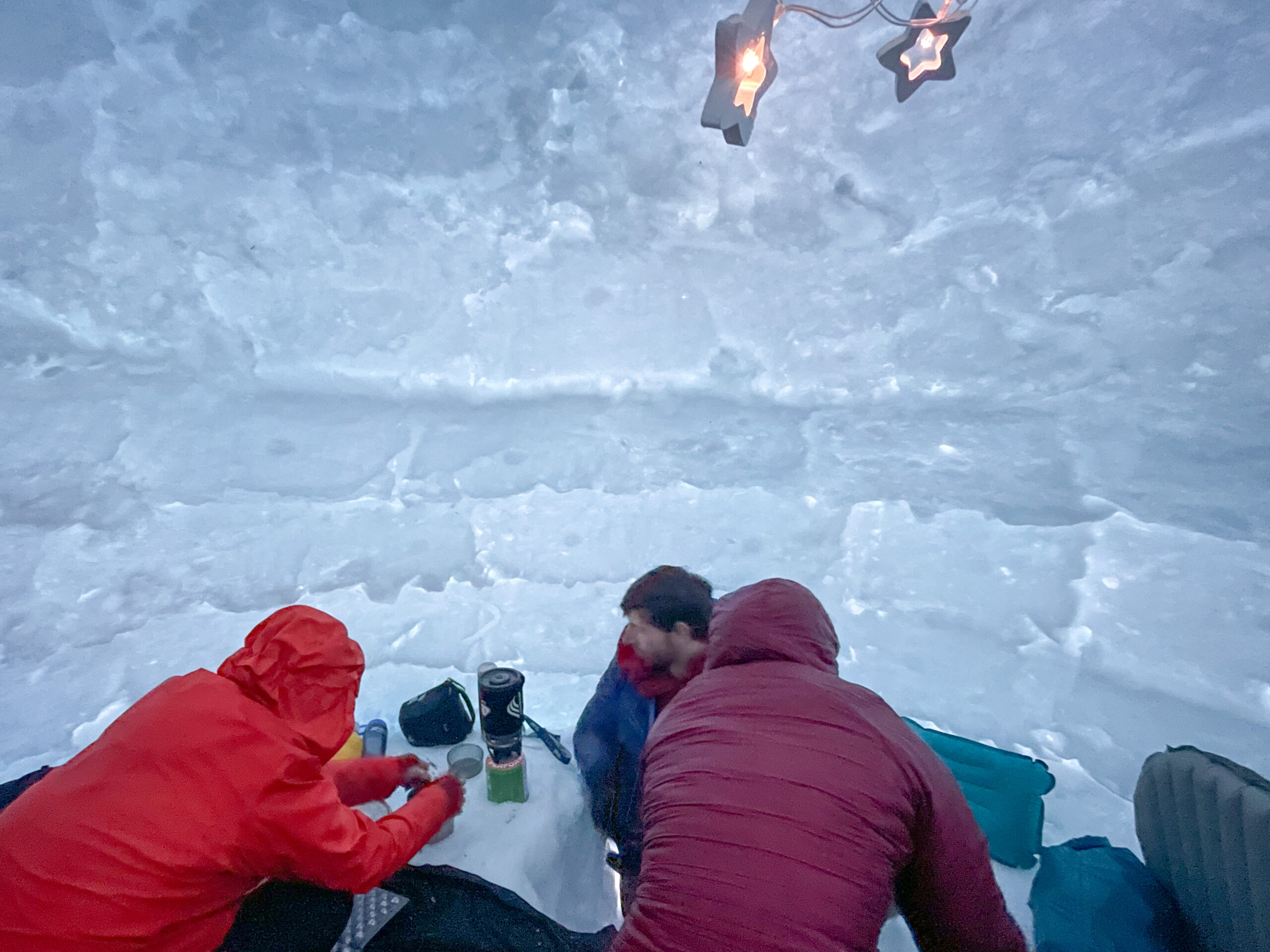 The rain and a damp evening precluded much in the way of outdoor sociability after the igloos were completed and we soon retreated inside to change into dry clothes and cook and eat. I ventured outside a couple of times, the first time to see the last of a red sunset over the bright lights of Aviemore, the second to a half-clear sky with the constellation Orion standing out, big and bright.
I'd only spent nights alone in an igloo once before, on that first trip with Igloo Ed, and I did enjoy the quiet and calm. Inside an igloo there's no sense of the weather, no sound of wind, no flapping fabric, no rattle of rain on the flysheet. I felt relaxed and peaceful.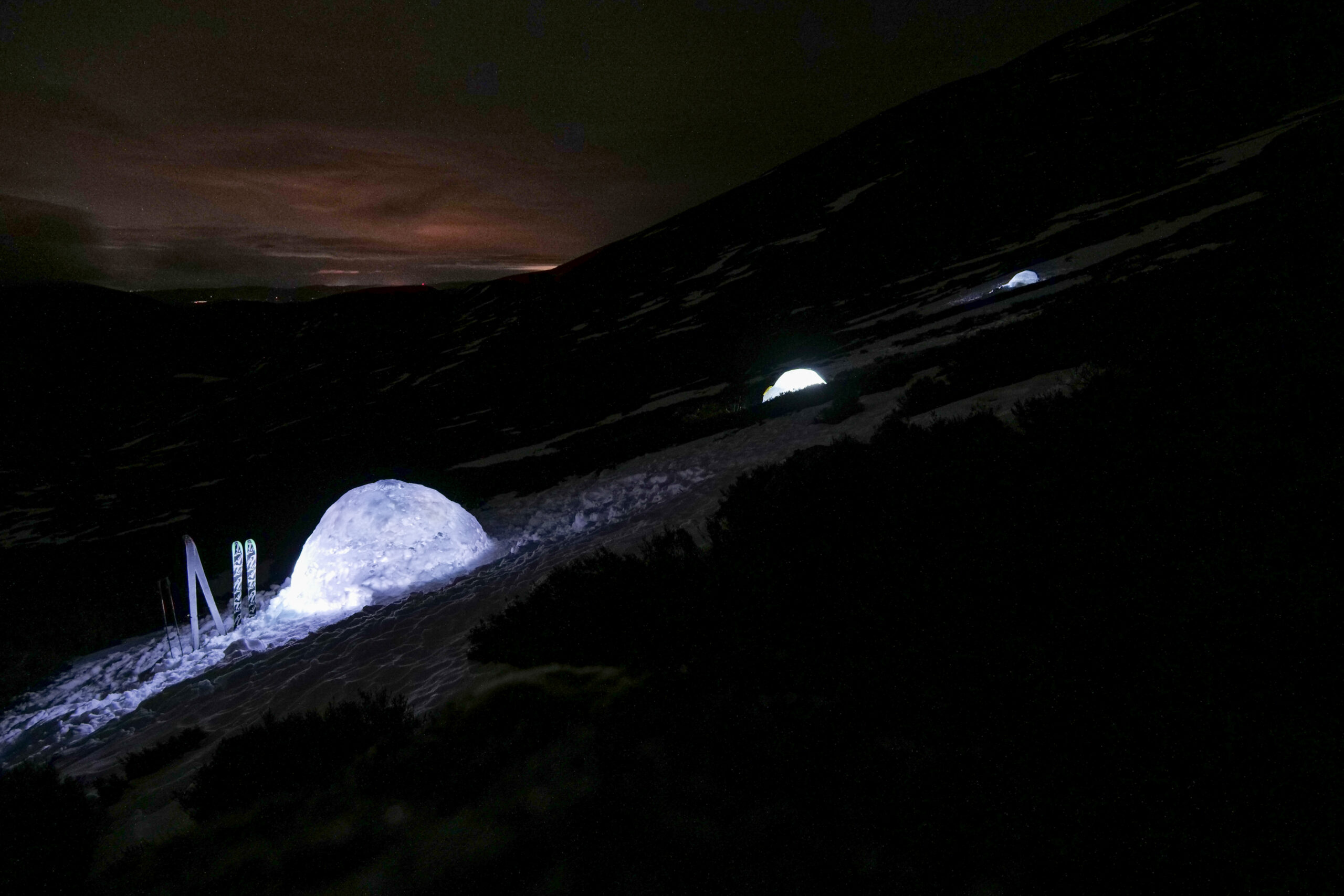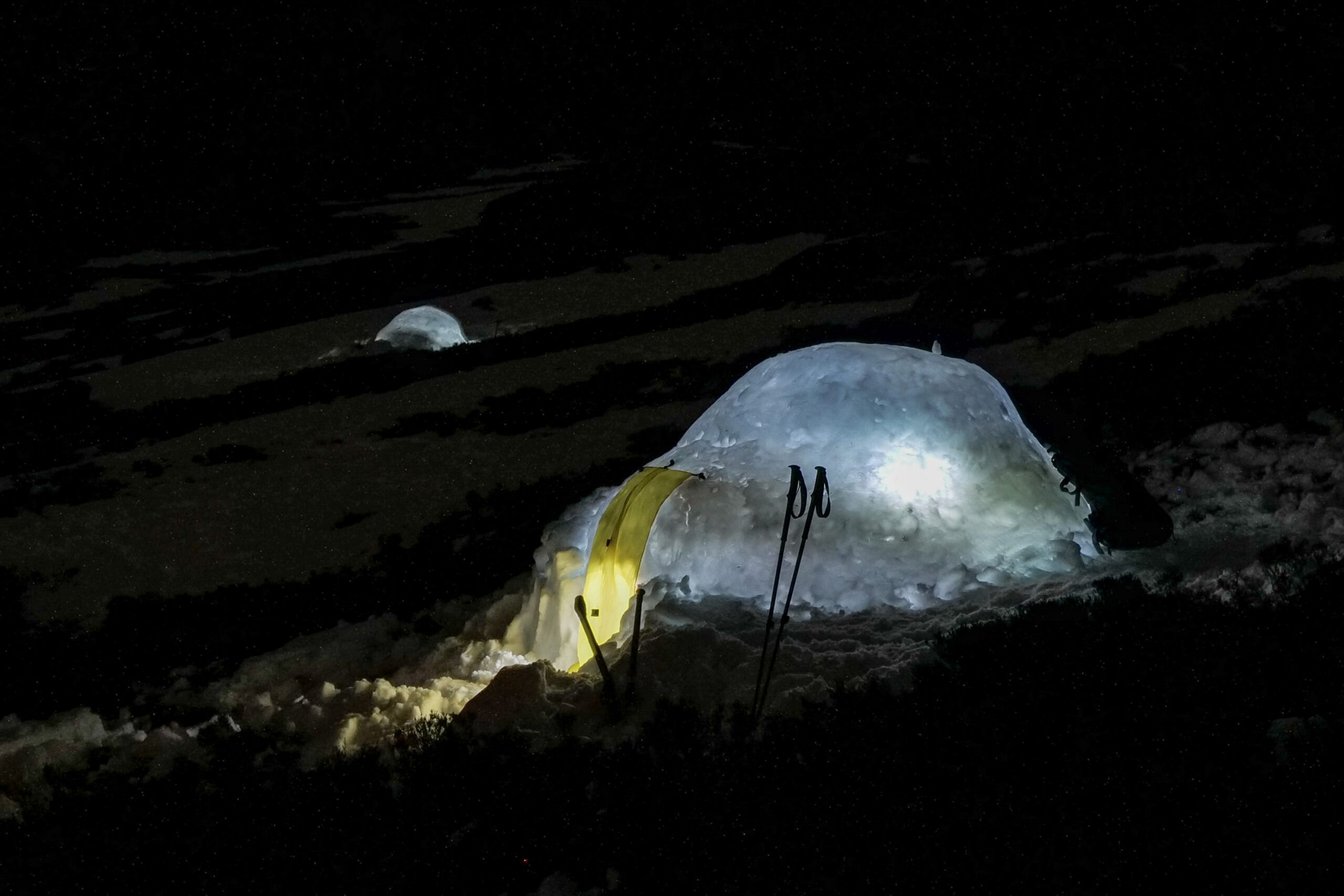 At dawn I was outside again, the air colder now, but a flurry of fine snow soon had me back in the igloo for another coffee. The snow shower soon passed and I took my coffee outside to join the others. Clouds were low down on the hills not far above and most people seemed happy to stay with the igloos a bit and then descend, as I did. The night had been just cold enough for the outsides of the igloos to freeze hard. Their strength was proven by people climbing on top. Two club members out for the day joined us and their dog provided entertainment by posing on top of the igloo too.
Thinking back to previous igloo weekends I remembered that the weather could be much worse. Back in 2013 one igloo half collapsed when the temperatures rose in the evening and wind and spindrift eroded away the walls, leaving four of us to sleep in a two-person igloo that just made it through the night. Two years before that, in 2011, we'd had a fine day building the igloos but had woken to a big storm and a near white-out. The plan of a day's skiing was abandoned and we needed compass bearings to find the descent route.
By comparison a little rain and a grey sky wasn't worth complaining about. We'd built igloos and slept in them. The weekend was a success.
Article reproduced courtesy Chris Townsend
http://www.christownsendoutdoors.com/