By Graham Boyle. I never find choosing the location of ski trips easy, particularly the first one of the winter. Monday was no different with a range of other issues having to be taken into account: the excesses of the festive season, shaking off a nasty chest infection, somewhere other than Cairngorm, shortish day, not too far to walk to get to snow. A scan of the webcams, emails to local on-the-ground contacts, and a look through MWIS and SAIS reports suggested that east facing slopes of A' Chailleach ("the old woman" 930m) and Geal Chàrn ("white peak" 889m) on the Monadh Liath would be holding sufficient snow to make the most of the fine weather and meet my other requirements.  
I was in sociable mood so an exchange of postings on the IBSC Facebook page hooked me up with 2 others looking for somewhere a bit different to ski. So it was that Simon, Dan and I met at the carpark at the end of Glen Road in glorious sunshine, a hard frost on the ground and the promise of good snow cover on the surrounding hills.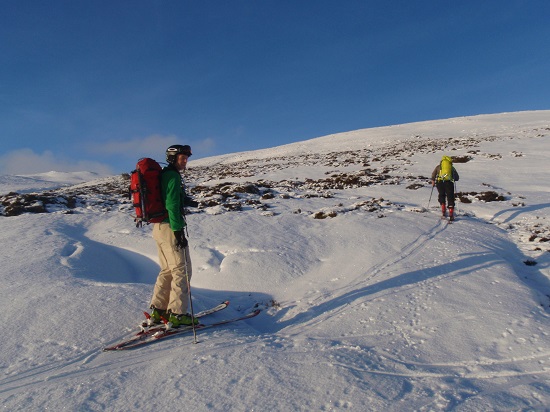 This was only my second visit to the area having been introduced to the hills on a ski trip the previous year in equally fine conditions, by IBSC veterans Andy Ince and Mike Cawthorne, The starting point of the trip was popular for a number of people but a good land rover track soon spread us out, as the various walkers and other skiers peeled off to take their own chosen lines. Underfoot conditions favoured walking shoes so with boots clipped into our skis and hung at the sides of our packs we make quick progress up the side of the Allt a' Chaorainn ("Burn of the Rowan") beyond the end of the vehicle track, where the usually boggy path was secured under a thick skin of ice. The burn had to be crossed at some point but we continued on until we spied a line of firm snow on the far bank before slithering across the iced rocks and gearing up for our ascent.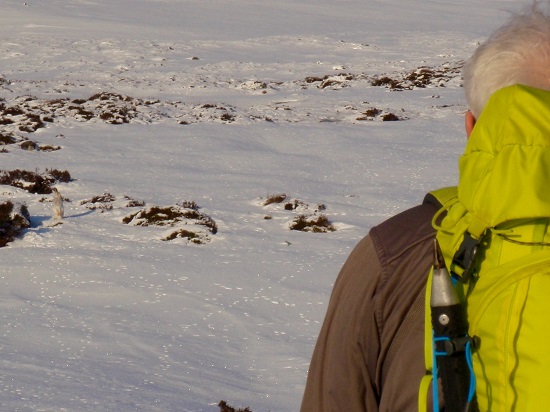 Having our skis on feet rather than on our packs felt great and we soon picked up a good rhythm skinning up and gaining height on firm neve, crossing the occasional thinly covered patch of heather. Our line took us west above the red bothy and across the normal approach track to A' Chailleach where other walkers were plodding  uphill, making heavy weather of the breaking crust. The day had brought out a number of other hill goers and our own progress was watched with interests by numerous mountain hares in their winter colours, soon darting off across and vanishing against the snow only to be spotted again as silhouettes on the  blue skyline above us.       
The Monadh liath ("grey upland") comes into its own in winter; its vast rolling hills covered in heathers and grasses providing an excellent snow base which is very forgiving when cover is thin. Today we needn't have worried, with snow holding well in the numerous gullies running down from the hills above and we quickly gained height towards Geal Charn.
We reached the top in good time to be greeted by a fresh wind from the west but excellent 360deg views: Creag Meagaidh ("bogland crag") to the south west, Sgor Gaoith ("windy peak") to the east, the hills of Glen Affric and to the north, the Moray coast ribboned in blue. Still one of our last wildernesses and the source of many of our great rivers – Findhorn, Dulain and Tarff we were fortunate to see it yet unblemished by the threatened invasion of wind turbines.    
After a bite to eat and drink, skins were off for a short downhill traverse on excellent snow – dropping further than we needed to take advantage of the line and to give our legs a chance to be reacquainted with muscle and tendon. Skins back on and a freshening wind behind us encouraged us onwards and upwards to our final destination A' Chailleach where the walkers, a group from Newcastle University, had just made it to the summit and in time for Simon to casually be included in their group pictures.
The prospects for our descent, which we had scoped out further below, were looking very good so we didn't linger over lunch and headed east off the summit on good snow. The SAIS had given an amber warning on east facing slopes so as the gradient started to get beyond 30 deg and with earlier signs of slab we traversed onto safer ground and continued our descent putting in fresh tracks on the way. The decision for an encore was unanimous so skins were on and we climbed back for another chance to nail our turns and enjoy around 500m of decent in almost perfect conditions.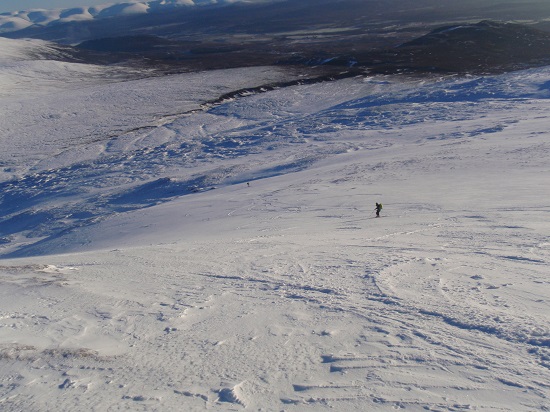 We managed to stay on our skis back to burn crossing at around 450m albeit for the final short section across thinly snow covered heather using a technique which Dan felt we could excel at if it were to become an Olympic downhill event! 
The possibilities on the Monadh Liath are extensive and need to be experienced before this wild place becomes lost to industrialisation. Have a read of Mike Cawthorne's new book Wilderness Dream to get a taste of the magic of these hills and if you are looking to do something other than Cairn Gorm "again" have a nibble at the edge of the Monadh Liath by taking in A' Chailleach and Geal Chàrn.