The juices have flowed and they have flowed liberally recently. Amongst the highlights of recent weeks have been short tours over to Aonach Beag, various descents on Aonach Mòr, skiing Coire an Lochain on Braeriach and some generally great backcountry action.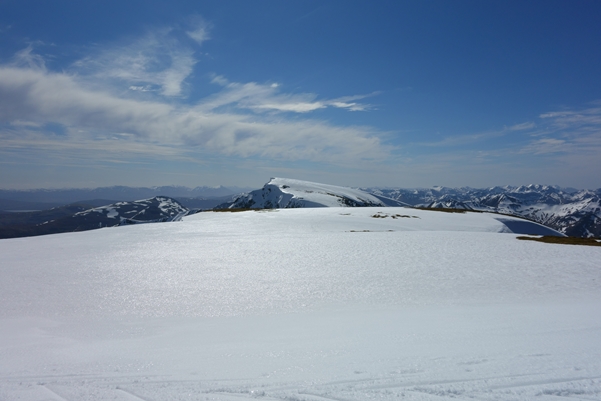 The snow in the west is still quite plentiful and the coires of Aonach Mòr are still providing great skiing and mountain settings. The weather has also meant the mountains have been that bit more special, if that makes sense. We recently skied at Aonach Mòr and decided to tour over to Aonach Beag, one of the great hills of the Highlands, and ascend to the summit. The day didn't disappoint.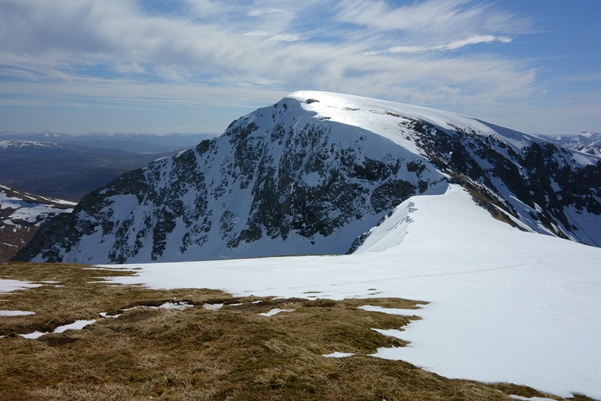 Despite the recent snow loss, there was still a huge amount on the summit plateaus of Aonach Mòr and Aonach Beag. So much that there was only a short section requiring the use of "grass wax".
There were some huge cornices at the bealach between Aonach Mòr and Aonach Beag. It was not an exageration to say there are some cornices of at least 10 metres in depth. We used crampons to ascend the narrower rocky section above the bealach and then to the summit. The descent was on some of the best snow we skied this season and being above the north face of Aonach Beag added to the fun. There are some great climbing routes on this face when conditions allow.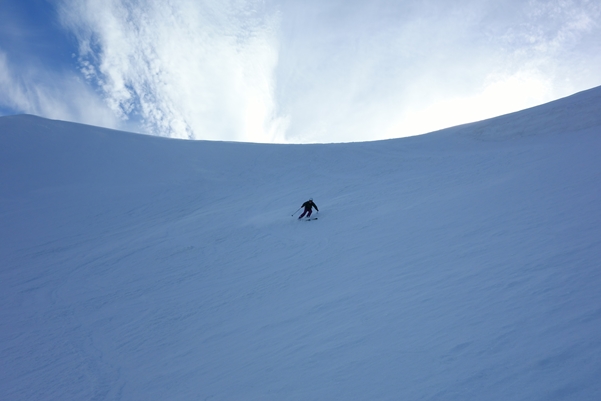 From that point we skinned back over to Aonach Mòr and my new skins enjoyed their bristles being touched onto the soft moss of the Aonach. I don't think the Swiss had this sort of stuff in mind when they came up with the funky design.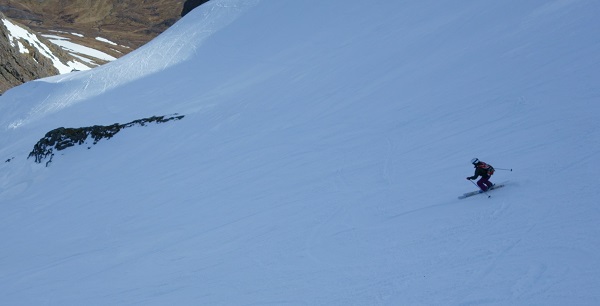 A quick conference saw us deciding on going back south to Summit Gully which was in superb condition. A step roll-over lead to some lovely snow in amazing mountain scenery. These coires really are great places to ski. The journey out and back to the gondola was on ski and foot and provided a good blast for the tired legs.