By Donald Morris
Optimistically, we headed up Ben Wyvis on a wet and warm day. This trip had been changed from A' Chailleach near Newtonmore to Ben Wyvis on account of the poorer weather forecast further south. However when we were driving over from Tore the south side of the Ben didn't look too promising. There had been a lot of snow loss but keep the faith, we said.  Well Mike said actually and continued in this positive theme throughout the day.  
After nearly two hours of walking we still hadn't seen any snow but the ever present cry from Mike was that snow, and lots of it, would be in the gully coming out of Coire na Fèithe Riabhaich.  There was snow but it had turned to the liquid form – water.  We stopped to take stock and it was no hardship to be out in the hills with others and the craic was great.  Apparently there is a Highland version of James Bond called Angus Bond.  He lives near Gairloch somewhere.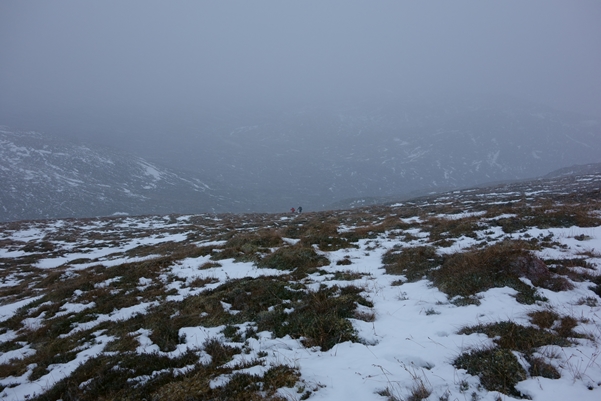 We continued uphill, still carrying our skis, until snow appeared in the form of large, wet patches.  Peter and Mike were so keen they immediately put their skis and skins on and started heading uphill.  The other three continued walking.  It was really starting to snow by this time and the landscape was transformed from brown with some white to white with a wee bit of heather poking through.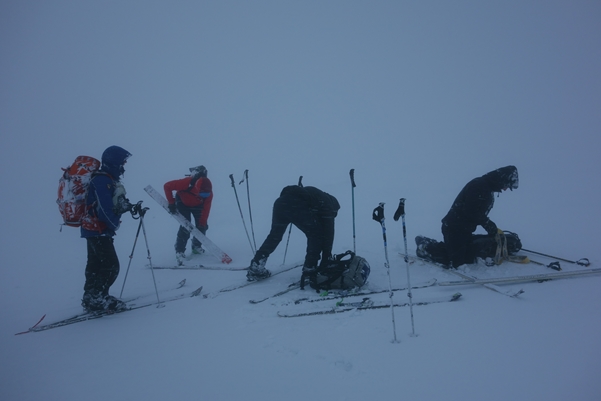 The rest of the party put skins on and we continued uphill in full winter conditions.  It was amazing how much the landscape changed in the space of half an hour.  We were by this time skinning in a whiteout and it was hard to judge slope angle when out front as there were no features to act as a reference.  The ground began to steepen in front of us and we concluded we were on the final haul to the summit ridge just NE of An Cabar. There was no point in continuing upwards in these conditions so we did a quick changeover and got ready for the descent.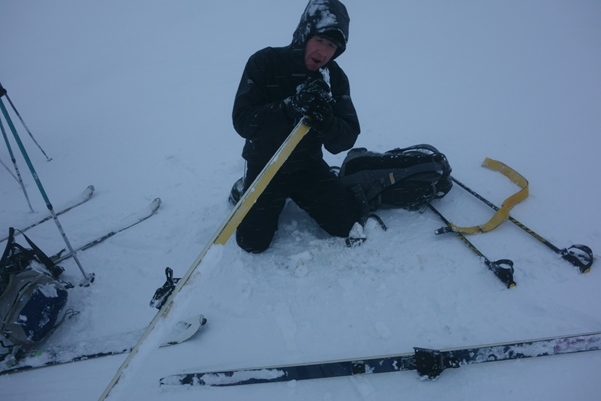 There must be something about skiers in Scotland but everyone loved skiing down the changing slope angles and variable snow.  Mostly the snow was lovely and we were able to descend much lower than had been possible earlier in the day as it was still dumping snow heavily. Sorry but no photos of the descent were taken as it was such good fun but you can see how keen some were in the picture below. Still scouting for a line after most of the snow had run out.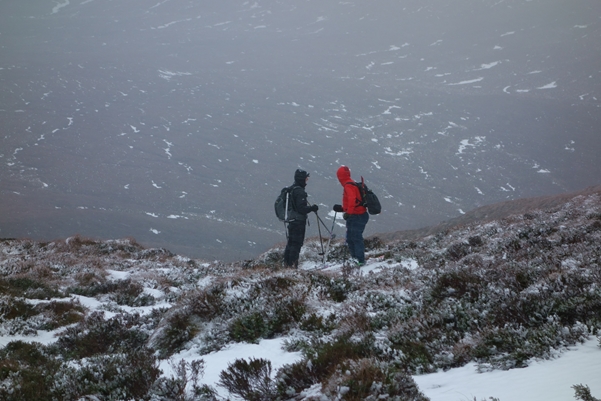 Once down into the heather again (Ben Wyvis is great as it doesn't have many rocks), we took skis off and all of us were mentally preparing ourselves for a good old Highland trudge down the glen in the dark with skis on our backs. It was not to be though and kind soul deprived us of this experience by offering a lift in his argo cat. We had seen him from a distance when coming out of the coire and it looked like he also had a pair of skis on his back. It turned out to be a gun and he had been after hinds but had no luck.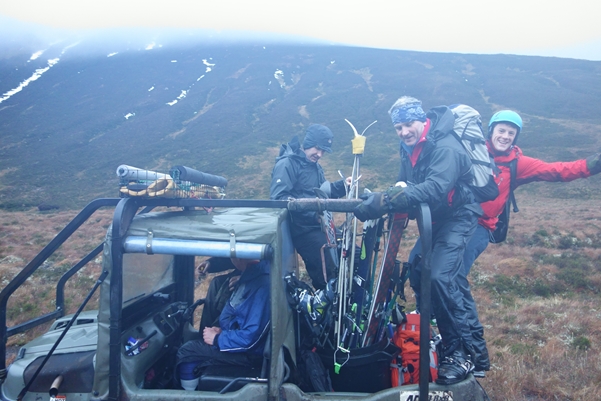 We strapped the skis onto the back of the argo and three people on the back discussed an evacuation plan should the vehicle roll whilst traversing the bog. It didn't and we got down safely and not that tired due to the kindness of a stranger in the hills.  
If you like the sound of this please have a look at our Programme for more fun.