Ballinloan Lodge was the meeting point for the Glen Lyon ski weekend, a first for us all. 6 intrepid tourers (3 Hinds and 3 Stags) met on Friday night to be welcomed by John's steaming curry dish, savoured by all, as it was flavoursome and avoided cooking. The Lodge was luxurious and spacious as it had a bed capacity for 8.
Over 'dinner', we all chipped in with options, desires, ambitions and considered historical and prevailing weather and snow conditions. Plan A was to aim for The Carn Mairg Group working East to West. After group discussion and agreement in situ, Plan B involved walking to approx. 650m where we then skinned alongside Inverar Burn, veering Easterly to the coll between the rocky prominence of An Sgorr, and Meall Garbh summit. As rumblings of the Beast from the East became evident, heads down we dropped over onto the North face, regrouped and relished the snow laden slopes. After delightful skiing on firm, compact and hard snow in the direction of Glen Sassum, we skinned up before repeating the experience in the sheltered bowl. Surface snow was softening nicely as the sun beamed its rays over the white blanket as we steadily re-ascended. An experienced mountaineer within the group, opted for a more leisurely day and soaked up the rays, before soloing it back to the car.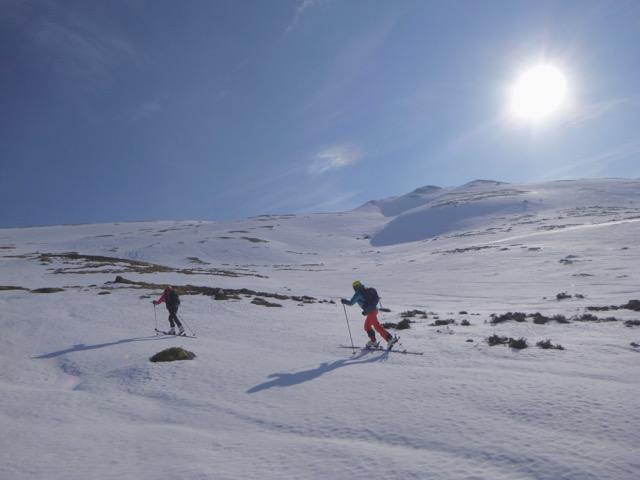 Despite strong gusts of wind, the weather was considerably better than forecast. After the delight of not encountering boilerplate conditions; collectively we decided to call it a day… that was until a sun-baked south facing slope beckoned and 5 of us donned skins. The skiing element was a softened spring snow descent of around 300m over 1.20km before walking the track along and down through the tree felled area to the car park. The most dramatic snow topped views were Southerly, across the Lawers hills and West. To the North, Loch Rannoch stretched out between forest and hills.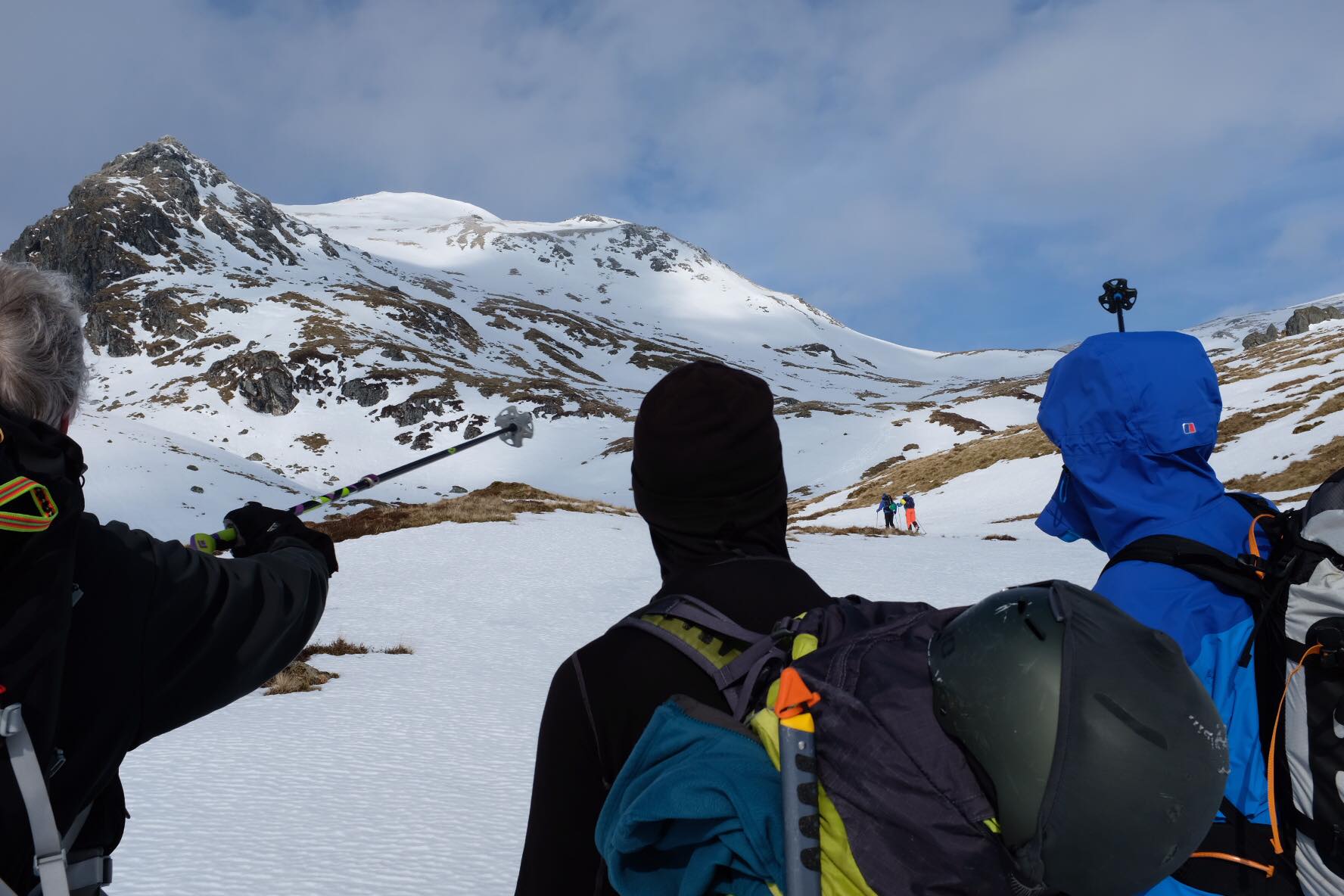 Saturday evening nosh was another surprise and courtesy of Susan. Moroccan delights abounded, and discussion flowed into the living room where were greeted by a well stoked fire. The bonhomie continued as we considered our options for day 2. What was evident from this small group was a willingness to ski as one. As it happened, we were all reasonably well matched in fitness and ski ability levels in Glen Lyon. The consideration for others, perhaps made easier by good conditions and a mere group of six.
Over the weekend, the high road through to Loch Tay was impassable, so the suggestion to drive to NN 513464 (OS51) at Loch an Daimh and head North was agreed after the pop of corks, a rush of bubbles and a stretch by the fire.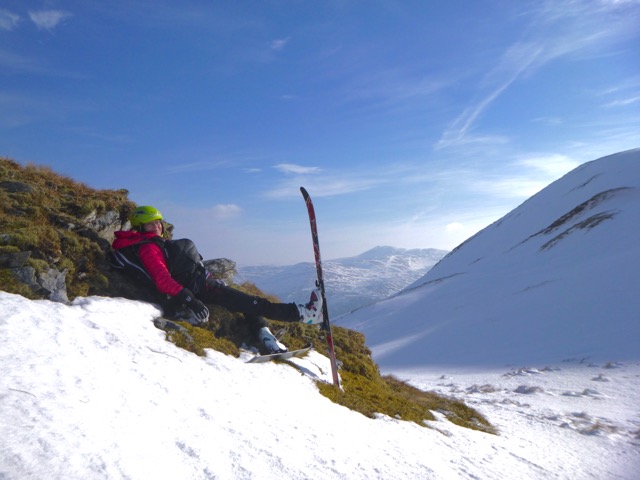 We were spoilt for stag spotting in the Glen, but the Stag in Corrour ruled the day! A number of male club members herded there (hence reduced numbers on this trip), to celebrate Duncan Brown's Stag Party for his forthcoming wedding to Club member, Lizzie Aitken.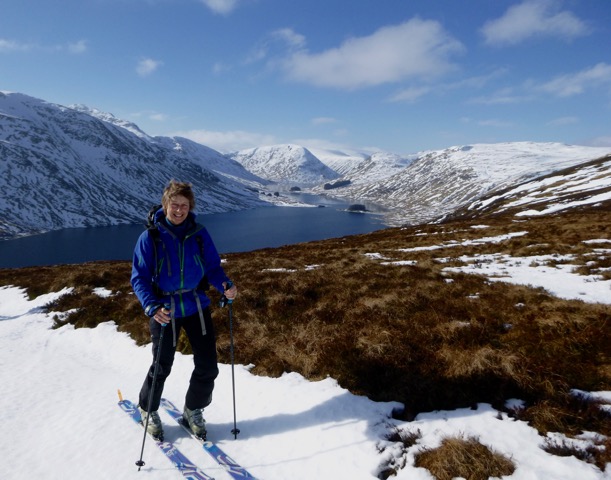 On Sunday, weather conditions were brighter than forecast and afforded spectacular views of bright blue sky, snowy mountains and the icy brilliance as the sun shone on Daimh's water. It was a good choice, as the higher topped hills were mostly cloud covered and stronger winds were apparent. Firm footing on frozen bog made the walking element of a ski weekend bearable, followed by zig zag skinning practise into Coire nam Measach and a lunch stop. We skied 'n' skinned a south east line in the Coire of Meall Buidhe on hard packed snow, in similar conditions to Saturday. After taking an SSE line from Meall a Phuill we were able to snow, and momentarily, heather ski, pretty much down to the cars.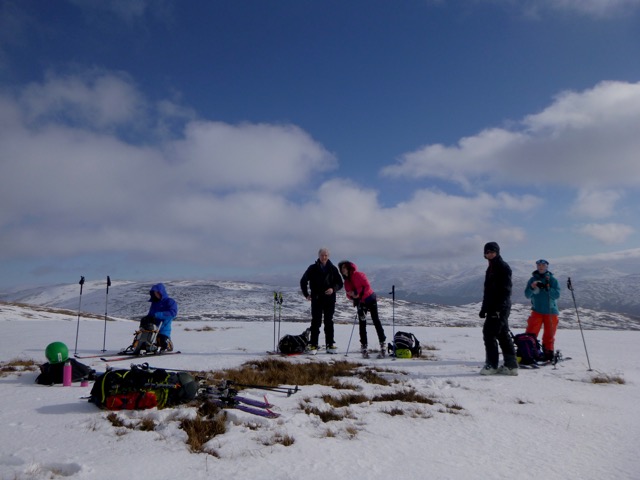 It was a weekend of conviviality, experience sharing, debate even, learning, skinning and skiing. The old guard and the new, with reminisces and contrasts; all in all, just what a good Club thrives on.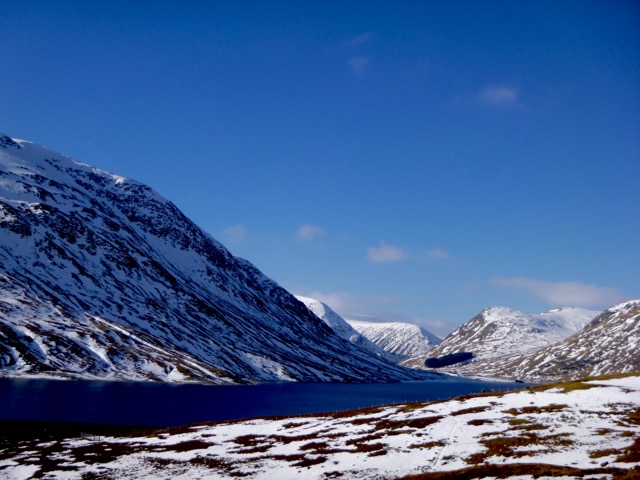 After all, we were like the cats who'd had the cream.
By Sonya Anderson