By Rhona Steel.
IBSC in Spiterstulen, Jotunheimen                                          Norway March 2017
Disclaimer: the views expressed here do not necessarily reflect those of the NSAA, International branch.
Lørdag: is                             Saturday: ice
A week of westerlies has scoured the slope we ascend. Afternoon heat and sunset freezes have formed blisters of ice, which lurk beneath fine layers of powder. Ski edges barely scar it as we traverse. Concerns are unvoiced till one exits,saved by a ski pole arrest. Up over a col, we arrive at a corrie of perfect white. Glittertind beckons through the cloud, but not for this our first day.  We rename the peaks by shape, struggle with Norwegian pronunciation.  
The snow on this plateau is hard, soft, icy, but as we return through the col, the afternoon heat has softened the snow and we weave through the rocks, our laughter echoing across the valley. The hill catches another, who lands on ice, cartwheels over rocks, but bounces back. We empty our flasks, unwinding in the late afternoon sunshine.
Søndag: breen                    Sunday: glaciers
Svellnosbrean and Tverrabrean
Morning sun and startling blue skies as we file up the valley; long stick shadow puppets beat time at our feet. Orographic cloud, I'm told, tops the hills.  We're rewarded with a skyline of creeping glacier, blue seracs grinding memories in the inevitable cycle of life.
A slope of untouched powder, we carve it up and onto the next glacier.  The wind picks up and we dig in for another lunch, sandwiches getting ever taller than the day before.  Wind and flat light stop play.
Smørbrød                             Sandwiches
Bread with ham, salami, beef, gherkins, boiled eggs, beetroot, olives, coleslaw, prawns, pickled chillis, pickled herring, pickled herring with tomatoes, pate, soft cheese, blue cheese, hard cheese, cheese with caraway, cheese with holes, brown cheese, cheese you would not want to meet in the dark, tomatoes, cucumber, carrots, seeds, biscuits, dried fruit, oranges.Vel bekomme!
Mandag: trær                       Monday: trees
Weather forecast reads 'frisk bris, -4'.  We take shelter in tree skiing, weaving through the trees, rocks and burns, following Roy and Howard's unlikely tracks.  Is Howard really tall enough to straddle that sapling?
A natural stop at a fire pit for outdoor ed, we languish in the suntrap, while others explore, down towards the ravine. We skin back, but Sandy waxes lyrically up through the rocks.
We discuss plans for the week and another hut visit, but the weather is against us if we want to try for Galdhøpiggen.
Tirsdag: Sætre                    Tuesday: shieling
The current occupants' ancestors moved down the track from Gamelsaetre to  Spiterstulen in 1750, birch snow poles mark the way.  We are drawn up the valley on blue wax, troll-like cairns whisper of bigger and better views. Hares' tracks are everywhere, but they remain undetectable in this magical monochrome.  20km of stride and glide: some of us are feeling it.
Skål!                                       Cheers! (from old Norse for quaich)
Oodles of bottles of duty free wine and cans from a snatched foray in the supermarket: there are murmurings that they might not get finished in time and the boys set about making a name for themselves…
Onsdag: Minigolfing         Wednesday: skin up choice slopes, stuff skins up your jacket, carve it up
Wind again keeps us from the higher ground, so we go for a wander and a carve.  Sandy digs a snow pit revealing the weak layers we'd been warned of.  Roy's gone for a quiet wander and we rejoin him at the mouth of a hanging valley, he stands arms raised, it's all his. Turning for the evening, settling into an impossibly long telemark turn on powder, I praise and give thanks to the master of telemark instruction – you may know him as Sandy.
Torsdag: brehest                           Thursday: nunatak
(literal translation: glacier horse, so said mountain guide Niall)
'Frisk!' says a fellow guest and shrugs. These Norwegians are tough, tend towards understatement.  It's blowing a hoolie again and it is bitter.  We divide into two groups: one heads towards the nunatak glacier and we head up Galdhøppigen.  The wind is forecast to drop.
We zigzag up with kick turns and shuffles, scarring ice blisters. Roy offers to lead and skins straight up: his toes reach his knees. We cut across.  Up past the tree line, where a reindeer breathed its last; up through cloud, mist and spindrift. Three ptarmigan flee as we look for shelter for the first sandwich stop, boiled eggs frozen around the yolk.  Onwards up to a bowl where the snowdevils dance, viewed by banks of mist.  Impossibly perfect mini landscapes forming and reforming at our feet.
John speeds up, drawn by the views over the glacier and hilltops that are all ours. Man, it's 'frisk'. Go to the summit and descend in the dark, or enjoy the descent, which we suspect may still be icy?  Common sense wins and the top's for another day.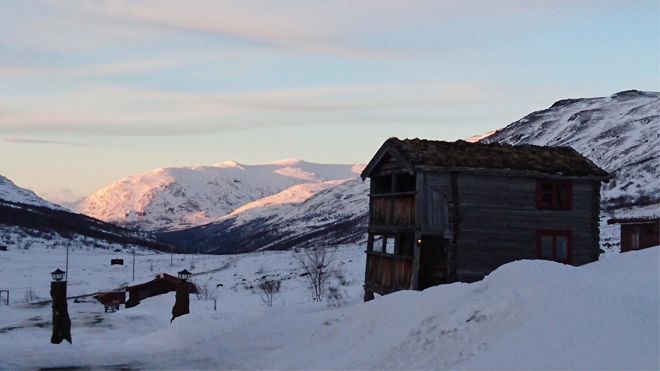 Spindrift has started making sastrugi, but when we go over the brow it's all powder. John flies past, rictus grin, teeth sparkling in the sunshine, snow fanning off his tails.   Andy's -15 wax kicked in and he headed for steep bits to scrape it off; now he's twirling telemarks below in the distance. A rock reaches up through the snow and nips at Roy's ski. He sits in the waist deep powder, a dark glacier horse surveying his domain. We get carried away, but Andy's waypoint leads us back from the gully.   
Down through the trees, a few more nose dives and back in time for tea.
Fredag: hytte           Friday: Hut
The spindrift is deep and driving. Roy and Howard are addicted and set off. The rest of us drift.
Lørdag: vind og vann                   Saturday: wind and water
It's the first time we've seen beads of water on the tips of our skis.  As we turn up to Tverrabrean, the wind hits us and soon the visibility is low, the snow busy sculpting in every crevice.  Waiting to regroup, it's immediately freezing.   A snow layer shifts under our feet with a thud. Those with beards head up onto the glacier.  For us smoother chins, turning downwind transports us into another world of lazy turns and wanderings.  We finish the tour 'minigolfing' to the sound of avalanche as an unseasonal thaw sets in.
Tusen takk to all at Spiterstulen for their hospitality and craic and to Sven who drove us the 18km of iced-over single track to the main road. Mostly, thanks to my fellow IBSC companions for their planning and great company.