A superb week's guided backcountry ski touring was held in March 2017 in the Tatra Mountains of Poland, thanks to Jan Sznajd's excellent organisation and inside knowledge. This was truly a trip like no other; with a few trip member's commenting that it was possibly the ''best week they'd ever had''

A group of seven IBSC members met at Jan's house in Zakopane south of Krakow in the Tatra mountains of southern Poland on the Slovakia border on a cold Saturday evening in March, having flown via various carriers from the UK to Krakow' some members taking budget (or not as the case may be) Ryan Air and Easy Jet, and some taking KLM via Amsterdam. The next day Jan, Gordon, Xavier, David, Duncan and Lizzie set off into the hills under the care of Alek; a very experienced local Polish guide and friend of Jan, who knew the Tatras like no one else.
After a couple of hours sleep, the group set off early on the first morning to the local Chocholowska valley. We were picked up by a military vehicle and, hidden like refugees in the back undercover with all our gear, transported 8km to a hut at 1148m which was just at the snow level given the time of year.
After a quick delicious breakfast consisting of mostly Polish sausages with excellent coffee, our first ski trip was to Rakon at 1879m. Our plan was to climb to Wolowiec at 2064m, but due to bad weather we decided to head down early and were rewarded with most excellent powder skiing. Dinner in the evening consisted of rather traditional Polish mountain hut food: ''Bigos'' (cabbage stew), ''Zurek'' (fermented rye flour soup), ''flaczki'' (tripe) and ''pierogi'' (dumplings), which when washed down with several beers was rather splendid.
After a sound sleep in our quiet hut, our second day skiing was spent in thick fog and mist, but nevertheless some fresh snow as well. This initially consisted of a steep ascent to Trzydniowianski Wierch at 1758m. Some of the group enjoyed a short powder ski between trees, before heading to Konczysty Wierch at 2002m. There was fog aplenty, although some seriously enjoyable runs were had in true powder especially the lower parts. Another filling Polish meal and second night at the hut were enjoyed by all, and Jan made us all feel very welcome to his country.
They say third time lucky, and our patience was rewarded on the third day with wall to wall sunshine, blue skies, light winds and great snow skiing all together. This was a long whole day trip to Lopata at 1958m, with terrific ascents and descents, stunning scenery over all the high Tatra mountains of Slovakia and Poland, and plenty of Vitamin D with it feeling positively warm out the wind climbing. Absolutely brilliant; no other words to really describe how good this was.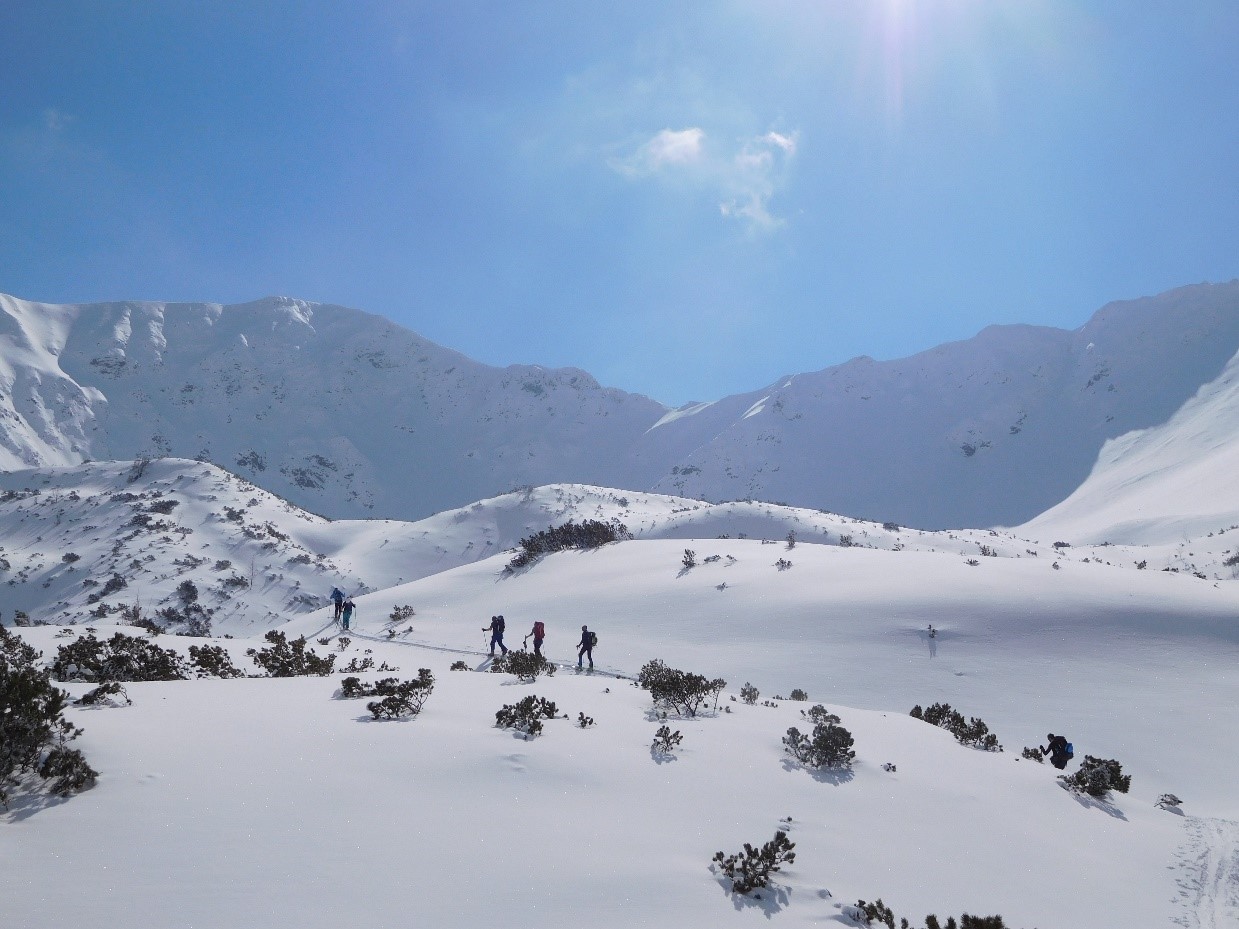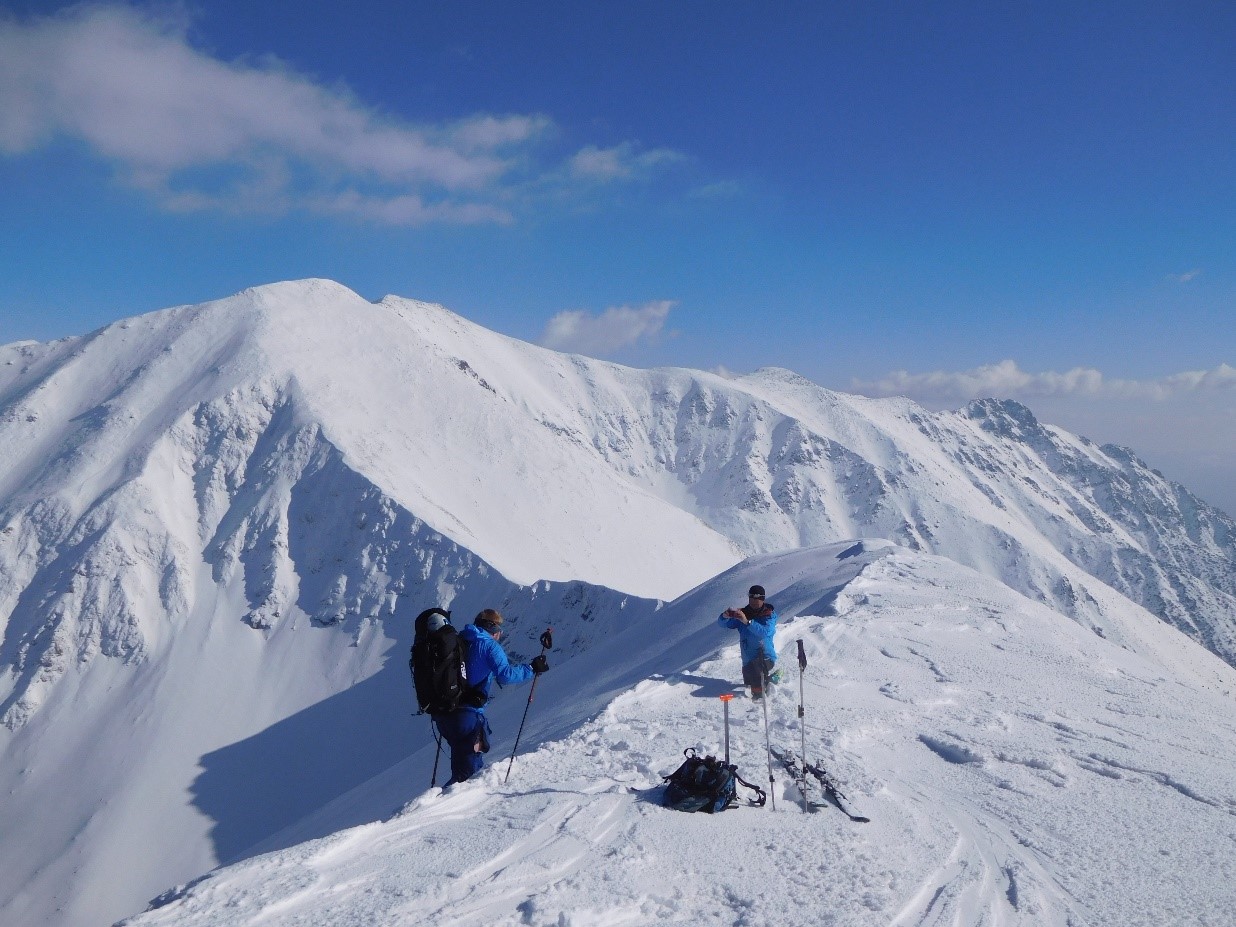 Our fourth day together consisted of an early morning transfer from our first hut to the region of the High Tatra mountains. We ascended to a col at Zawrat at 2159m climbing a steep gully with use of boot and ski crampons, as well as ice axes and a good sense of humour. We descended in fog and crusty snow conditions, and hardly managed to find our next hut in the Five Lakes Valley at 1671m. Without our local Polish guide Alek, who would often be heard to say ''Lizzie, come'' ''Gordon, here!'', we would have been seriously disorientated. His expertise and local knowledge were second to none and we were given more personal attention than we'd have found elsewhere.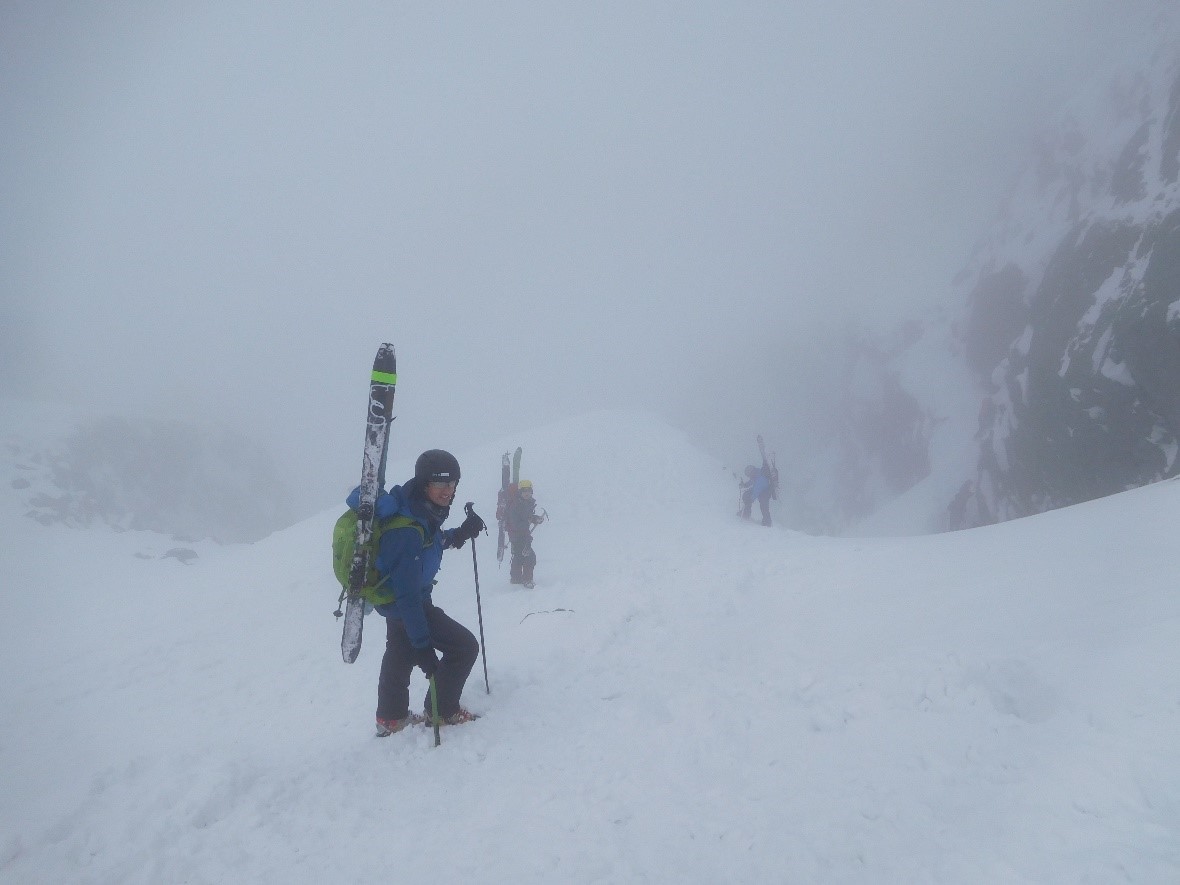 Our fifth day skiing was another day of excellent visibility but very strong winds. we did two ascents and descents, the last one being Nizni Kostur at 2055m. The ascents were steep and rocky initially, but then rewarded with a beautiful descent into a corrie by the frozen lakeside, where lunch consisted of more Polish sausage and local bread. A second night and final evening in our second hut was enjoyed by all with plenty of fine beer, wine and polish vodka to top off a most excellent day on the hill.
Our sixth and final ski day was spent climbing Szpiglasowa col at 2110m, consisting of a tricky descent initially, then playing around in the corrie and local gullies which was great fun. By late afternoon we descended down to Morskie Oko hut for a hot drink. Our ultimate transfer out of this valley back to civilisation was by traditional horse and cart, which took us to our more modern taxi back to Zakopane. We enjoyed the remainder of our final evening all together in a Polish sauna complex consisting of several saunas and ice baths with much entertainment and bonding in between. A truly sumptuous dinner was had by all in a local famous trout restaurant, before returning back to Krakow in a modern taxi and all staying at Jan's parent's house where we were made to feel truly welcome.
Our final day in Poland consisted of Krakow sightseeing to varying degrees whilst exploring craft beers and fine dining, before some of us left for the airport to make our way back via various means to northern Scotland. This hereby ended an absolutely spectacular trip to the Tatra mountains in Poland, professionally organised all voluntarily by Jan Sznajd, who deserves huge thanks for putting so much of his free time and effort into organising such a great trip that ran faultlessly throughout and gave a few privileged members of IBSC a ''trip of a lifetime'' that they would never forget. One thing's for sure: as well as fabulous powder skiing and great views, this area of Poland offers skiing and lodging at excellent value with superb local food, drink and amenities. We will all never forget eating Polish sausage under the stars, group bonding in a sauna complex, and being guided across knife edge ridges in thick mist with near vertical drops. I, for one, am truly grateful to Jan for the most unforgettable week skiing with such a great group, and one of the best week's holidays I have ever had.
Written by Duncan Brown, October 2017
With special thanks to Jan Sznaijd
Images thanks to Jan, Alek and Duncan.