There are two versions of this weekend. One claims there were blue skies and snow depths of a metre or more and all present skied amazing lines. The other that it was cloudy throughout, that only a few centimetres of snow lay on the ground and the only skiing to take place happened in our dreams. Wine-soaked ones at that.
Of course the upside of not having to lug skis and boots the two kilometres from Corrour Station to the lonely outpost of Loch Ossian Hostel meant we could cart in greater quantity of various liquids. Fourteen of us had gathered here, determined to make the most of a thus far poor winter.
An overnight covering of snow was a good start as morning dawned and with more falling we set off in two groups for a pair of Munros south of the loch. A group comprising Lizzie, Rachel and Duncan were away speedily from their blocks, the reminder at a more leisurely pace and we strolled up into the mist and all gathered at the rime-encrusted summit of Carn Dearg . Snow fluttered past as those armed with navigational aids consulted map and compass, pushed buttons on an altimeter, squinted at a GPS.
Down to a bealach and with no sign of a break in the weather Sonya, Nicola and Julie left for an early exit while the remainder forged on over Sgor Gaibhre and the slightly lower Sgor Choinnich. Descending north someone spotted a pair of antlers protruding from the snow. A red deer stag. By sheer coincidence it had died and come to rest just a few metres from a fixed camera that will no doubt make celebrities of local raptors when they come to feed.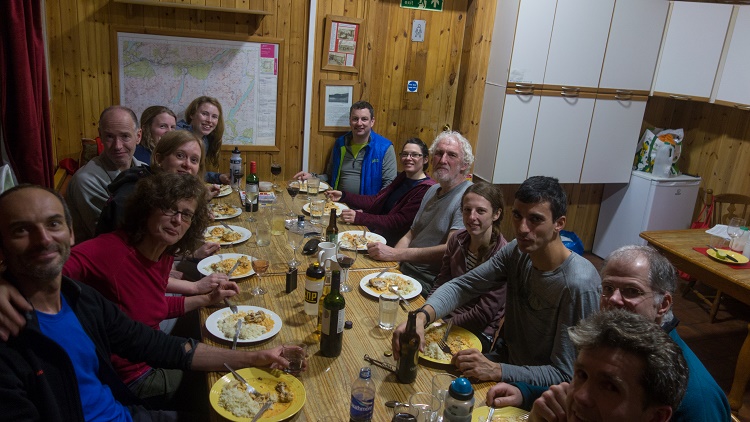 The promised clearance only arrived as we approached the hostel and once everyone had been counted in we could begin the day's serious business – eating and drinking, and so in the warmth of the dining area unfolded a long and merry evening, a seamless cocktail of reminisces of winters' past and tales from the summer gone and cuisine from the east and wine glasses always half full.
Come morning and before most of us could blink the sleep from our eyes Duncan, Lizzie, Rachel and Julie decided the best hangover cure was a dip in the icy waters of the loch. It was truly shocking and my headache went immediately.
Over bacon and eggs plans were laid. Half the group would walk out to Tulloch and half would stay for a horseshoe traverse of Leum Uilleim. We said our goodbyes and set off north, around Beinn na Lap and up the exceedingly long shoulder Meall Garbh. Nobody wanted to climb Chno Dearg  so an easy downward romp in soft snow all the way to Fersit.
To reach Tulloch from here Donald, Jan, Nicola and myself reckoned it quicker to hack two kilometres through the undergrowth and cross the River Spean rather than chance a lift along the road. Needless to say the 'undergrowth' party were a poor second, left with mud on their faces. Literally.
So there was no powder, no skiing and no sun, but a weekend with great company that will live long in the memory. 
By Mike Cawthorne.