With a nice settled spell of weather in April, Mike Cawthorne hatched a plan to bivvy up on Moine Mor in the southern Cairngorms, and then ski some of the surrounding hills the following day. I heard about the trip last minute and met the others at Achlean car park the next afternoon.
We set off in bright sunshine and t-shirts and headed up Allt Fhearnagan to the snow at about 600m, at the foot of 'Dick', the middle of three gullies in Coire Gorm; Tom, Dick and Harry.
Duncan and Blair managed a lap of Dick that evening, the snow perfect until the sun set, when it instantly hardened. Lizzie, Mike and Zoe headed over to find a camp spot near the top of Allt Sgaimich on the South east aspect of Carn Ban Mor.
Was great to learn from Mike's extensive experience sleeping out in the mountains, he spotted a water source under the snow, and dug out a little trench which soon started flowing with water. We then set to work building walls out of snow, to protect us from the wind overnight– a total lifesaver against the cold wind for those of us without the protection of a tent!
It was a stunningly clear evening. Duncan and Blair headed out for a night walk and were treated to a show of the northern lights!! (whilst the rest of us were in bed…totally unaware…) Jura (my dog) managed to squeeze into my bivi bag with me – and was a very welcome heat source overnight – along with handwarmers in each sock!
The next morning we slept in until the sun warmed us and the snow up, and we set off skiing down Allt Sgaimich, in beautiful snow, giving a taste of what was to come.
We left our overnight gear where the ground levelled off, and headed over to Sgor an Lochain Uaine, The Angel's Peak, which we could see had a good covering of snow down it's South Western aspect.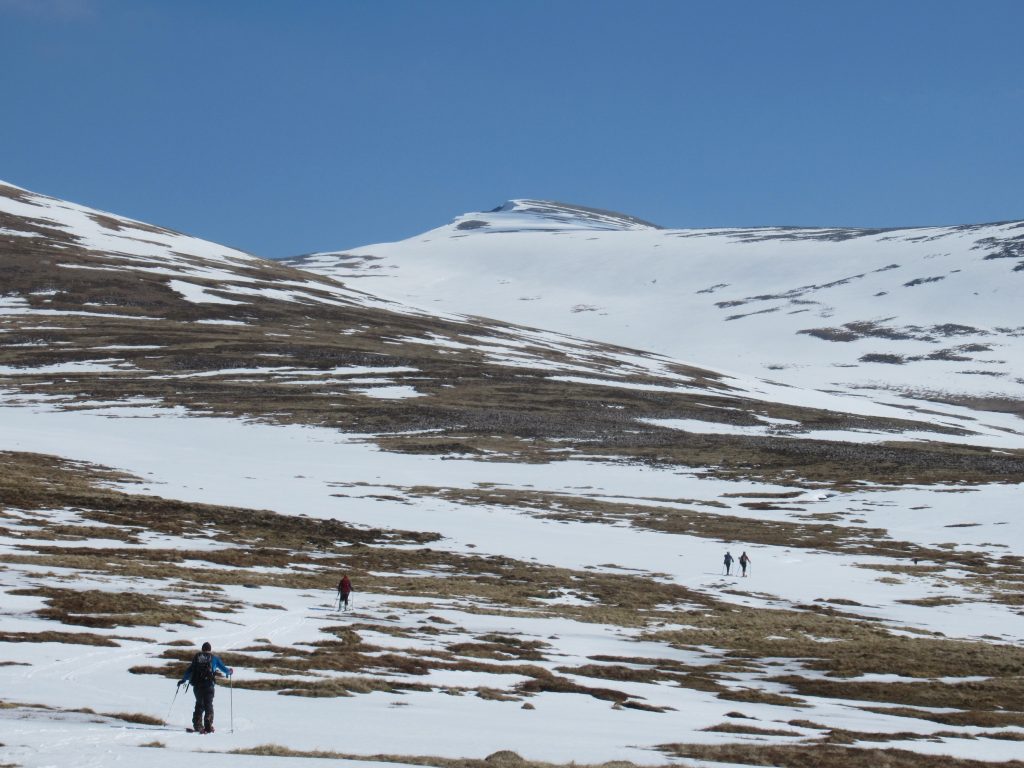 There was a bit of carrying across the plateau between patches of snow, but were soon back on our skis skinning up a huge expanse of snow to the summit, and incredible views across the Cairngorms.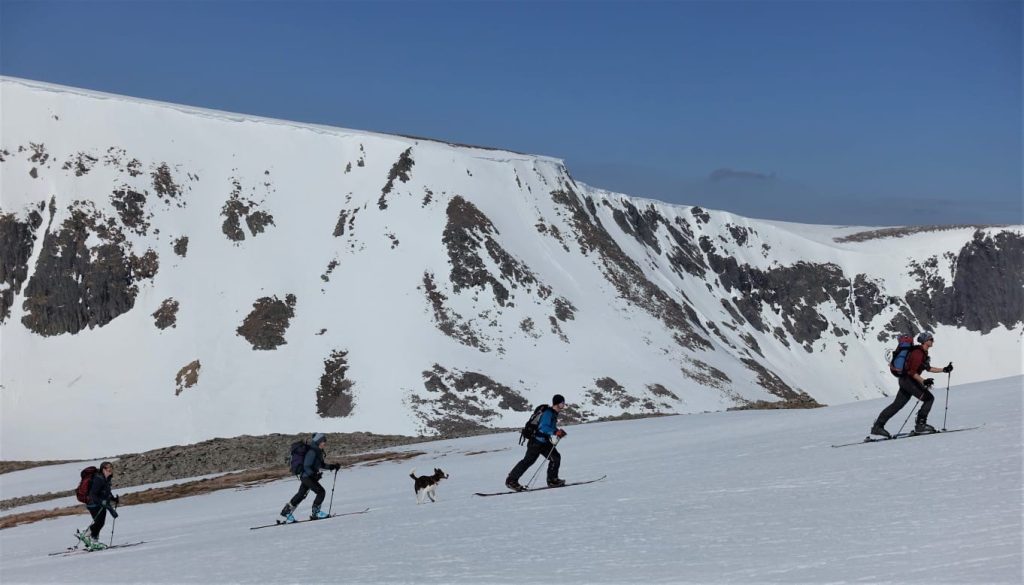 We then had a fantastic ski down Clais Luineag on soft spring snow from the summit right down to Allt Luineag, at about 900m.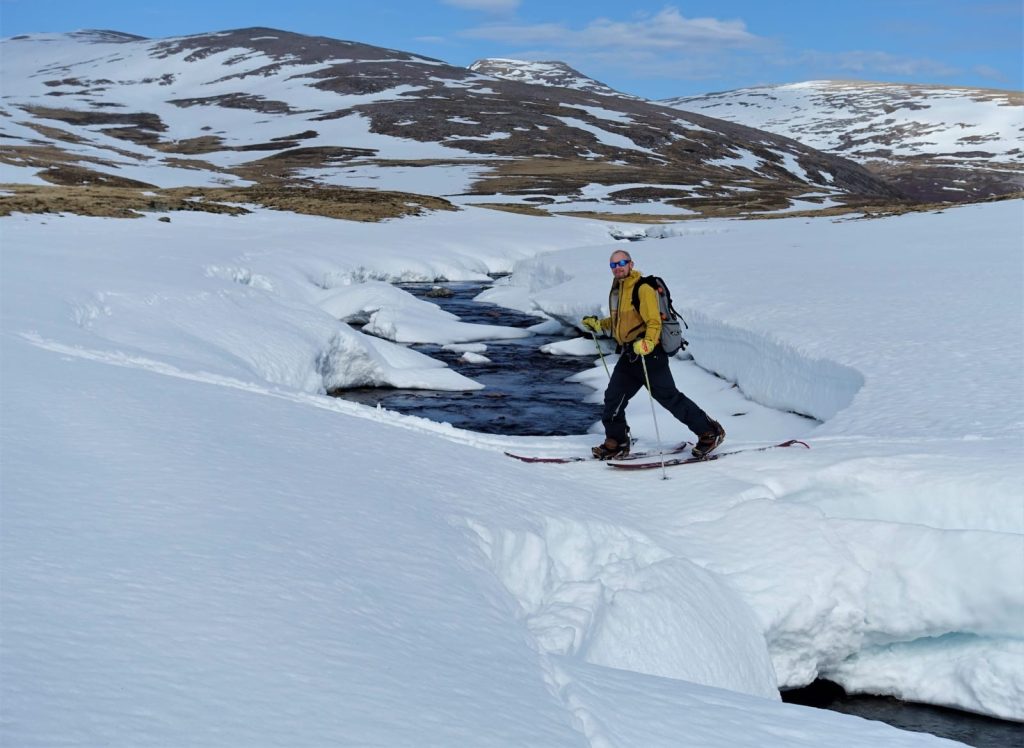 From here, after a cup of tea and some food, Lizzie, Jura and I headed back across Moine Mhor and back down Dick to Achlean.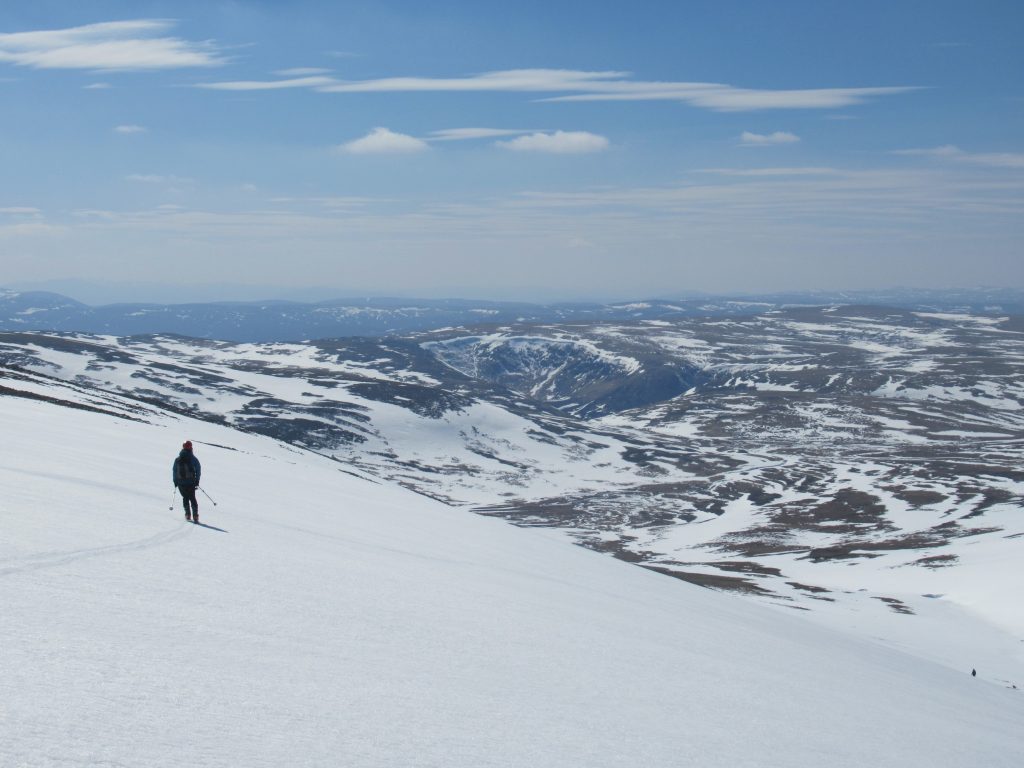 Meanwhile Mike, Blair and Duncan headed up towards Monadh Mor, and skied down to Loch nan Stuirteag, before following our skin tracks back.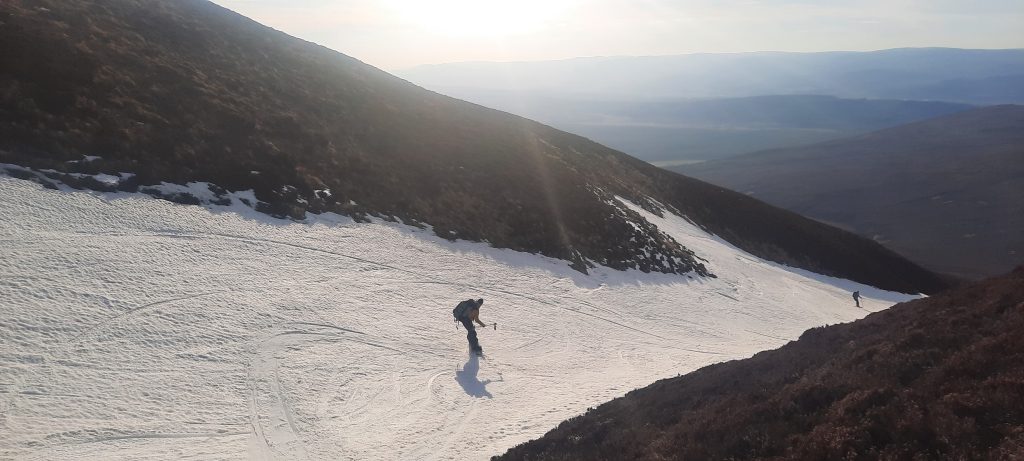 Duncan managed a second run up and over to the summit of Monadh Mor, catching Mike and Blair for a final ski down Dick. When he reached the bottom on removing his skis The curse of Dick reared its head depositing Duncan in a deep hole.
So ended a brilliant 24 hour mini adventure!
Zoe Anderson