'The Watters o Aan, it rins sae clear
Twad beguile a man o a hundred year'
An old rhyme which warns that the waters of the Avon are so clear folk have gone in thinking they were shallow and been drowned. Something I held in mind as four of us left Tomintoul and biked leisurely along the private tarmac in spring sunshine, probing south along the green valley of the River Avon whose provenance was the loch of that name and indeed the snows of Ben Macdui.

Oystercatchers, Lapwings and Curlews called from the old the birchwoods and watched us pass. The trees thinned to bare fields, then a little beyond Inchrory we went sharply west with the Avon and clicked down the gears for the first steep climb, now on a rougher track. The turquoise pool below some falls on another day would have enticed us in, but we had a big distance still to travel if were we to reach the snows, par for the course for a late April ski on some of Scotland's remotest hills.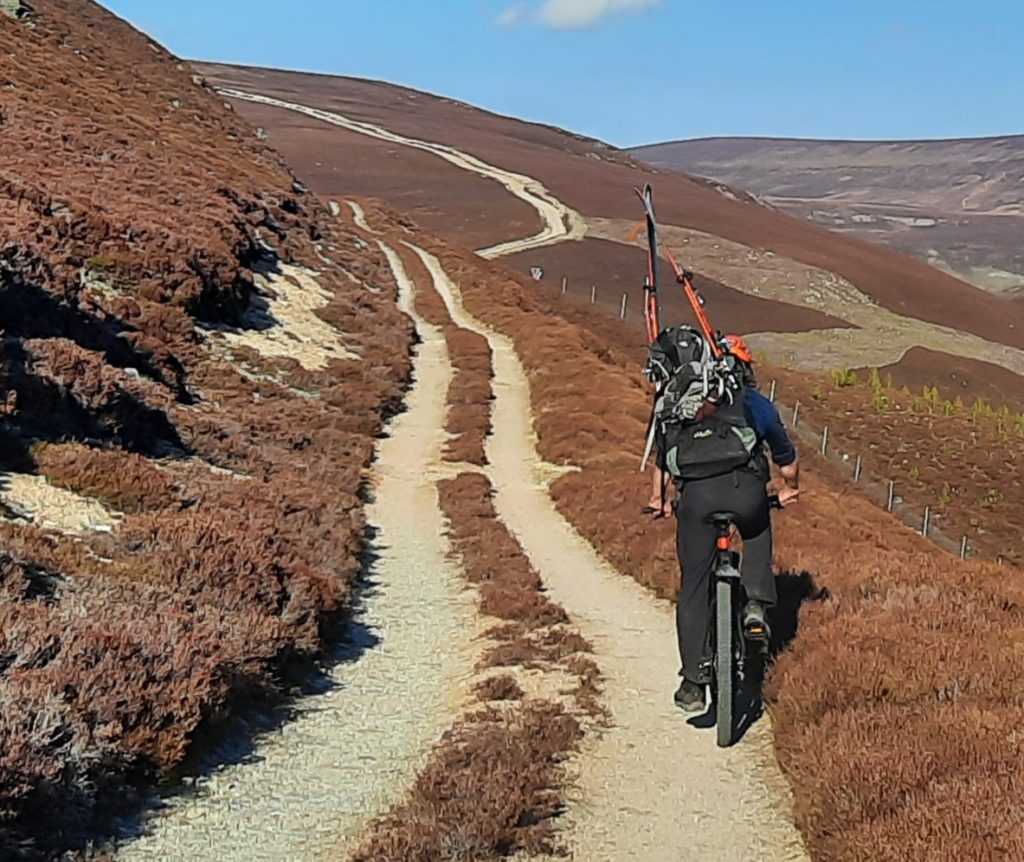 Like a page slowing turning, in a few kilometres we could see into Ben Avon's northern corries, and deemed its snowcover too diminished and distance to reach, so cycled on, crossing the Avon, climbing a shoulder to a wild prospect: the upper valley, the river bright among shingle banks and grassy haughs. Beinn a'Bhuird's far plateau could be glimpsed and offered the promise of more extensive snows. In another hour or so at a rickety shelter by a rickety bridge Duncan, Neville and myself locked the bikes and set off for the obligatory ski-carry, leaving Lizzie, who is thirty-five weeks pregnant, to idle her way back to Tomintoul.
In headscarves and shades, we beat across the heather striking for the western arm of Garbh Choire and a bee-line to what appeared to be the lowest continuous snow. In fact, it was far from continuous. After a frustratingly short skin we reverted back to the joys of ferrying skis. Neville took the trouble to strap his back onto his sac. Duncan, now some way ahead, simply balanced them over his shoulder. I employed them as a kind of third leg and not surprisingly was the last to flop down at the next snowfield.

From here we could take in the vast extent of Garbh Choire and Mitre Ridge, the granite faces the scene of pioneering rock climbs including Squareface, first climbed by Tom Patey and J.Taylor in 1953. But there was little time to appreciate this as Duncan led us on a ski-boot scramble over Stob an t-Sluichd and finally onto the plateau snows, easy skinning in shifting light to the summit – the North Top of Beinn a'Bhuird, some 26 kilometres from our vehicles.
Neville eyed the sweep of Cairngorms, Duncan cracked open a beer, I watched clouds. In order to minimise ski-carrying, much as we adore this activity, we opted for the most direct descent, a case of chasing the snow north until it spat us out somewhere close to our bikes, we hoped.
After some frantic skating, gravity led us on a slow drift to the rim of the plateau. Then our first turns, the land falling to fields of perfect snow that narrowed to just a ribbon, the bare moors chasing past and rising to meet us. A final turn had us teetering over a waterslide. The utter delight in skiing such a location only comes with the effort of getting there. Not entirely satisfied we dumped our sacs and engaged in a practise that to my mind only ski tourers ever contemplate: climbing back up for second run, this time taking a finer and steeper line, and a lot faster, 'really nailing it' as Duncan said.
With skis and boots securely lashed, comfy trainers back on, someone decided we needed to reach the aforementioned plunge pool before sunset, so we fairly scooted across the heather. It was fair to say I was feeling pretty ragged back at the bikes. At least much of the journey from here was freewheeling and nothing compared to the earlier effort, each short climb now tackled with the fillip of a swim in mind. On reaching the waters, sun-baked and sweaty, hesitation was not an option: we went straight in, the glacial cold painful and electric. Deeply refreshing, unmissable. It made the last valley hour in sun and shade all the more enjoyable, oystercatchers still piping as we reached our vehicles after some eleven hours and 56 kilometres.
'Ski' team
Duncan Brown
Mike Cawthorne (Author)
Neville Elstone