Trip report courtesy of Xav Wadbled.
The CIC hut is the only alpine hut in Scotland, reached after a 2h hike and carry of skis food and everything you need to be comfortable up there. As the North Face emerges, questions about conditions find answers, can we ski? The low evening clouds kept that secret until Tim and Ben offered their own experience of the day: yes there is good snow to ski!
Some key shenaninagans delayed the opening of the hut, but thanks to an Olympic relay team, the correct spare was brought in time, thank you for your heroic running Rachel, Hamish and Graham! The usual IBSC enthusiasm couldn't be dampened so easily and while the runners were having fun, snacks and beers kept the spirits high in this calm night.
Saturday, Number 4 gully was attacked by all angles as teams approached it up Coire Na Ciste, contouring number 5 or from the top, and dared an atmospheric and committed dive through the steep and rocky narrows of the top, followed by the friendly Ciste bowl down to the Lochan for some snacks and views.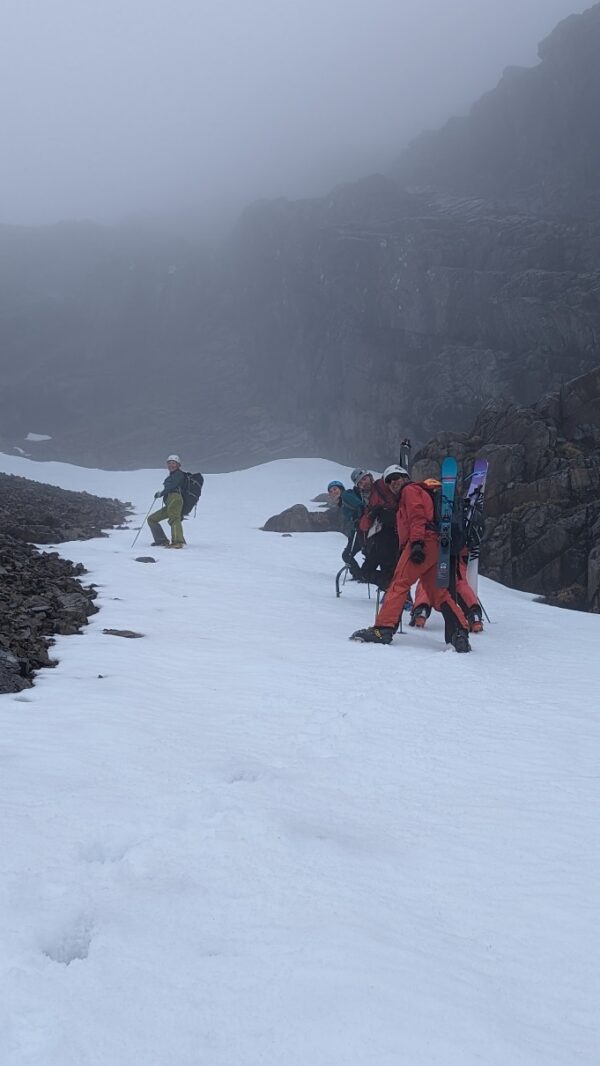 All together this time, Rachel, Alasdair, Stuart, Hamish and I went right to the top to face the steep and icy couloir, a few eyebrows were raised as everyone side slept the extra bit with more or less grace, to find solace in the more amenable lower gully.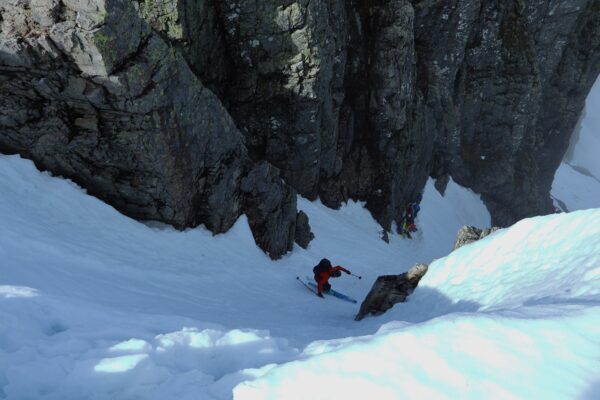 As I went down last, I caught a glimpse of an inversion and some sun at the top of the Ben. This was enough for David, Duncan, Hamish and myself to head up Number 4 again straight to the summit, and for once today ski out of the clag and above the clouds! Duncan finally managed to take his first confident turns thanks to Hamish coaching what an end to the day!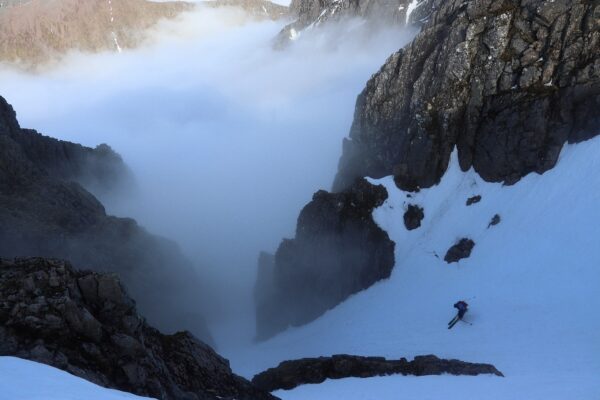 Last on the hills, Duncan, Hamish and I rejoined the crowd to share stories over a well-supplied dinner and in an overflowing common room, luckily the night was warm and quiet, and the hut terrace offered a welcome respite.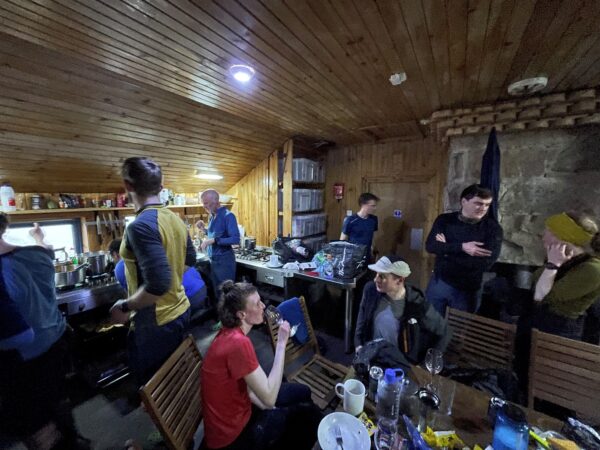 Special thanks must be given to our cleaning faeries (David, Nikki, Graeme, anyone else?) up first and busy straight away! No one was that keen to head up the Ben again under a wet cloud, and we all made our way back, signing off another memorable ski trip!
Xav
Thank you everyone: Duncan, Stuart, Stuart, Kevin, Katie, Rachel, David, Graham, Al, Ben, Tim, Chris, Ross, Roy, Alan, Nick, Jordan, Holly, Nikki, Finbar.