Long ago, there was a dream to roll a beer keg down into Coire Dubh and consume its contents at the landing area below. The idea was that ropes would be attached to the keg and it would trundle down the slope with two skiers controlling it as it descended to a convenient area ready to provide its contents like a haggis laid bare at a Burn's Supper. 
We haven't put this plan into action yet, mainly as there hasn't been the time to approach breweries, get the keg to the top of the hill, ski down the Nid and then launch off a cornice to the depths below.  I am pleased to say though that Club President, Peter MacKenzie, has provided a fine example and skied "Chancers" with a log in his rucksack. More of that below.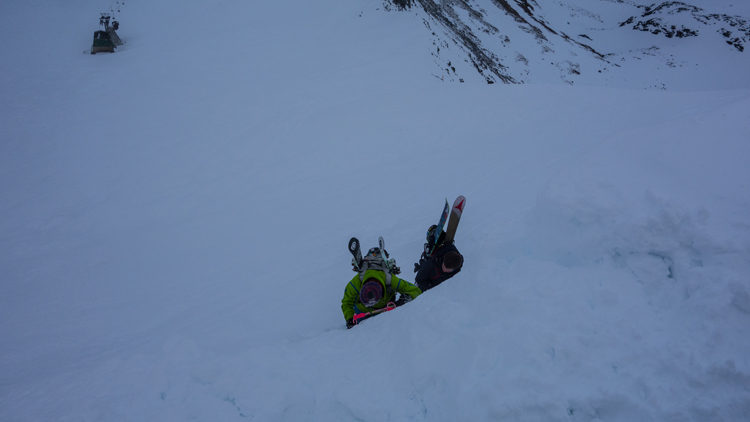 Some got there early and some later but rucksacks and logs were deposited at a very specific location south of the Braveheart Chairlift ready to release their contents when the skiers returned to claim them. Meanwhile, people rode the wheel of freedom and enjoyed the excellent snow all over the hill.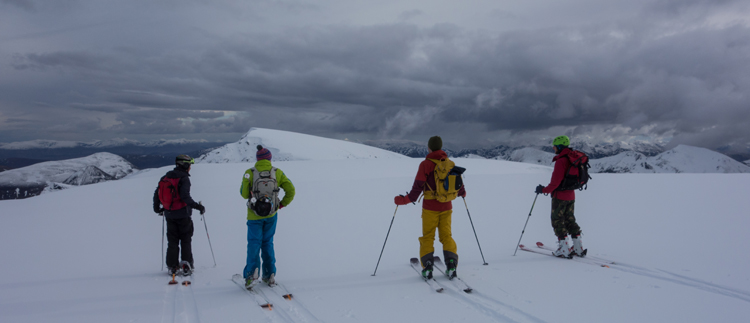 Descents of various difficulties of slope were made from the stressful to relaxed which demonstrated that it's not all about steeps. This seems to be an issue – that new people think it's all about steep skiing.  It's not and you are all very welcome regardless of your ambition to ski any type of slope from steep to slogs to the top of Ben Macdui. 
Four of us found ourselves on the summit of Aonach Mòr with another skier just ahead. This turned out to be a friend of the President and who decided to join the bivvy despite having no sleeping bag, food, sleeping mat, tent or bivvy.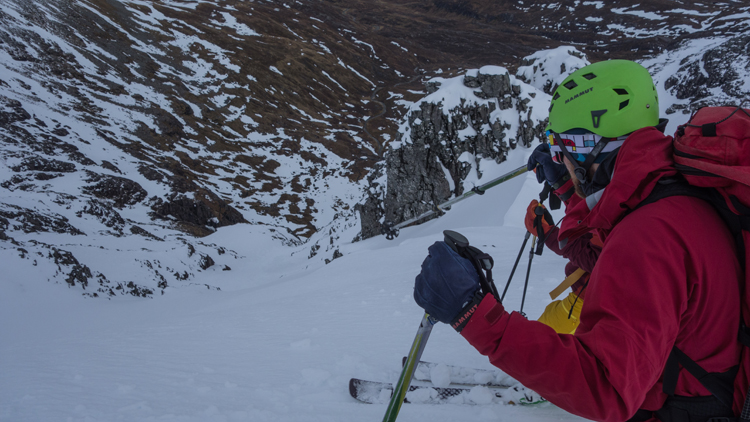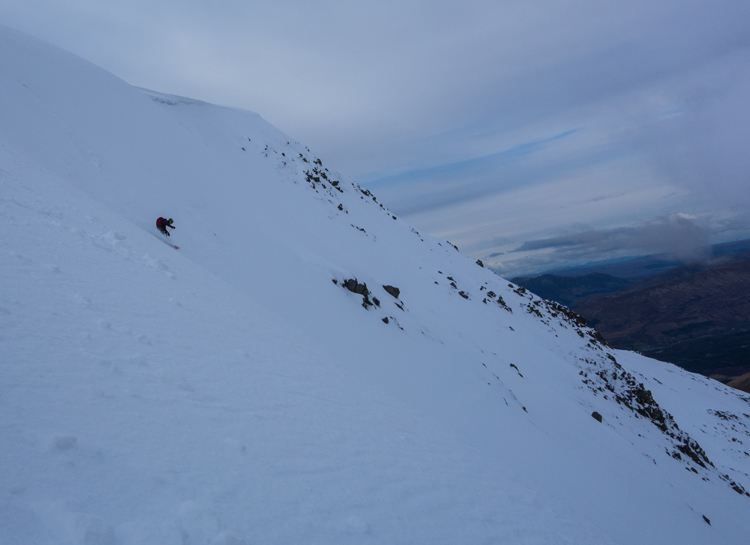 We skied a thing called "Hang Left" and I traversed out to the bealach between Stob a' Chùil Choire (Point of the Back Coire) and Aonach Mòr itself. Interestingly, the "back corries" are misnamed and this is quite a new feature that has come about since the opening of Nevis Range. An Cùl Choire, (the Back Coire), is actually further south, low down and NE of Aonach Beag. I also noted on the high scale map that the slopes facing due south from Aonach Mòr but just short of the bealach before Aonach Beag, are called Seang Aonach Mòr – the Aonach Mòr Slope (wide ridge slope). Anyone reading this can decide whether it should be Seang Aonaich Mhòire when the genitive case is applied…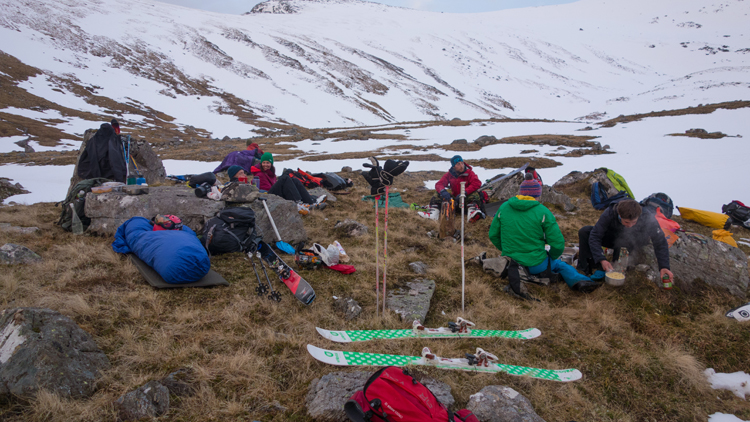 "Hang Left" is well named as the boys continued their descent to impassible cliffs and had to climb up the gully again. Skiing back to the bivvy spot, we were united as one team and the craic was really quite amusing. We cooked up some great food, arranged our gear and got the drams going. Peter had made a swedish candle, which is a log cut with six deep cuts that helps it to burn.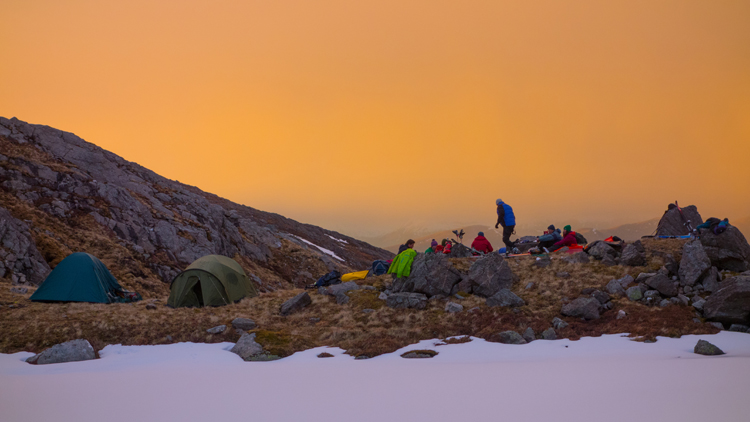 The weather was very friendly. Cold but no wind meaning we enjoyed the fresh air and good company and didn't have to worry at all about stuff blowing away. A rare state of play.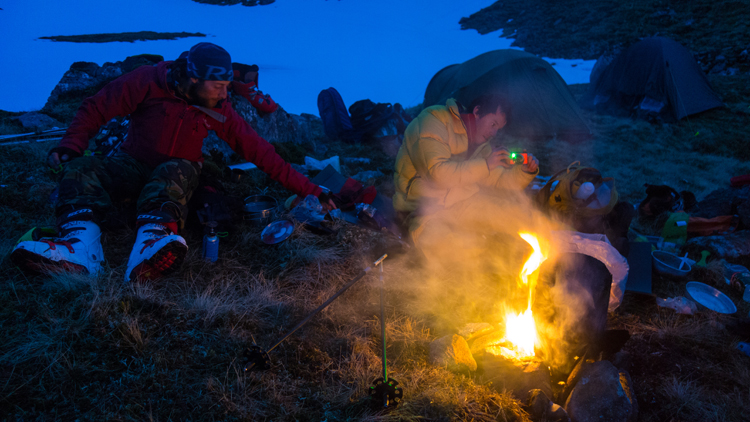 Will, camper with no camping gear, was adamant that he would last the night but others were not so sure. Either way, we waited for darkness and when it came, put our skis back on and skied back to the bottom of Summit Gully area.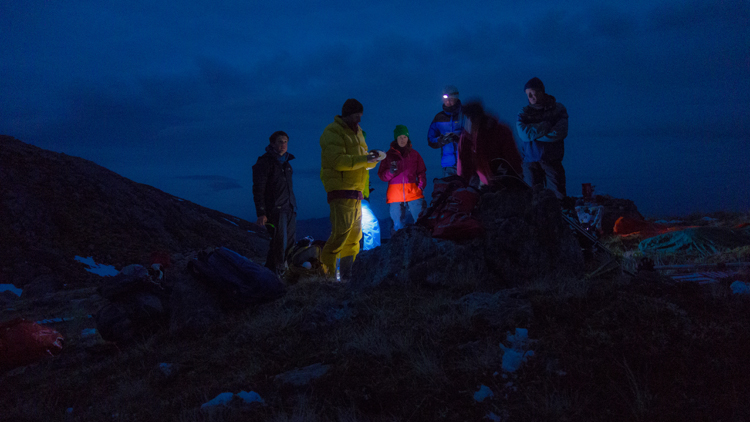 It felt really alpine. Like Glacier d'Argentiere at 4am in August 1996. The low gradient coupled with bulges and darkness made us wonder if creavasses might be encountered or a bergshrund would have appeared. They went unseen but we did see the lights of Spean Bridge and Glasgow from the top of the bealach.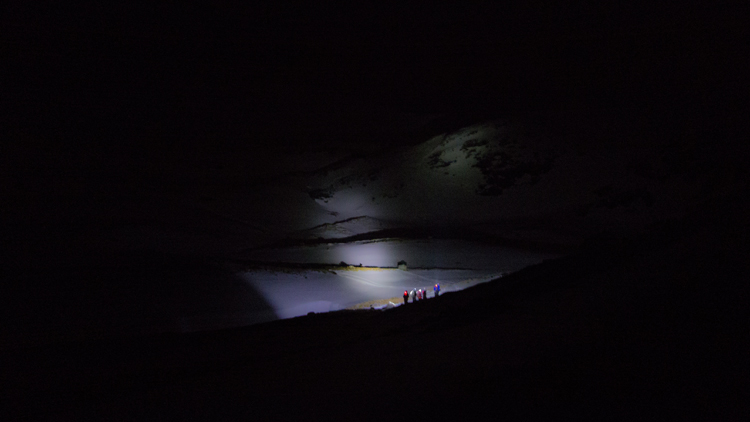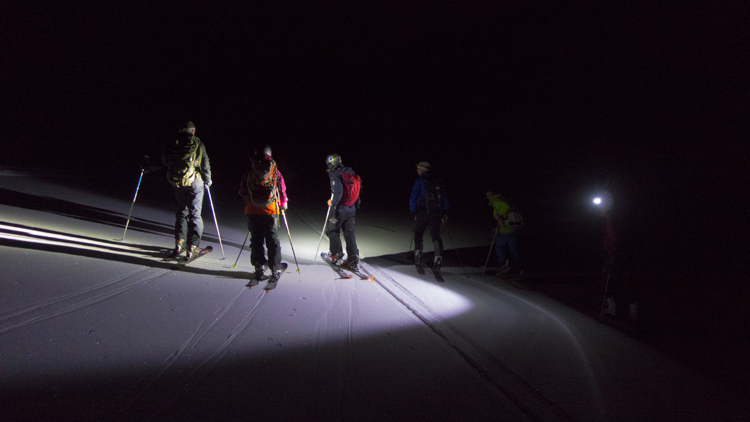 Sking down was great fun. Some had good head torches and some had rubbish ones like Wee Willy Winkie's candle. We all made it back to the bivvy spot and took our skis off about 5 metres from our beds. Will decided at this point, 2345, to descend to An Gearasdan and a warm bed. He got back at 0130 hours with a list of supplies to be gathered including double deckers and a hot toss from the Golden River in Caol.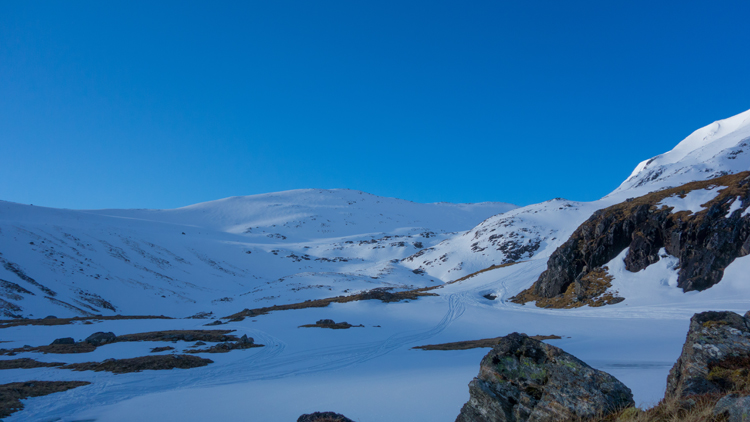 Night was cold, clear and beautiful and dawn came gradually with a rising light from the east illuminating the slopes above us. A bomb went off and we saw large blocks slide down over the traverse out of Coire Dubh. All of the ski centres employ people who are keen mountain enthusiasts and Nevis Range is no exception. Bombs had been deployed at 8am on a Sunday morning.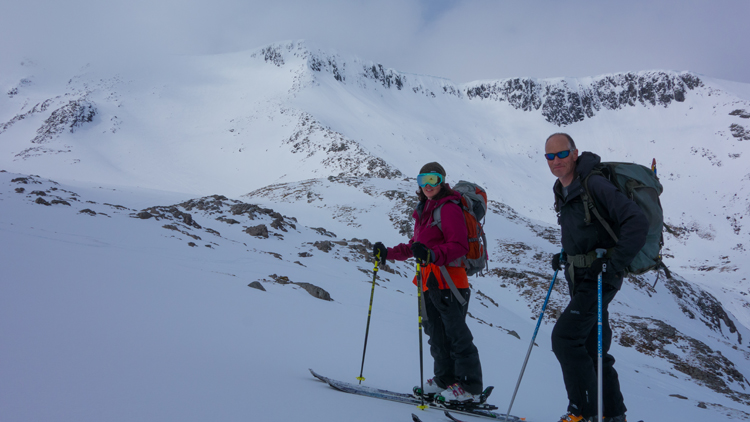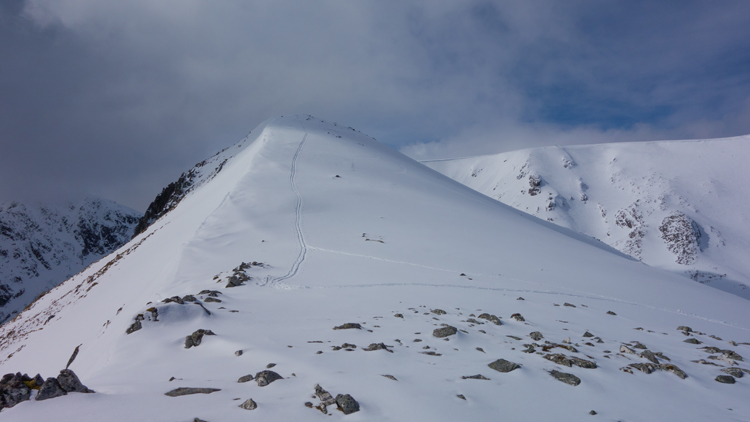 Some of us skinned up to the top of Stob a' Chùil Choire but from a more northerly approach to access the excellent un-tracked snow. It was worth it in the sun, or any other weather.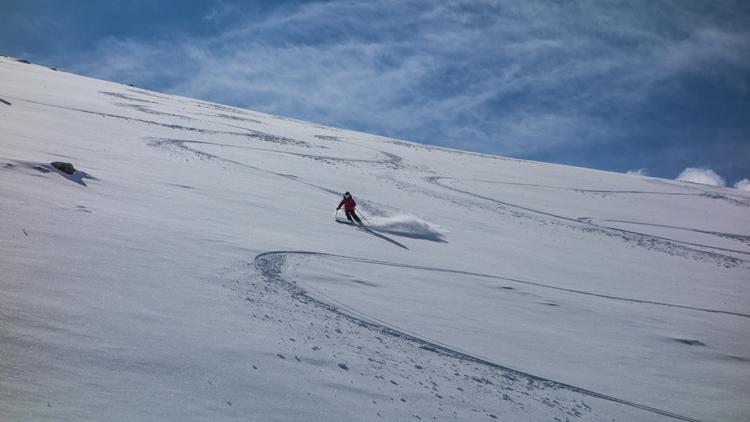 We then lugged our stuff back out to the top gondola station and reflected on an excellent weekend and how the beer bomb might be deployed in 2017.