On an auspicious Friday 13 January, I joined my first ISBC weekend meet at Aite Cruinnichidh hostel near Roybridge. I only became a club member in late December 2022, so for me and Rod Bain there were a lot of new names and faces – and a number of this friendly gathering, it turned out, were almost as new as we were.
Saturday's weather was wild – high winds and questionable cloud-base, with a snow-line of about 600m. A day getting practice on the turns felt in order and for everyone the destination was Nevis Range. The t-bar was running and the Summit drag lift. The Goose held really good snow and offered the best skiing; those who went up the Summit tow reported it too windy to be worthwhile. Rod and I began by skinning up under the Quad chair (not running) where snow had accumulated well around the fences, and down the Goose bowl to meet David, Gareth, Lisa and others taking a break at the snack hut while the t-bar was getting fixed(!). Increased winds meant the gondola closed early, leaving time for gathering at the Pinemarten Café at the end of the day.
Sunday promised better weather and a lower snow-line. The meet split into two groups and set off for touring. The snow-line was expected to be lower further north and east, so my group began at Aberarder, with the intention of ascending Carn Liath and heading west along the ridge. However, the strong winds encouraged us to revise our plans and head into Coire Ardair first, with the intention of getting as far as the Window. Gareth, Rod, and I turned back before we got so far, but David, Dan, Nick, Xav, and one Adrian continued to the Window, proceeding carefully due to an avalanche that had come down Cinderella buttress. It may not have been powder, but David reported an enjoyable ski descent, despite rather flat light.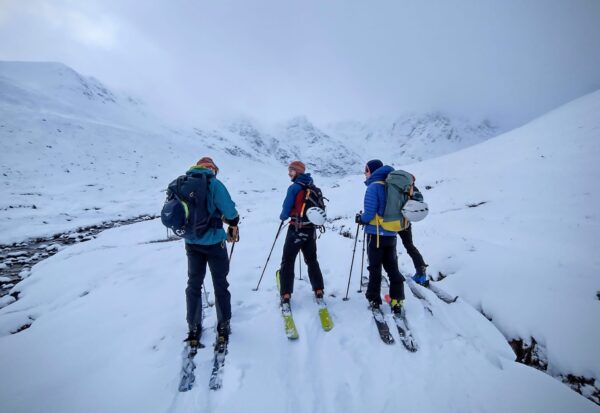 In the second group, Mike with John, Troy, Paul, Lisa, Fiona, Elliot, and the other Adrian set off from the carpark at Fersit, burdened by skis and boots and destined for the snowy Munro of Chno Dearg. The ground was saturated after days of rain so they were fortunate to find a faint walkers' path, and despite the depressingly distant snowline everyone was in high spirits. An overcast sky broke to glimpses sunshine on higher hills east and west. Snow was reached at 500 metres and soon it was deep enough to put on skins. A huge boulder provided shelter from a sub-zero breeze. From here they skinned south-east, tracing an iced-up burn to gain height. They enjoyed good visibility until cloud immersed them. Here the terrain steepened and the wind increased.
Around 900 metres the snow was scoured and icy. Fiona's skis were slipping due to her ill-fitting hired skins and she could only progress with ski crampons. At this point the party split, with three continuing to the summit. Removing skins at the summit in a whiteout, they didn't linger. Visibility was down to metres. They were battered by hail and spindrift. Lisa led the escape by slide-slipping as it was virtually impossible to make a turn. At about 700 metres they glimpsed the forward group and, now able to see ahead, began linking turns and generally shouting for joy. Everyone regrouped near the frozen corrie loch for a late lunch. A slightly hair-raising ski over crusty lower slopes led back to the boulder and their walking shoes. From there it was an easy return to the cars.
Words: Emily Alder