By Donald Morris.  We joined forces with the Moray Mountaineering Club for this trip and headed to the remote southern area of Druim Uachdar.  The plush coach dropped us at the head of the pass and six of us got off to commence a mega faff and gather all of our bits and pieces.  We then crossed the road and railway to start across the moor to a track on the map.  The initial objective was Sgairneach Mhòr which looked great covered in snow.  
The snow was lying on eastern aspects with western aspects very bare.  Looking back across to the other side of the road showed that A' Bhuidheanach Bheag was not well covered so we congratulated ourselves on a fine choice aided by intelligence from IBSC Militia earlier in the week.  
The juices began to flow on the ascent and left a bit of a mess but once cleaned up no one said anything else. Our descent to the bealach between Beinn Udlamain and Sgairneach Mhòr was a classic of Scottish skiing – keep the speed over the heathery bits and find a continuous line to the bottom.  Friendly weather and lovely snow all made it feel very pleasurable.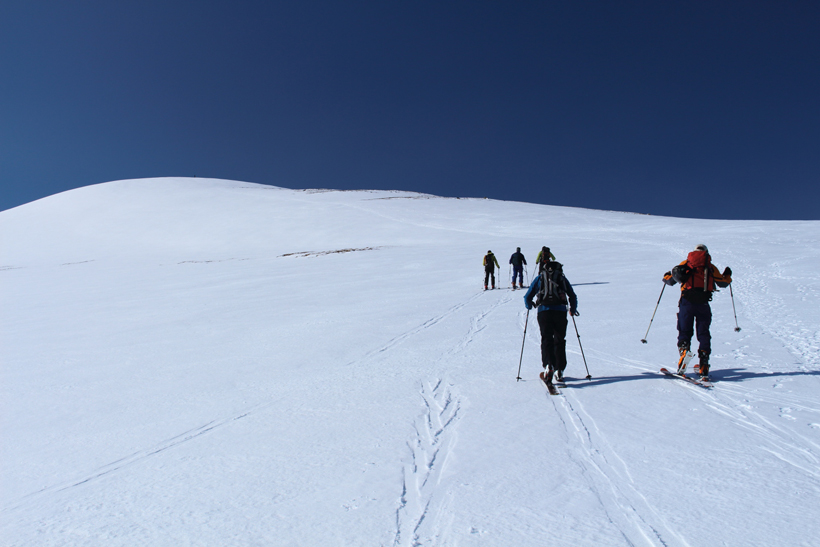 Skins back on, we made the short ascent to Beinn Udlamain where we met more of the MMC party on foot. Skinning and walking were about the same on the day with ascent times quite similar. The party then split and one lot headed towards Fraoch-choire (heather corrie) which was in excellent condition. The radios proved to be very useful in keeping the team together and we all enjoyed a second descent on perfect snow. 
By this time we were becoming aware of the bus departure time from Balsporran Cottage (Beul an Sporrain – mouth of the sporran) so thoughts of a third ascent to Geal Chàrn were ruled out in favour of making it back in time. With hindsight, we might have been able to make it in a similar time as the descent of Geal Chàrn looked more appealing than the long trudge out in ski boots. The juices dried up at this point and it was like lubricating a chain with sand.  
Supplies were available at the Cairn Gorm Hotel and we all agreed that the joint meet had been a success and the posh bus a nice way to travel.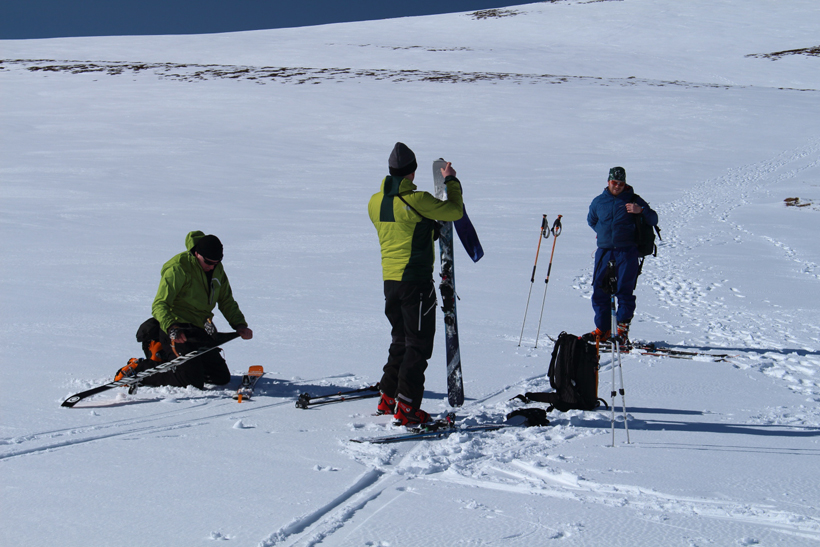 Thanks to Dan Moysey and Derek Knox for the pictures.