By Rose Norman. On the Saturday morning seven travellers from everywhere between Skye and Edinburgh assembled at Aviemore Youth Hostel to begin a weekend course aptly entitled 'Winter Skills for Ski Mountaineers'. Our on-foot winter skills were to be developed on the edge of the stunning natural amphitheatre that is Coire an t-Sneachda. The weather was beyond all expectation with windless blue skies and the rocky slopes to the sides of coire bustled with particularly vocal ptarmigan.
Improving ice axe arrests was a key focus and the more enthusiastic ended up trying to get as many arrests into the downhill run as possible. (Although amazingly fun at the time, this had its cost in subsequent bruising). We also practiced our crampon movement, cutting steps, measuring slope angles and navigation. The shortest group member (myself) attempted to enter a semi collapsed snowhole and we shared the stories of when our skills had failed. A childlike happiness while digging in the snow was unanimous.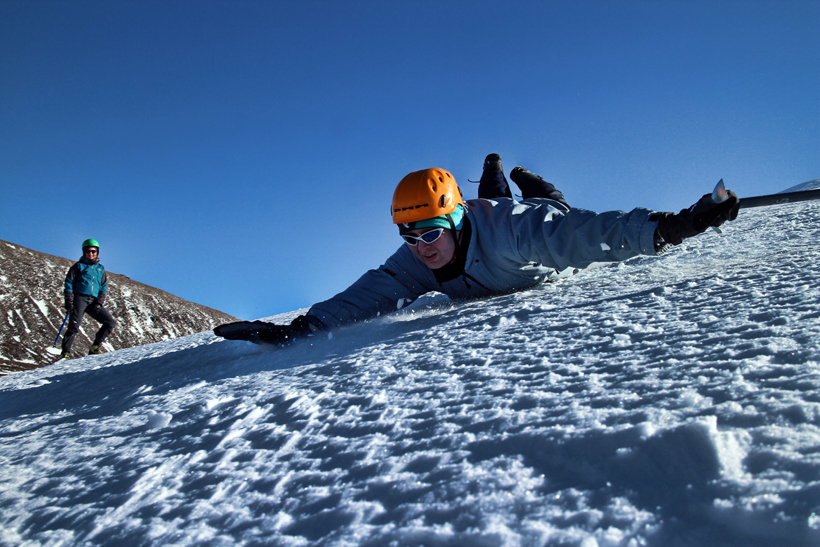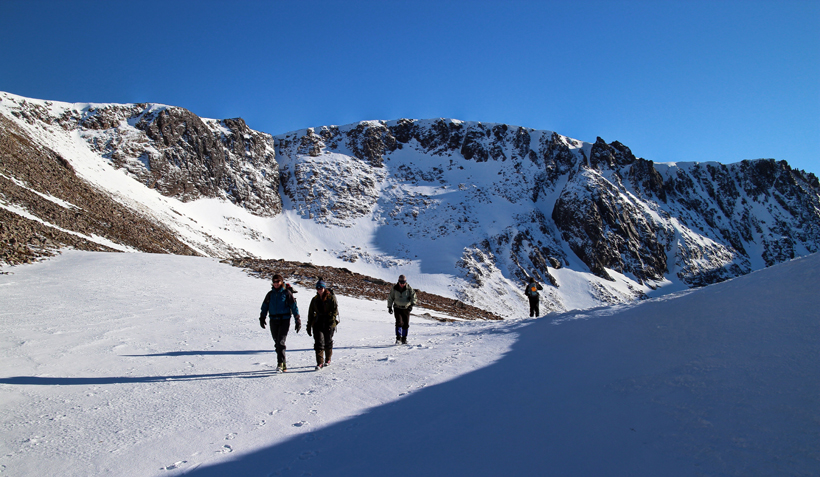 Sunday was highly anticipated as it involved skis/splitboards. We started out with studying past avalanche forecasts and working out where we could go/avoid in those conditions. The group, which was composed of two splitboarders, one telemarker and the others with varying degrees of newbie-ness on alpine kit, headed up the hill in glorious sunshine. Together we covered route planning, navigation, exploring the points at which where our skins would struggle and how to safely climb steep slopes, including transferring from skis/boards to crampons and vice versa. The heather on the lower slopes also provided excellent cover for transceiver hide and seek.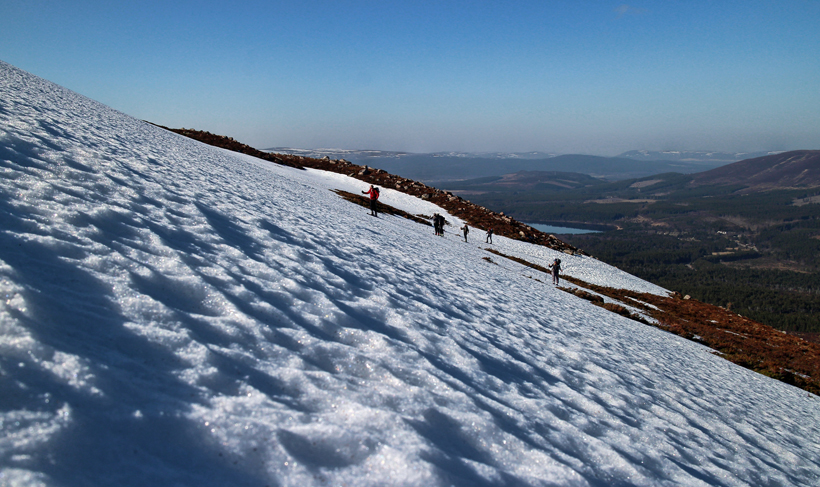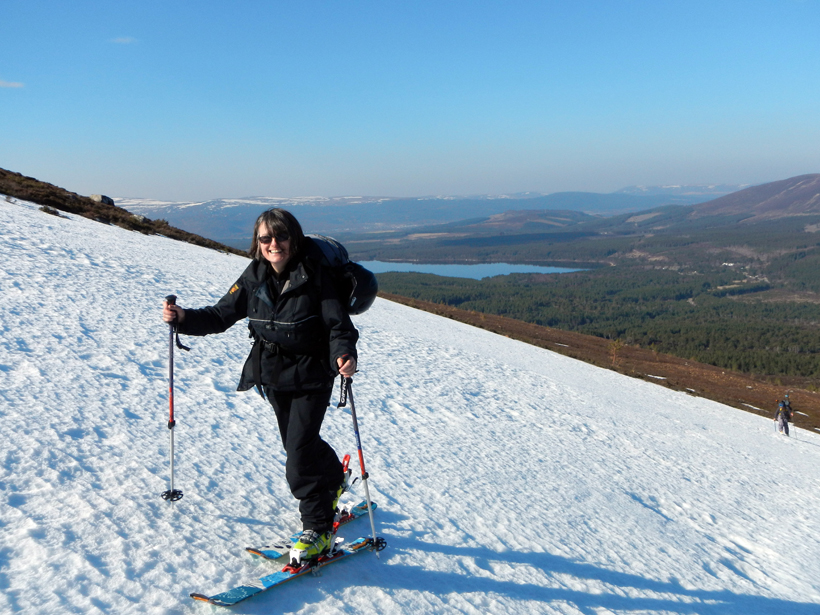 Our first section of downhill was chosen for its skill improving challenge. Although the slope angle was measured it will not be disclosed as this could prove too amusing to the club's more experienced members, but let's just say it was very icy and with convexity. On the one year and one week anniversary of my 1st ski lesson this promised to be 'interesting.' Although the more experienced splitboarders managed the descent with infinite cool, it proved more of a learning experience for the skiers. The main lesson was probably regarding the importance of self belief and the satisfaction that always comes from proving initial skills related concerns wrong.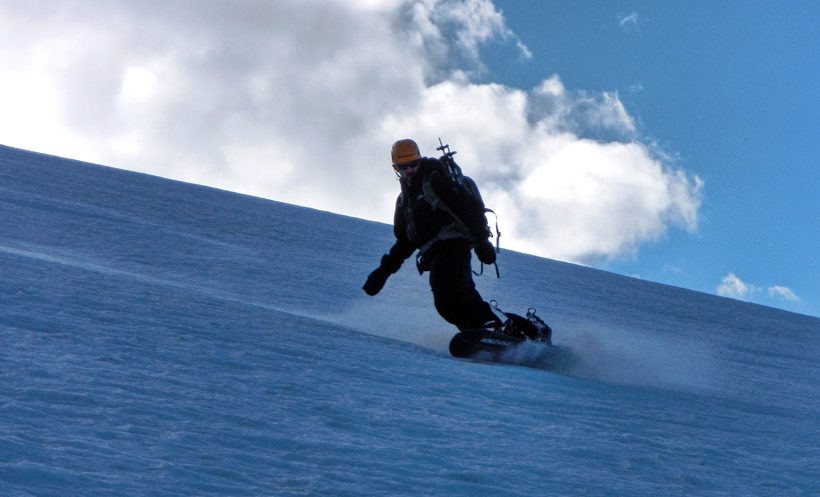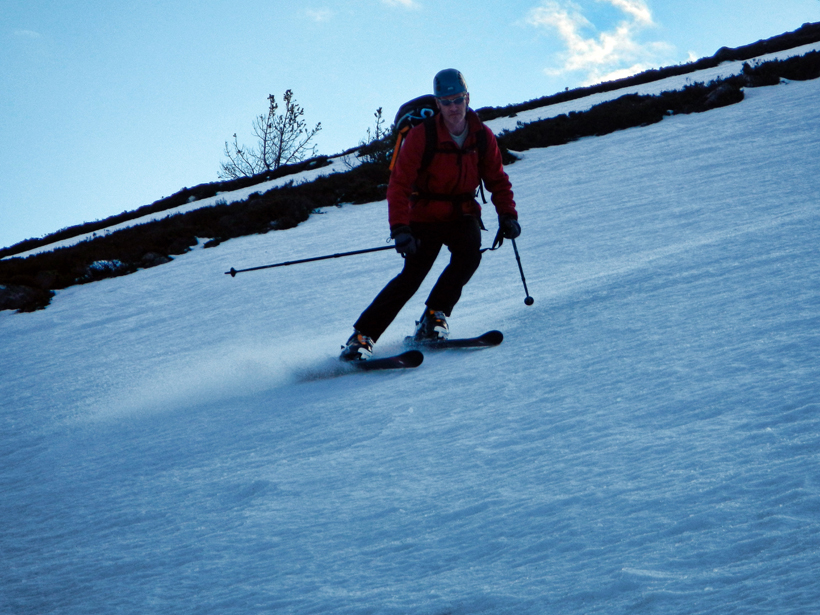 A key discovery of the day was being introduced to jump-turns, a skill with which I'm hoping to gain a (predominantly) healthy relationship. And on the final snow ribbon a reminder to remember to stick boots into downhill mode. Thankfully a touch-my-toes abrupt stop in the heather was marginally less messy than past sub-surface heather snags that allowed for the full test of safety binding release!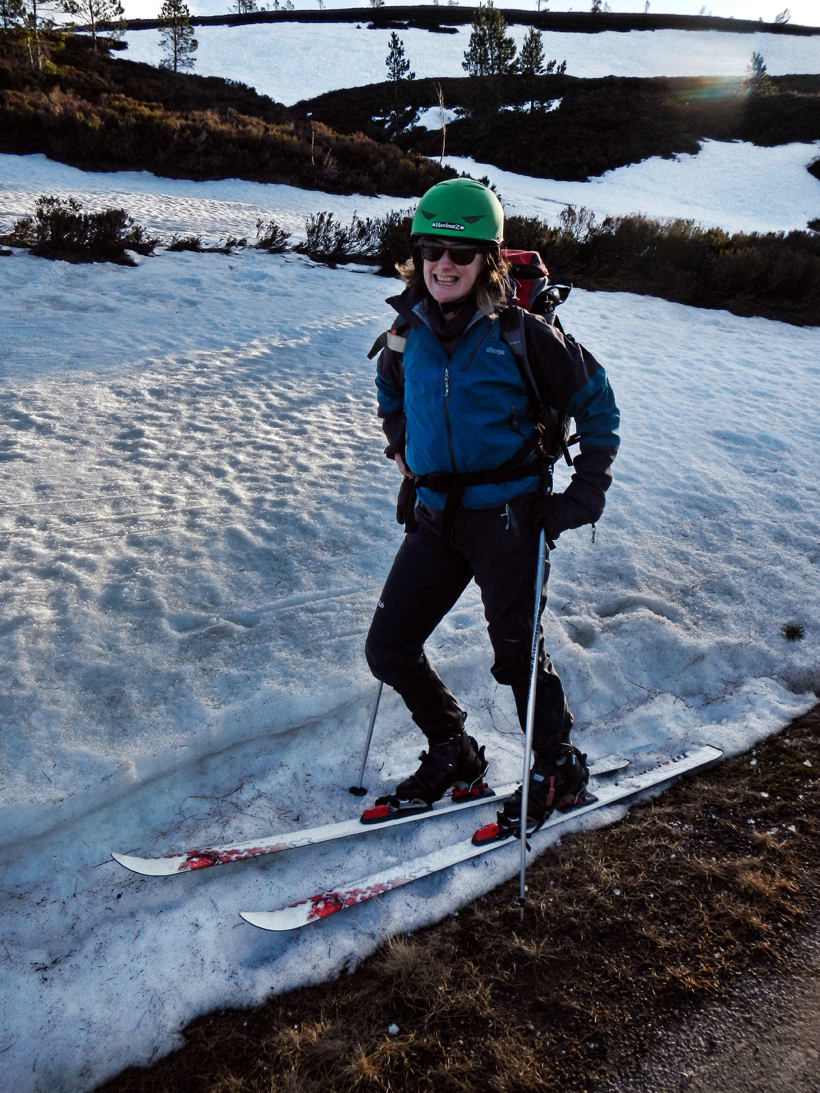 A huge thanks to IBSC for organising this course, it was enjoyed and found useful by all. Our tutor, Mark Ker of Cairngorm Adventure Guides, was excellent in catering for our areas of interest and contributing to the good craic. The consensus is that it would be brilliant to have a similar course at the beginning of next season. The weekend's photos are credit to James and Matt.