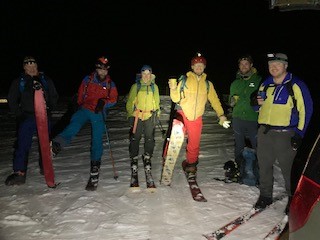 Midweek skiing less than half an hour from the front door is one of the perks of living in the Inverness area and it's nice when things come together. Eleven club members had the luxury of being able to reply to colleagues and family who enquired what they were up to on Thursday by saying "skiing". Okay let's be clear we were not making the swooping turns in deep powder that was possible this time last year near the same location. After protracted discussion lasting 5 seconds we made the rash decision to leave behind transceivers, avalanche probes and ice axes. However at no point did we need to take skis off due to no snow!
Gordon Pearson showed us some of his 'home turf' around the mast of Carn Bad nan Luibhean which is the obvious hill west of the A9 at Slochd. A comic highlight was the descent from the mast especially for those of us on skinny skis who did nothing to persuade others off their wide, skinned planks!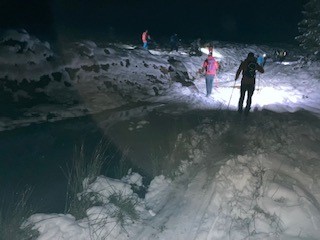 Some of my first outings at Slochd were with Inverness Nordic ski club nearly 30 years ago, some things have changed and some things stay the same.
Planning and organization is now very clear with many advances made by the club in terms of registering for trips to give greater confidence who was on the tour (including covid status!). The variety of equipment underfoot was really up to date and was like a demonstration event for the touring snowsports industry with five on alpine touring kit ready to tackle the steepest peaks, four braving nordic free heel kit of varying width with no skins and finally a couple of splitboards who also gave their best shot at some 'kick and glide'.
So what is the same 30 years on? A shared experience with many new club members and some new to the area, most with extensive ski experience to share and stories to tell. We all had a sociable journey on snow and that's what makes a snowsports club worth joining!
Author: Martyn Crawshaw